Here's How You Can Watch The Bomb Cyclone In Real Time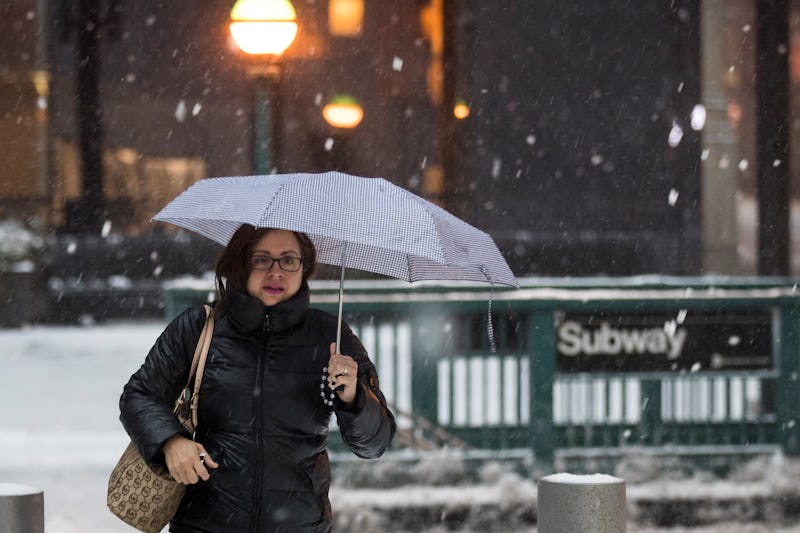 Drew Angerer/Getty Images News/Getty Images
Winter Storm Grayson has already made its way to north Florida and is expected to climb up to New England by Thursday morning. As the air pressure drops, it will transform into a "bomb cyclone" resembling a winter hurricane, bringing strong winds and snow. If you want to keep tabs on Grayson, you can follow along by watching the "bomb cyclone" in real time.
The Weather Channel and the National Weather Service are continuously providing updates on the storm's progress. Check the National Weather Service's color-coded map to see what parts of the United States are under high wind, wind chill, and blizzard advisories, or find your individual state to get the latest warnings for your area. The Weather Channel also has maps showing how temperatures will drop across the East Coast this week, how the winter storm is moving up the coast, and how much snow each region can expect.
For more immediate updates and forecasts, follow the National Weather Service on Twitter (@NWS) or find your local branch's account (like the Boston NWS or the Tallahassee NWS). You can also follow The Weather Channel (@weatherchannel) for photos and videos of what the storm actually looks like across the U.S.
Of course, you'll probably want to do your weather tracking indoors, perhaps while cuddled up under a blanket holding a glass of wine. Record low temperatures will likely infiltrate the Northeast on Friday and Saturday, thanks to Winter Storm Grayson incorporating cold air from the North Pole, Greenland, and Siberia. The winds will make it feel even colder, as gusts upwards of 50 mph are expected along the coasts of North Carolina, New England, and Atlantic Canada beginning Thursday morning.
Wind chills already hit 50 below zero in North Dakota and northern Minnesota, and parts of the Midwest, South, and East were issued windchill advisories warning that cold winds could cause frostbite to bare skin in as little as 30 minutes. As the Weather Channel explains:
A reinforcing shot of bitter, Arctic air will prolong the long-lived cold outbreak across the Plains, Midwest, South and East into the end of this week, likely shattering more daily records and sending wind chills to dangerously cold levels.
Snow in Maine, southern New Hampshire, and eastern Long Island could intensify to blizzard conditions, while Boston is under a winter storm watch for heavy snowfall. Power outages are also a possibility along the East Coast as high winds and ice wreak havoc on power lines, especially in southeastern states not accustomed to extreme winter weather. The National Weather Service specifically warned that Boston could experience power outages Friday or Saturday due to strong wind gusts.
On Wednesday night, the winter storm will bring snowfall to the Carolinas, Georgia, and Virginia. After midnight, it will move up to New England, reaching Maine by Thursday morning, and will continue to dump snow on New England through Thursday night. According to The Weather Channel:
Some spots along Massachusetts' Interstate 95 corridor and in Downeast Maine could see more than a foot of snow. For now, lighter accumulations are expected from the New York City Tri-state area to Delaware, with mainly less than 4 inches expected.
As storms go, the amount of snowfall each region will receive depends on how Grayson progresses while heading North. If you had travel plans this week, you should check on airport closures and flight changes regularly, as an intense storm could affect East Coast flights starting Wednesday night. In short: The outdoors will be brutal this week. Stock up on wine (and snacks), bundle up, and queue up Netflix. It's going to be a cold few days.