Why 'The Santa Clause' Is The Perfect Holiday Movie To Watch This Season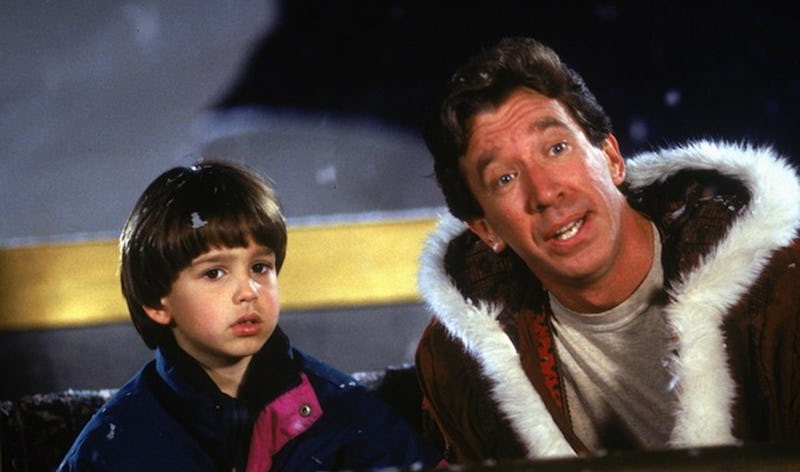 Buena Vista Pictures
UPDATE: All three movies in the Santa Clause series will be available to stream on Netflix as of Dec. 12.
EARLIER: The holiday season is upon us — that magical time of year when the weather gets colder and the heat gets turned on. And, with Christmas hurtling towards us, there's only one thing to do: watch The Santa Clause. But before you can take a trip down memory lane with the 1994 classic, you have to know how to watch The Santa Clause this holiday season without breaking the bank.
Thanks to all the streaming sites popping up, there is never a time when fans can't watch The Santa Clause if they really want to, thankfully. They'll just have to give up some cash to do it. Unfortunately, the movie is not streaming for free on Netflix or any major cable network (HBO, Showtime, etc.). It's also missing from Hulu and Hulu Plus. So, that's the bad news. The good news is, for a low price of $2.99, The Santa Clause can be yours for up to 48 hours thanks to streaming rental sites like YouTube. The film is also available to rent for $2.99 on iTunes. Fans willing to spend a bit more can rent the film in HD for just $3.99 on iTunes and Amazon Video. The film is also available for purchase on iTunes and Amazon for $17.99, but that price ticket might seem a bit steep, especially considering the fact that you can own your very own DVD copy of The Santa Clause for $6.99, via Amazon.
Now that you know how to stream The Santa Clause this holiday season, all that's left is to decide how to watch the movie — as in what ambiance to watch it in. How fans watch The Santa Clause is really a personal choice. Save it for Christmas Eve, or watch on repeat once the calendar hits December — it's all good. But if you're looking to make it a Santa Clause movie night, here are some things you might want to really make it worthy of a Christmas miracle.
Milk & Cookies
Trade in the traditional popcorn movie snack for something more Xmas appropriate. What's more Santa Clause than Santa's favorite treat of milk and cookies?
Cozy Blankets
This should be obvious, but really any holiday movie night deserves a lot of cozy blankets to keep you and your fellow movie-watchers warm and fuzzy all through the night. Extra points for watching The Santa Clause in a Santa onesie.
Some Festive Drinks
Grab some spiced eggnog or hot chocolate (whatever your traditional holiday drink may be). Use alcohol if you want, but you can totally do this with regular drinks, too. Some basic rules:
1) Drink every time someone makes a Santa pun (aka The Santa Clause)
2) Drink every time someone says Santa (non-alcoholic drinks only for this one, OK?)
3) Drink every time Tim Allen undergoes a terrifying transformation (like when his beard grows back immediately, or his face completely changes in one scene)
4) Drink every time Tim Allen denies his Santa Claus status
5) Drink when Tim Allen says something inappropriate to the elves who are played by children
6) Drink every time he puts on the Santa suit
Friends & Family
The Santa Clause is, at its heart, a family film, so it's always more fun to watch the movie with those you love, or just those you happen to be around. Family, friends, random acquaintances — whoever you choose to spend the holidays with is the perfect Santa Clause movie night buddy. After all, the moral of the film isn't that if you kill Santa, you become Santa, it's that the holidays are all about spending time with others. (But also, don't kill Santa Claus.)