How To Watch Trump's 2018 State Of The Union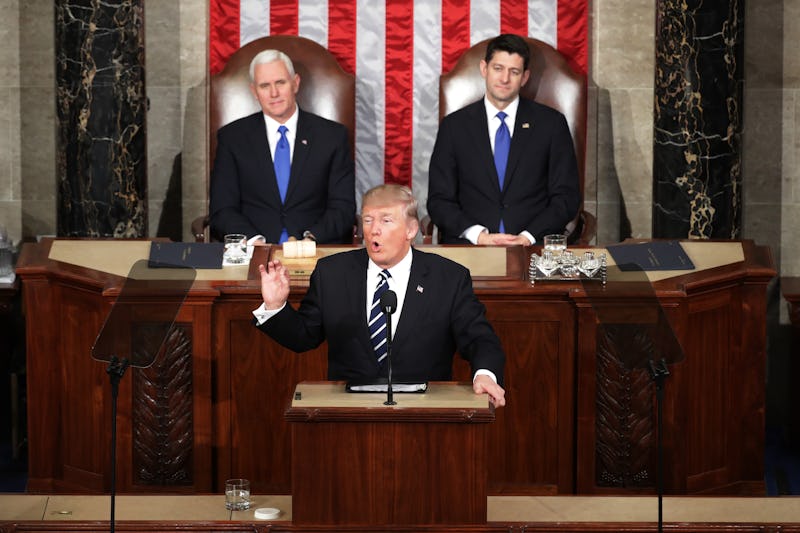 Chip Somodevilla/Getty Images News/Getty Images
On Tuesday, Jan. 30, Donald Trump will deliver his first official State of the Union (SOTU) address to a joint session of Congress. There are several ways you can watch Trump's State of the Union, if you choose to tune in. The address, historically used as an opportunity to reflect on the previous year and outline goals and priorities for the upcoming 365 days, will air on most major networks.
That means you can catch the SOTU on channels like CNN, MSNBC, CSPAN, Fox News, and FOX Business Network. Additionally, if you don't have cable, the White House is scheduled to air the address on its YouTube page. The speech is scheduled to begin at 9 p.m. EST.
While Trump did address a joint session of Congress in February of 2017, that speech was not technically a formal State of the Union address. Typically, presidents wait until they have been in office at least one calendar year before delivering a SOTU, because then he or she would officially have a year in office to actually reflect upon.
While there isn't a law that states precisely when the President must address the legislature, it's constitutionally required that he occasionally do so. Specifically, the Constitution states that the President "shall from time to time give to the Congress Information of the State of the Union, and recommend to their Consideration such Measures as he shall judge necessary and expedient."
The 2018 SOTU has been heavily politicized in the weeks leading up to it. By Jan. 15, five different Democratic congresspeople announced that they would not attend Trump's remarks before the joint session. Reps. Pramila Jayapal, John Lewis, Frederica Wilson, Earl Blumenauer, and Maxine Waters all said that would sit out on the event.
"I think it is absolutely unacceptable to see the racism and the hatred coming out the White House in a way in which this president is fueling the flames of divisiveness across our country," Rep. Jayapal said in a video announcement posted to her Facebook page. "Instead, my colleagues and I will use the occasion to focus on the State of OUR Union, our opposition to his agenda, and we will lift up a progressive and inclusive vision of our country," she wrote in the video's caption.
Other lawmakers expressed plans to protest in other ways. One method to gain a lot of attention was the decision to focus on clothing color. In the spirit of the #TimesUp protest at the Golden Globes, House Minority Leader Nancy Pelosi, along with a group of other Democratic congresswomen, said that they planned to band together and wear all black. Like at the Golden Globes, the protest will function as an effort to publicly stand in solidarity with victims of sexual harassment and abuse. In a statement, Pelosi addressed the plan:
"We are supporting the brave women in every industry and every corner of the country who are making their voices heard. We are at a watershed moment in the nationwide fight against sexual harassment and discrimination, and we must continue to keep up the drumbeat of action for real change."
California Rep. Jackie Speier has been credited with leading the protest, and she has encouraged congresspeople from both houses and parties to participate. "My colleagues and I in the @HouseDemWomen are calling on our fellow MoCs - women & men, Democrats & Republicans - to wear black to this year's #SOTU in solidarity w/survivors of sexual harassment/violence in Hollywood, politics, the military, academia, etc," Speier tweeted earlier in January, following the protest's announcement.
As for what's actually on the docket for Trump's speech, not a lot is set in stone. According to Politico, plans for the speech's content were upset by the three-day government shutdown.
Broadly, Trump is expected to focus on immigration, national security, and infrastructure initiatives. What is certain is that the country, and the world, will have their eyes and ears glued to the event.