Here's How Trump Celebrated His Father's Day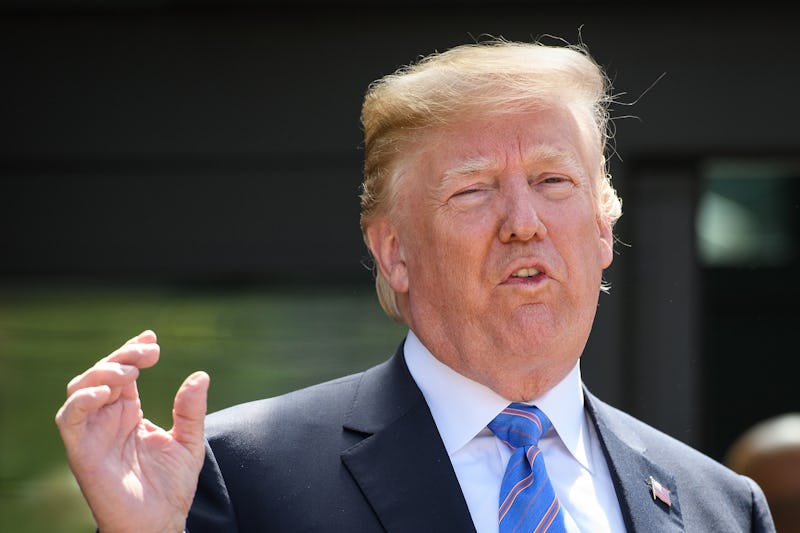 Leon Neal/Getty Images News/Getty Images
President Trump's Father's Day was not atypical. In fact, how Trump celebrated Father's Day was a lot like how he has spent many a Sunday since becoming president. And many a Saturday, too. Trump took to Twitter and then went to a Trump-branded property to play golf.
Perhaps he slept in to celebrate because there were no early morning tweets. Instead he waited until just before 9 a.m. to tweet, going on a Twitter rant over several hours about a mix of topics. From the Russia investigation and The Washington Post to North Korea and the economy, Trump didn't hold much back on Father's Day.
The holiday he only mentioned in the form of a retweet. At the end of his other tweets he sent out a message from the White House, a picture of an American flag with "Happy Father's Day from the White House" overlaid in white lettering.
But before he was done on Twitter, he took off from White House. At 10:29 a.m. ET he was spotted by the White House pool leaving, "destination TBA." They saw him exit the South Portico "in a white polo and baseball cap."
The pool followed him to the Trump National Golf Club in Sterling, Virginia, where he arrived at 11:06 a.m. ET. Reporters were sent to a restaurant across the street, where they awaited "details of the president's activities today." His official schedule was clear.
The update came from Secret Service, who told the pool that Trump played 18 holes of golf. He played all the way through and had a late lunch at the club. On Saturday, he also visited the Trump golf club. Trump has played golf at one of his clubs at least 112 times since becoming president, according to the Trump Golf Count.
Some of the most notable tweets from Sunday included a suggestion to the staff of The Washington Post that they go on strike. "Washington Post employees want to go on strike because Bezos isn't paying them enough," Trump tweeted. "I think a really long strike would be a great idea. Employees would get more money and we would get rid of Fake News for an extended period of time! Is @WaPo a registered lobbyist?"
The Post had just reported hours before that Roger Stone had met with a Russian who had promised "damaging information about Hillary Clinton." Stone hadn't previously disclosed the meeting to congressional investigators but then was asked about it recently by Mueller's team. Stone told The Post about the meeting.
In one of his tweets on North Korea, Trump suggested that he had saved millions of lives. "The denuclearization deal with North Korea is being praised and celebrated all over Asia. They are so happy!" Trump wrote. "Over here, in our country, some people would rather see this historic deal fail than give Trump a win, even if it does save potentially millions [and] millions of lives!"
And Trump suggested that the economy was the best "it has ever been." Trump wrote, "Our economy is perhaps BETTER than it has ever been. Companies doing really well, and moving back to America, and jobs numbers are the best in 44 years."
To round out his tweets, Trump explicitly attacked the Russia investigation and claimed there was no collusion or obstruction. "WITCH HUNT!" Trump wrote. "There was no Russian Collusion. Oh, I see, there was no Russian Collusion, so now they look for obstruction on the no Russian Collusion."
Trump may not have explicitly acknowledged Father's Day or tweeted directly about it, but it sounds like he spent the day just how he likes.