Here's How Trump Has Changed In His First Year In Office Compared To Obama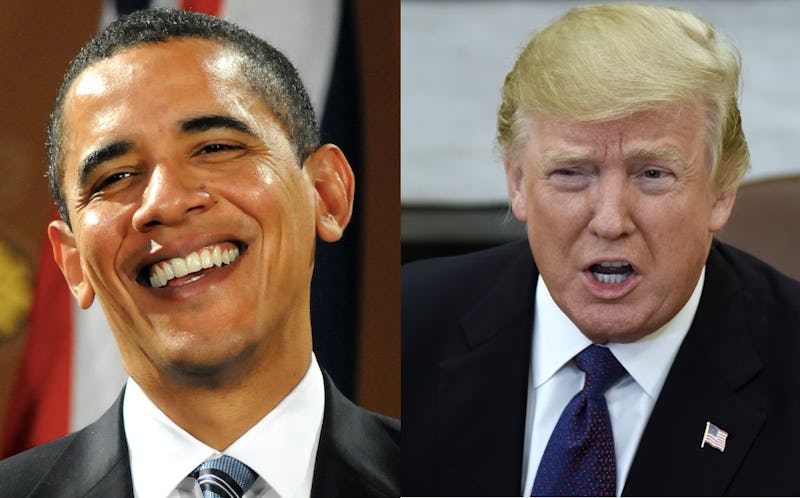 WPA Pool; Pool/Getty Images News/Getty Images
Saturday, Jan. 20 will mark the one-year anniversary of President Trump's inauguration. At times it's felt like there's already been a full four years worth of news. But this is an opportunity to look back, both at the first year of the Trump era, and at how it measured up to Trump's predecessor, President Obama. For example: What about the physical effects of being president? How much did Obama and Trump change after one year in office?
For as long as there have been photographs of commanders-in-chief, it's been pretty apparent simply by looking just how quickly being president can age a person. Former president Bill Clinton, for example, went from being a relatively fresh-faced 46 year old to a man who looked far older than his 54 years. So too did former president George W. Bush seem to age dramatically between the ages of 54 and 62.
In the cases of Obama and Trump, there's an unavoidable reality, which is the wide gap between their ages when they first took office. Obama entered the White House as a trim, decidedly young-looking 46-year-old, while Trump entered as a 70-year-old notoriously averse to physical exercise. That said, however, you might still be curious how each one looked on inauguration day versus one year into their terms, and here are some examples.
1. Obama Looked Fresh And Ready
Obama was ready for the limelight on his first inauguration, complete with a head full of black hair.
2. And Trump Looked About As Good As He Gets
Trump was about as put-together as he's ever been, complete with one of his customary oversized red ties and a heavy black coat.
3. Obama Had Michelle By His Side ...
Obama was just 46 years old when he was first sworn into office, and Michelle was just 44.
4. ... While Trump Was Joined By Melania
Trump's inauguration had plenty of his iconic, furrowed-brow grimace.
5. Obama Looked Smooth On The Dance Floor
At 46 on the day of his first inauguration, Obama looked like he could easily pass for a decade younger.
6. While Trump Looked, Er, Not Quite So Much
Trump's inaugural ball dance looked more than a little awkward.
7. One Year Later, Obama Looked A Touch Grayer
Obama's always looked fairly youthful, especially in the early years of his presidency, but as the job wore on it started to take it out on his once-dark hair.
8. And Trump Looks A Little Older In The Face
At 71, it makes total sense that Trump's aging process would be a little more evident than Obama's was, especially given his tendency to squint.
9. Obama's Face Was Starting To Show Some More Lines
It's not hard to see why Obama looked a bit aged by his first year in office. After all, he was dealing with a global financial crisis right out of the gate.
10. Is Trump Tanning Less Frequently?
It's been widely suggested that Trump tanned during the 2016 presidential campaign, since that's how one ends up with those high-contrast "raccoon eyes" he often sported. That seems to have trailed off a bit since he entered the White House, however, as his face and the skin around his eyes are more often a similar tone.
11. In Short, The Presidency Tends To Age You ...
Between a few new wrinkles, creases, and his fading hair color, Obama in 2010 looked like the job had definitely kept him busy.
12. ... And Looking Disheveled In Public Doesn't Help
Trump has a reputation as a bit of a night owl and isn't a crisp a dresser as Obama, which means there's an increased chance of awkward late night photos like this.
While neither Trump nor Obama look starkly different than they did back when they were first inaugurated, but some of the subtle differences speak to what was to come in Obama's case, and what might be yet to come in Trump's. Of course, he's taking things a whole lot easier than Obama did as far as his work time versus vacation time is concerned, so maybe he'll age a little more smoothly ― according to USA Today, Trump has already spent 38 weekends staying at his own properties, which amounts to more than half of the weekends since he took office.
It also remains to be seen whether Trump will serve two terms in office, or whether he'll only get the first one, given his currently dismal approval ratings. In short, it's not clear just how long he'll hold the job, and that will likely affect just how rapidly he appears to age.