Trump Is Destroying The White House's Credibility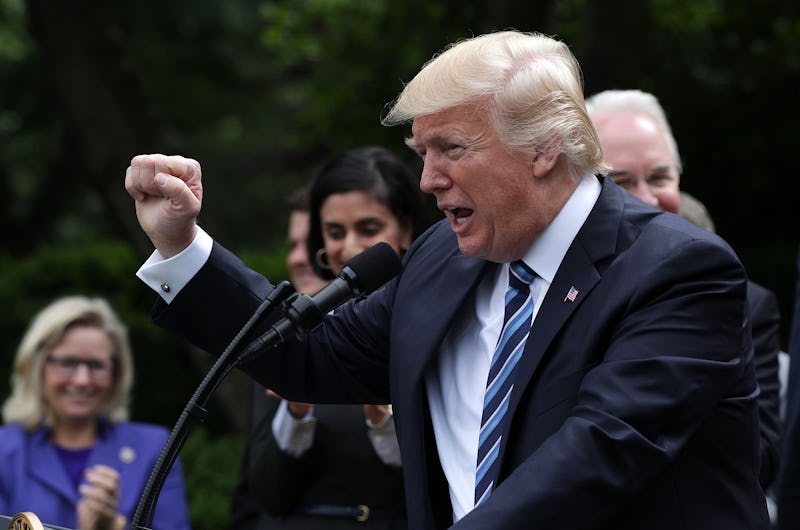 Alex Wong/Getty Images News/Getty Images
President Trump is at it again. Less than one week after he fired former FBI Director James Comey — and seemed to acknowledge in a nationally televised interview that he did so in part because of the Trump-Russia investigation — then cryptically suggested he may have secretly recorded conversations with Comey, new controversy has been ignited. On the morning of Tuesday, May 16, after yet another colossally damaging story that he gave classified intel to top Russian officials Sergei Lavrov and Sergey Kislyak, Trump is again contradicting his own aides and officials on the matter, laying waste to credibility and reputations in the process.
In the aftermath of the Comey firing, it was people like Sarah Huckabee Sanders — and even Vice President Mike Pence himself — who stepped forward to assure the public that Comey's firing was done at the recommendation of Deputy Attorney General Rod Rosenstein. That official story lasted about a day before Trump blew it up in an interview with NBC News' Lester Holt, flatly stating he'd decided to fire Comey before even hearing from Rosenstein.
And now, Secretary of State Rex Tillerson, National Security Adviser H.R. McMaster, and Deputy National Security Adviser Dina Powell have been undercut and demeaned, too. Less than a day after several reassurances to the press that the bombshell Washington Post report was false, with Powell most flatly insisting it was "false," Trump has now apparently come clean. In a couple of tweets Tuesday morning, the commander in chief defended his decision to give the Russians classified, highly sensitive national security information.
Trump's basic argument ― that he had "the absolute right" to share the information he reportedly did, which he's now publicly confirmed ― has not really been a matter of debate. It's undeniable that the president has this power, and can choose to declassify information at any time. That's not what Trump's been criticized for; rather, it's the prudence of giving a geopolitical adversary like Russia (although he seems not to see it that way) highly sensitive information that could out an American intelligence operative.
For some perspective, here's the statement Powell put out on Monday, having no idea Trump would blow up her story less than 24 hours later. Suffice it to say, it doesn't pass muster after reading Trump's tweets on the matter.
This story is false. The president only discussed the common threats that both countries faced.
While McMaster used a different phrasing ― "the story that came out tonight, as reported, is false" ― he nonetheless struck much the same tone, concluding with a decisive "it didn't happen," according to The Washington Post.
There's nothing that the president takes more seriously than the security of the American people. The story that came out tonight, as reported, is false. The president and the foreign minister [Sergey Lavrov] reviewed a range of common threats to our two counties, including threats to civil aviation. At no time — at no time — were intelligence sources or methods discussed. And the president did not disclose any military operations that were not already publicly known. Two other senior officials who were present, including the secretary of state, remember it being the same way and have said so. Their on-the-record accounts should outweigh those of anonymous sources. And I was in the room. It didn't happen.
McMaster doubled down on this explanation during a brief question-and-answer session with the White House press corps on Tuesday morning, calling Trump's disclosures to the Russians "wholly appropriate," but not disputing any of the basic facts of the reporting.
The whole affair evokes what happened with the Comey firing just days ago, when Pence assured the media that the firing was all about Rosenstein's recommendation, just hours before Trump confirmed that actually, no, he made that call on his own. Or the similar position he put Spicer, Sanders, and White House Counselor Kellyanne Conway in: All three of whom worked long hours the day of the firing, and insisted the whole time that the Rosenstein memo was the decisive factor. The whole thing led Trump to announce that because he's such an active president, "with a lot of things happening," it wasn't possible for his surrogates to be accurately informed.
In short, if history is any guide, Trump's apparent ability to immediately shred the official stories of his top aides could end up landing McMaster in an embarrassing position in the near future. Unless there's somebody out there who can get a hold of Trump's phone, and put his Twitter account on ice for a while.