Why Trump Could Admit To Paying Stormy Daniels Sooner Than You Think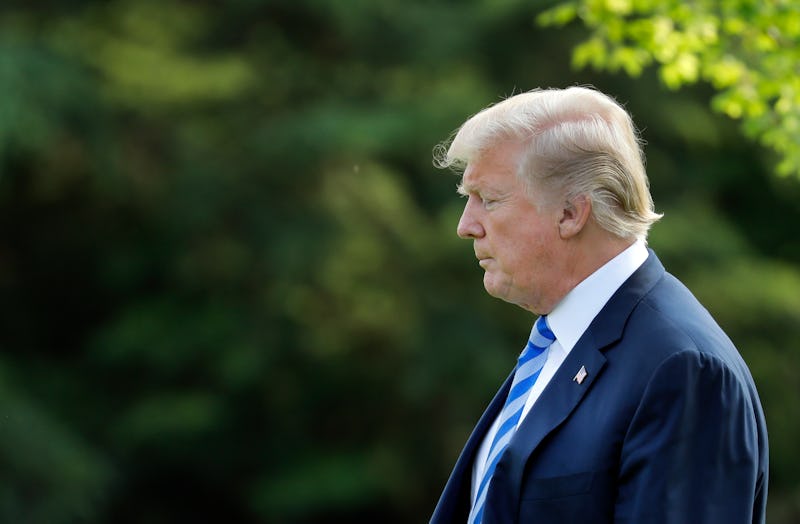 Pool/Getty Images News/Getty Images
Donald Trump is facing yet another dilemma connected to a lawsuit brought by an adult film star who says she had an affair with him in 2006. Although he has repeatedly denied the affair, it's possible Trump could formally admit to the Stormy Daniels payment very soon — like, today, when the presidents' 2017 financial disclosure is due.
Trump's personal lawyer acknowledges he paid Daniels $130,000 out of his own pocket to keep her quiet about the alleged affair ahead of the 2016 campaign. Trump told reporters in April that he had no knowledge of the NDA Daniels signed with his lawyer nor the $130,000 payment. But the latest addition to Trump's legal team, Rudy Giuliani, told The Wall Street Journal earlier this month that the president reimbursed Cohen in monthly payments spread out over 2017.
So, what does this all have to do with Trump's financial disclosure? Trump reimbursing Cohen for that $130,000 would be considered a "liability" exceeding $10,000, as Walter Shaub, former director of the Office of Government Ethics, and Adav Noti, senior director for the Campaign Legal Center, explained in a USA Today op-ed. This means it would need to be included in his financial disclosure to the Office of Government Ethics.
The only way to legally avoid disclosing the payment on Tuesday would be to file for an extension. The White House has not indicated whether or not Trump will meet the deadline.
As Shaub and Noti explained, it's also unclear whether or not Trump will disclose the debt, because any repayments to Cohen would put him in a difficult position:
He left out the Daniels-related debt in the financial disclosure report he filed on June 14, 2017. Disclosing it now means acknowledging that he should have disclosed it last year. Disclosure may also lead to damaging revelations if he omitted other liabilities from any past financial disclosure reports or incurred new ones since June.
If it is included, the president will need to explain to the Office of Government Ethics why it didn't appear in his disclosure last year. By Giuliani's telling, Trump's reimbursement payments of $35,000 a month began in the first few months of 2017. Giuliani told BuzzFeed News that the repayments have since ended.
Giuliani has also already floated a possible loophole for Trump, telling BuzzFeed News that Trump's monthly payments to Cohen were simply to reimburse expenses. "I'm almost certain that there wasn't an itemized bill," Giuliani said.
The nonprofit watchdog group Citizens for Responsibility and Ethics in Washington filed a complaint with the Office of Government Ethics, the Department of Justice, and the Southern District of New York earlier this month regarding the omission from Trump's last disclosure. The document called on the recipients to investigate whether Trump should have reported the reimbursements as a liability and whether he "knowingly and willfully failed to report it."
The reimbursements don't qualify as a retainer, according to Shaub and Noti. "Nevertheless, bundling the Daniels payment with Cohen's legal fees doesn't make that payment a legal fee," they wrote. "The Daniels payment remains a reportable liability regardless of the billing arrangement."
Essentially, there's no way for Trump to truthfully file the financial disclosure due on Tuesday without admitting to paying Cohen back for the $130,000 payment to Daniels.
Daniels' attorney Michael Avenatti is optimistic that Trump acknowledging the reimbursements in his financial disclosure will strengthen Daniels' cases against both Trump and Cohen. Daniels' suit claims that the NDA she signed is invalid because Trump never actually signed it. She's separately suing Cohen for defamation.
"I think it will further tighten the noose in connection with our case," Avenatti told Time magazine. "[Trump] previously denied knowledge of the [NDA], and if he knew about it, it begets knowledge about why he didn't sign the agreement."