The New 'UnREAL' Season Is Brutally Honest About How Hard It Is For Powerful Women To Date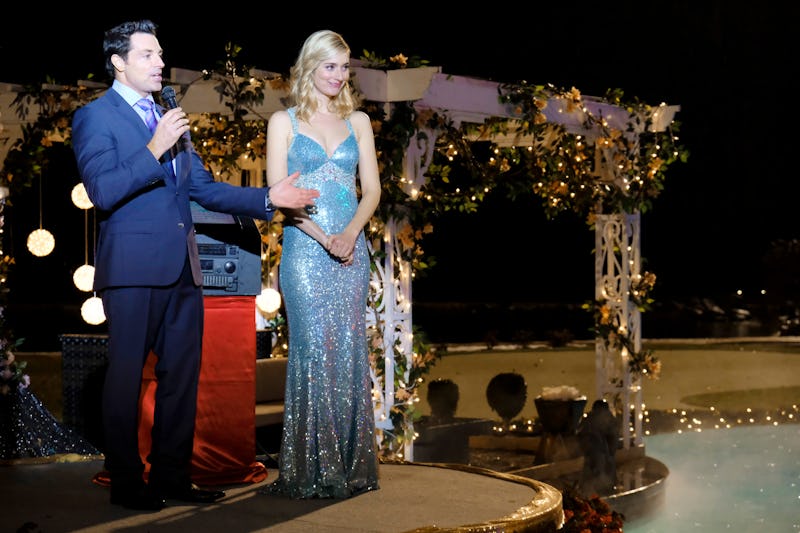 Lifetime/Bettina Strauss
It may have been easy for Rachel and Quinn to have their way with the male suitors of Everlasting. But with UnREAL Season 3's first female Suitor, everything's about to change. This major shift on the Bachelor-inspired series brings up relevant conversations surrounding sexism, work, gender, and dating that the cast and crew simply couldn't ignore, and they told Bustle about how UnREAL's female Suitor shifts the dynamic and shines a light on modern women and men in a realistic and necessary way.
Introduced in Season 3 is Everlasting's first "Bachelorette" Serena (Caitlin FitzGerald). She's a smart and driven Silicon Valley mogul who won't be manipulated, but she's also very single. The strong-willed lead may give Rachel (Shiri Appleby) and Quinn (Constance Zimmer) a run for their money, but Serena is more accessible and relatable than meets the eye. "We talk about how successful women have the hardest time finding partners, because they're successful, they don't need a man," Zimmer says. Of course, this is a common misconception and struggle that many working women deal with. "We talk about: How are these people gonna be single when they have everything? Well they don't." And that's the struggle. It's okay to want love and be vulnerable too, which Serena grapples with in her journey.
"Of course you need it, we all need love in our lives," Zimmer continues. "But if you have now worked so hard to get your career in a place, you're also now not gonna compromise." UnREAL's Executive Producer Stacy Rukeyser says she was particularly excited to explore these issues of gender politics because she deeply related.
"[Serena] is this smart, strong, successful woman, who, for some reason, is still single. Why is that? That seems to be a predicament that many of my female friends have experienced, that I've experienced personally," Rukeyser says. "I was 37 when I met my husband. [Before I did], it was okay, because my career was going well, but it was also kind of sad and confusing. There are a lot of women who feel like the higher they climb up the ladder, the harder it is to find a guy."
This is an issue Caitlin FitzGerald admits experiencing and witnessing with close friends as well. "Serena has checked all the boxes so carefully, and it's a turn off for a lot of men. Does she have to change or adjust herself in order to be appealing to men?" she says. "That's a thing with most women I know in my life. It's hard to navigate."
And that's the question UnREAL will aim to tackle: Are successful women intimidating to men? While Serena wants to find love, she doesn't want to change or sacrifice who she is in the process — and she shouldn't have to. "She thinks, maybe it is me, maybe I should try to soften the edges," Rukeyser says. "It's confusing to know, 'Is it me?' Hopefully it's clear that our point of view is that's crazy, that she should not have to [change]. Okay, you found someone, but at what cost?"
Additionally, having a group of male contestants versus female contestants allows the series to explore male objectification, competition, appearance, and of course, testosterone. Cast members Brennan Elliott (who plays the handsome host Graham) and Craig Bierko (who plays Everlasting's playboy creator Chet) say the cast shift impacts their characters, too.
"The moment these guys take all their shirts off, and you think you're in shape, all of a sudden, I never felt more like a 51-year-old in my life," Bierko says. "They're statues, these people, every single one. It brings a lot of stuff out of Chet, his contempt." Elliott says the male contestants trying to win Serena over have a similar effect on Graham. "Dudes with their shirts off who don't eat and work out… they make Graham a lot more — [there's] another layer of misery and insecurity that made it very funny. He's very threatened," he says.
And fans shouldn't think there will be any less drama coming from a group of dudes. "I think there's more drama with the guys," says Bart Edwards, who plays contestant Jasper, a Wall Street banker. "There's more ego and fear. You'll see the guys be incredibly catty — bitching and scratching." Adam Demos, who plays contestant August, the laid-back surfer with a man bun, agrees. "Things get heated, fists fly. Boys being idiots. It's sort of that dynamic," he teases. And if there's anything we've learned in the first two seasons of UnREAL, it's that there's always plenty of drama on Everlasting. So let the games begin.