This Zodiac Sign Should Expect New Work Opportunities Next Month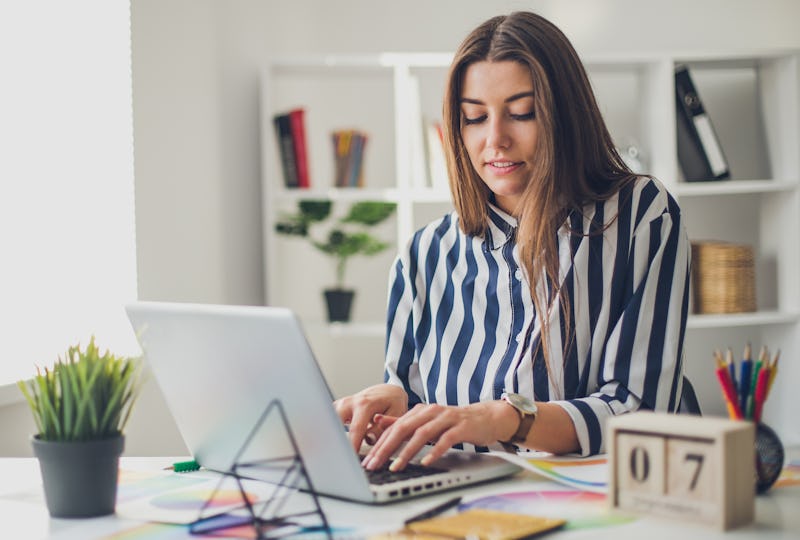 Shutterstock
The zodiac sign Virgo is taking center stage from Aug. 23 to Sept. 22, aka the official dates of Virgo season. It follows Leo season, which was lit up by the Sun between July 21 and Aug. 22. While Leo season inspired us all to get to know ourselves better and figure out what we like, what we want, and what we need to get rid of — astrologically assisted confidence boost, if you will — Virgo season is swooping in to solidify this new self. Of course, that can impact all facets of your life, including your career. Know how Virgo season 2019 will affect your work life based on your zodiac sign to get a sense of what to expect at the water cooler this month.
After a summer of very casual Fridays, Virgo season correlates with back-to-school, back-to-work time. It's time to stock up on new pens and notebooks. It's time to find that perfectly fitted professional blazer that gives you major boss vibes. It's time to bury your head in reports and e-mails — but, in an exciting empowering way. During Leo season we got insight into how our work was taking shape. There were opportunities to network and successfully put ourselves out there. With the conclusion of that, Virgo allows us to get down to business.
Bustle spoke with astrologer Lisa Stardust to get the inside information on what's in store at the office. "Virgo is the patient hard worker. The next 30 days will require us to hone in our critical eyes and focus our earthly energies on creating a new vision," Stardust says. It's time to organize. It's time to follow up. It's time to work for what we realized we actually want. If you have goals you'd like to meet, Virgo season is the ideal time to organize your plan to success.