How 27 Youth Groups Teamed Up To Get Students To The Polls On Election Day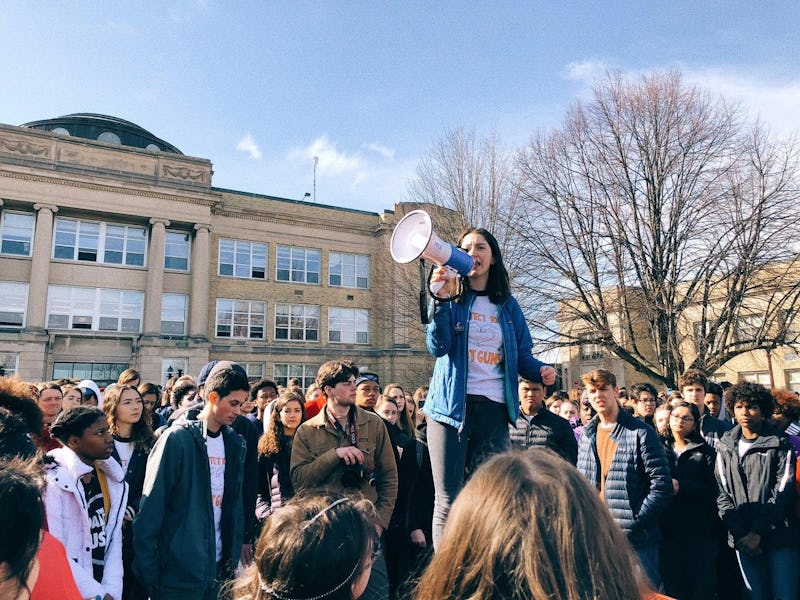 National School Walkout
Young people around the country plan to walk out of school on Tuesday and head straight to the polls — not only voting but drawing attention to the issues facing young Americans this Election Day. The action has been overseen by one 19-year-old activist, though she's quick to point out that this Election Day's Walkout to Vote is not about her. Katie Eder came together with a hundred fellow activists — from more than 25 groups — to make sure you get to the polls.
"The biggest thing is that Walkout to Vote is not just about one person or one organization," Eder tells Bustle. "It's about all of us as young people banding together. Banding together and uniting together is how we're going to make the larger impact."
Eder actually already voted by absentee ballot in Wisconsin, where she grew up and became involved in organizing around gun violence. The reason she's not there to vote on Election Day is that she'll be in New York participating in the walkout that brings together lots of different youth-led organizations working on different issues like March For Our Lives, Zero Hour, and Fifty Miles More, Eder's organization.
These groups — and 24 more — joined together to start Future Coalition, the national network that's planning Walkout to Vote. Future Coalition is determined to not just increase the voter turnout among young people, but to have them do it loudly and proudly — leaving school to go in groups to the ballot box. Students under 18 are invited to participate, too, allowing them to have a voice in the 2018 midterms, even if they don't get their own vote.
Eder's background is in gun reform advocacy — she organized a 50-mile march in Wisconsin this March to Speaker of the House Paul Ryan's home, demanding action on gun reform — but others involved in the walkout have worked in the past on other topics like climate change or gender equality. A group of 100 organizers nationwide are working on the logistics of the walkout, per Eder.
Until the beginning of the summer, each group was working in their own track. "Nobody was really talking to each other or collaborating," Eder tells Bustle. Future Coalition and the Walkout to Vote changed that completely. Now, they're exchanging resources, sharing tools, and empowering the next wave of activists.
"What connects us is the fact that we're young and that we care about our futures," Eder says. "That is the overarching theme. We are all really concerned about our future and our safety. And young people, we're going to have to live with the decisions that are made in the next few years for the rest of our lives."
This group of youth leaders that's now banded together is feeling "hopeful" about Election Day, Eder says she heard in a group organizing call a few days before the election. Mostly, they're happy that they have made themselves heard.
"We want to see results that are going to make our future safer and more just for everyone," Eder tells Bustle. "It's amazing to hear everyone talk about how, no matter what happens, we know we've made an impact. On a local level, on a state-wide level, on a national level, we've been heard."
This is just the beginning. Eder tells Bustle that the Future Coalition is already looking towards their next action, now that Walkout to Vote is already unfolding in high schools around the country. "We're already discussing things we want to do post-election," Eder tells Bustle. "I think young people, we have the opportunity to set a precedent for the country and the future."
If this article is the first time you're reading about Walkout to Vote, it's not too late to participate. "You can organize something as last minute as a few hours or minutes before," Eder says. Her advice is to get everyone you know 18 and over and go to the polls together. "We have to be heard."