How You Can Participate In The Election Day #WalkoutToVote Campaign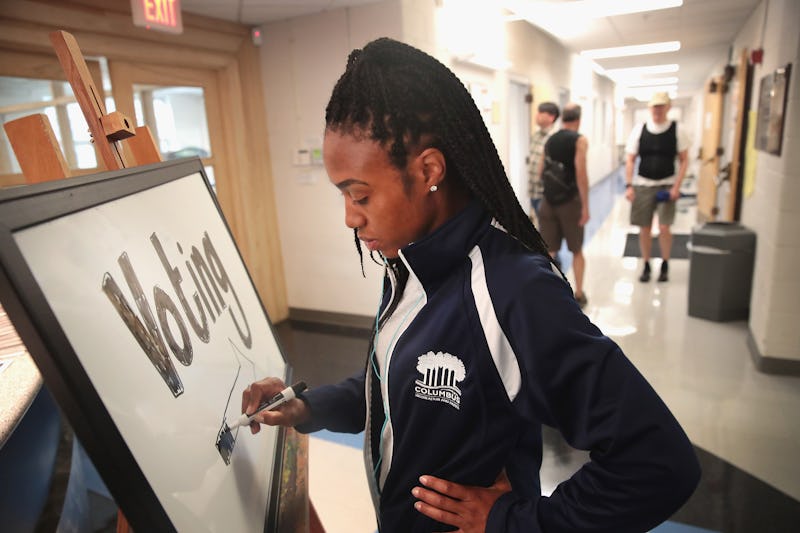 Scott Olson/Getty Images News/Getty Images
As March For Our Lives activists work toward registering a record number of voters for the midterm election, a new youth coalition wants to make sure those voters actually show up to the polls this year. The Future Coalition's Election Day #WalkoutToVote campaign, launching on Wednesday, calls for students of all ages to walk out of class — and for those 18 and over to go vote — on Nov. 6, Bustle can exclusively report.
"The youth are deathly tired of being gunned down in the streets, or whether it's in school… the youth are just tired of it. And we're no longer going to stand for politicians to just give us weak condolences or sorry excuses," Trevon Bosley, a 20-year-old B.R.A.V.E. activist from Chicago, tells Bustle. "So the walkout is going to show them that we are unified when it comes to the things that we want, and we're going to fight unless they fight for us."
B.R.A.V.E., a youth program that promotes peace over violence, has teamed up with March For Our Lives, 50 Miles More, National School Walkout, Student Voice, Zero Hour, and at least a dozen other youth-led organizations to form the Future Coalition. The group's inaugural #WalkoutToVote initiative aims to prove to the nation that young people are capable of coming together to fight for change and won't tire of marching in the streets for issues they care about.
Bosley is helping organize Election Day walkouts in Chicago, and students across the country are are doing the same at their own schools. More than 500 individual walkouts in almost all 50 states are already in the works, but the organizers hope to see students in every state participate. If you want to find a walkout near you — or organize one for your school — check the #WalkoutToVote website for information on how to register.
Events will look different in each community, depending on the location of your polling place. Some students will walk straight from school to their polling place, while others will drive or host a rally for students to pledge to vote. But building on the momentum of the National School Walkout in April advocating for gun control, the Election Day action will give students a nationwide community to be a part of and send the message that they're not going to the polls alone.
"Asking students to walk out of class on Election Day and march together to the polls, it doesn't just make sure that people are showing up in record numbers on Election Day, but it really makes sure that we send this message to politicians and to the country that we are a unified front as young people," says Katie Eder, an 18-year-old activist and 50 Miles More executive director.
The #WalkoutToVote initiative goes hand in hand with March For Our Lives' #TurnoutTuesday midterm campaign urging teens to take action every Tuesday leading up to Nov. 6 to encourage people in their community to vote. And just like #TurnoutTuesday, the #WalkoutToVote organizers hope to see teens who aren't old enough to vote this year get involved.
"While we can't do it until we're 18, the process of voting and the impact of young people really encouraging others to vote and making voting loud and making it visible is going to have a really big impact," Eder says.
While it's still unclear whether activists' efforts to achieve record voter turnout in November will prove successful, a record number of people registered to vote on National Voter Registration Day last week. More than 800,000 people registered on Sept. 25 — roughly 30,000 more than registered the same day in 2016, according to TIME magazine.
"We're not going to continue to just let [politicians] sit around and play with our lives," Bosley says.