How Was Blue Ivy In Beyonce's Grammys Act?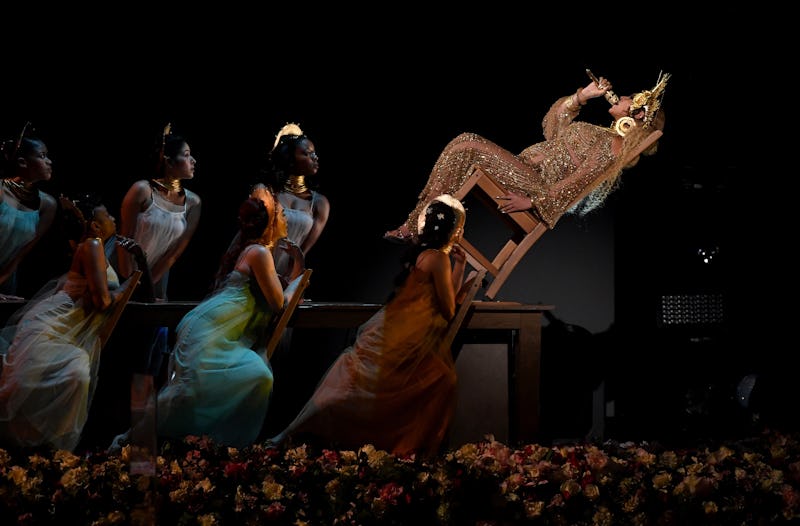 Kevin Winter/Getty Images Entertainment/Getty Images
If the fact that being pregnant with twins isn't stopping Beyonce from performing at the Grammy Awards, you clearly don't know the Queen. She's done it before, and this time included an impressive amount of film and theater magic. How did Beyonce's 2017 Grammy performance happen? The opening sequence blended reality.
Was that a hologram? A projection on a scrim screen that the real Beyonce and ensemble were standing behind and interacting with? My stagecraft knowledge doesn't have the budget of Beyonce's production design team, so I can't say for sure. The medley of Lemonade ballads began with a poem, while her dancers multiplied and Blue Ivy ran around them. The way that Blue flickered when she ran in front of "the real" Bey makes me think that it was a flat projection, not a hologram.
It's possible that the images were being projected on a screen that raised while the camera was on something else — because the rest of the performance used no video technology and took up a fair amount of space. The Grammys are not on a traditional proscenium stage, and with a camera crew they can get away with more than your average stage show and/or concert.
Then there was this mechanical chair, which just added a little added thrill. The whole performance was stunning, and the magic just added to the fascination and glamour that is Beyonce. Watch the performance below: