If You're Heading To Houston This Weekend, You Should Probably Cancel Your Flight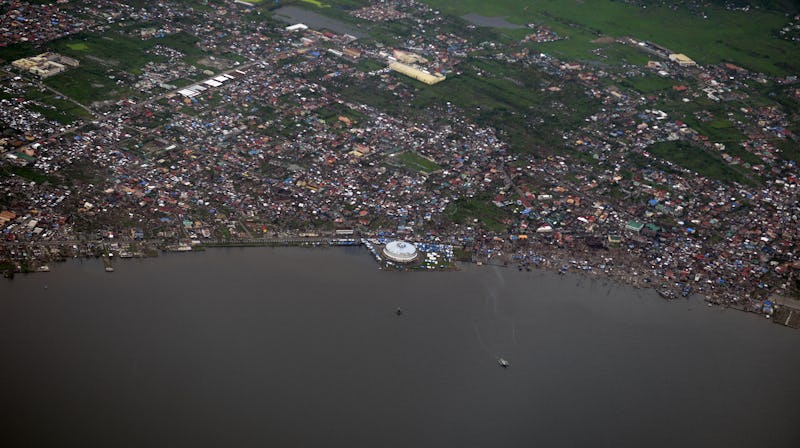 TED ALJIBE/AFP/Getty Images
The latest updates from the National Oceanic and Atmospheric Administration's National Hurricane Center warn that Hurricane Harvey will bring a "life-threatening storm surge and freshwater flooding" to Texas as soon late Friday or early Saturday morning. As people in Texas plan their daily routines and travelers alter plans — many are wondering how Houston will be affected by Harvey.
Due to the severity of the forecasts, on Wednesday Texas Gov. Greg Abbott issued a state of emergency for 30 counties in Texas, warning travelers to alter their plans accordingly, while directing the state to prepare emergency resources, just in case.
"Texans believe in taking action and always being prepared in the event of an emergency," Abbott said in his statement. "That is why I am taking every precaution prior to Tropical Depression Harvey making landfall. Preemptively declaring a state of disaster will allow Texas to quickly deploy resources for the emergency response effort in anticipation of the storm's hazardous conditions."
Several of the counties mention in Abbott's state of emergency are located in the Houston metropolitan area, including Chambers County, Fort Bend County, Harris County, Waller County, Liberty County, and Galveston County.
As such, if your travel plans take you through Houston this weekend, it might be wisest to delay your flight, or reroute if possible.
In lieu of possible travel difficulties, and to ensure the safety of their passengers, a handful of major airlines, including American, Delta, Frontier, JetBlue, Southwest and United, have all issued travel advisories for the affected areas. Due to the inconvenience, they are also waiving change fees for travelers to reschedule flights.
Currently, Hurricane Harvey is expected to hit Texas as a Category 3 storm, and on Thursday the storm sustained 80 mph windspeed, graduating it from a regular storm to a full-blown hurricane. A surge from the storm could reach heights of 10 feet, with waves topping that at 20 feet.
"Harvey is expected to landfall around 1 a.m. Saturday, based on the current track," ABC News meteorologist Melissa Griffin said. "When it does make landfall, it is expected to not move for several days, which is why we expect the rainfall to be the most devastating. Some spots could receive over 30 inches."
If Harvey does hit Texas with the full force of a hurricane, it will be the first hurricane to hit the state since 2008, since the Category 2 storm Hurricane Ike barreled through.