This Fan Theory About Rick's Exit From 'The Walking Dead' Could Explain SO Much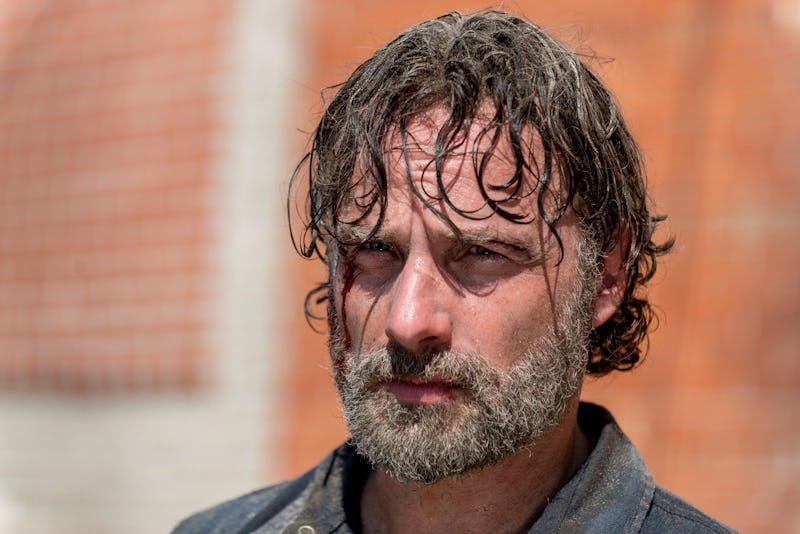 Gene Page/AMC
It's official. Andrew Lincoln confirmed at San Diego Comic-Con that he will indeed be leaving The Walking Dead. As I wipe away my tears, contemplating a future without Rick Grimes, it got me wondering; How will Rick leave The Walking Dead? Will it be a peaceful departure, or will he succumb to the virus? Or, will he be killed by someone close to him?
Whatever the answer, I have a feeling it's going to be sad AF. Especially since creator and producer Robert Kirkman has alluded that Lincoln "wants to do something special on the way out," in an interview with The Hollywood Reporter. "I wouldn't want to spoil anything, but anybody who has been a fan of his journey, who loves Rick Grimes, who loves the world of The Walking Dead, you're going to want to see what we do."
Throughout the series run, there have been constant fan theories running wild regarding the narrative, characters' fates, and what the future of the show may hold. For now, I've compiled seven of the most interesting fan theories that could change everything. Whether or not you believe that Rick's been in a coma this whole time or that he's actually a sentient zombie (yes, that is a theory), you'll definitely have a different mindset when it comes to how Lincoln will eventually leave the show after reading this lot.
Prepare to have your mind blown.