A Runoff Election's Still A Possibility In Georgia — Here's How It Would Shake Out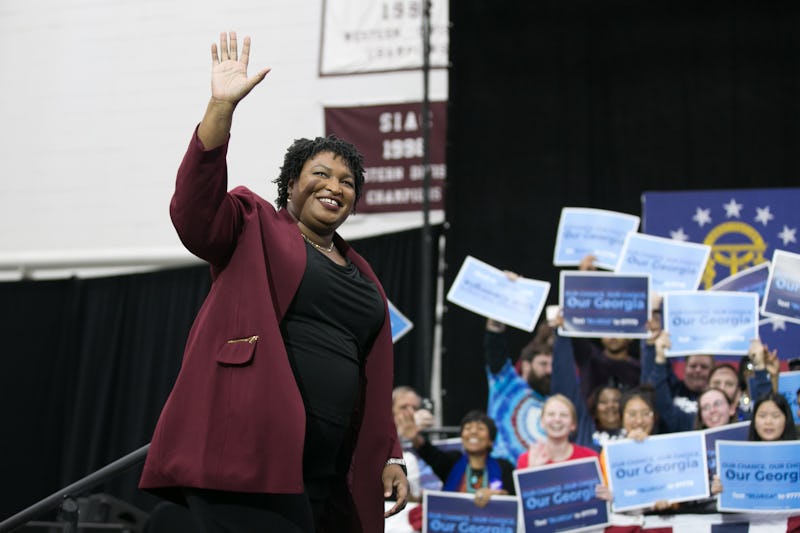 Jessica McGowan/Getty Images News/Getty Images
The gubernatorial election in Georgia has turned out to be one of the most hotly contested races leading up to the 2018 midterms — and it might be one of the only ones that doesn't actually get decided on Tuesday. Democrat Stacey Abrams and Republican Brian Kemp have been polling so closely that the race is considered a tossup—and it could even lead to a runoff. For those wondering how a Georgia runoff election would work, the first thing to know is that it's not enough for the candidates to simply receive the most votes in the general election.
Rather, Abrams or Kemp (or libertarian candidate Ted Metz, though it's highly unlikely) has to receive over 50 percent of votes in order to clench the governorship. Otherwise, the top two candidates have to go into a runoff, which would be determined on Dec. 4.
Many polls conducted in the last few weeks have estimated Abrams and Kemp to receive around 46 percent of votes, respectively. One such poll is the one below, conducted by WSB-TV and AJC, which shows Abrams estimated to receive 46.9 percent of the vote, and Kemp to receive 46.7 percent. Those numbers would not be enough for either candidate to win on Tuesday.
If neither candidate receives over 50 percent of the vote, then the top two candidates of the three on the ballot (presumably Abrams and Kemp) will continue to campaign through to Dec. 4, at which point the candidate with the most votes will win the election. And if this happens, then there will likely be several factors at play in the runoff election.
The first factor is legal battles. Politico reports that both Abrams and Kemp's campaigns are preparing to contest the results of the election, should there be a runoff. This is especially relevant given the recent reports of voter suppression in Georgia, as well as the recent ruling by two federal courts requiring that Georgia let thousands of naturalized citizens vote.
The second factor will be money, since another month of intense campaigning would require millions of dollars from each campaign. And since this will be the first time a Georgia gubernatorial general election triggers a runoff, it's virtually guaranteed to generate intense buzz across the nation.
Though fundraising probably wouldn't be a problem for either candidate—their combined fundraising has yielded over $56 million in donations, breaking Georgia records— it would likely mean an increase in attack ads, celebrity endorsements, and continued involvement by figures like POTUS and Oprah.
Regardless, both teams have confirmed publicly that they're focusing first on the results on Tuesday, not a possible runoff. Abrams' campaign manager, Lauren Groh-Wargo, said to Politico, "By running a large scale GOTV operation, securing a robust legal team and making historic investments in voter protection to ensure every eligible voter can cast a ballot, our campaign is preparing for every scenario on election night and ready to fight for every vote."
As for Kemp, his campaign communications director, Ryan Mahoney, provided a similar emailed statement to Politico: "We are working around the clock to win on November 6th. That's the goal. Singular focus."