How You Can Help Muslim Refugees In America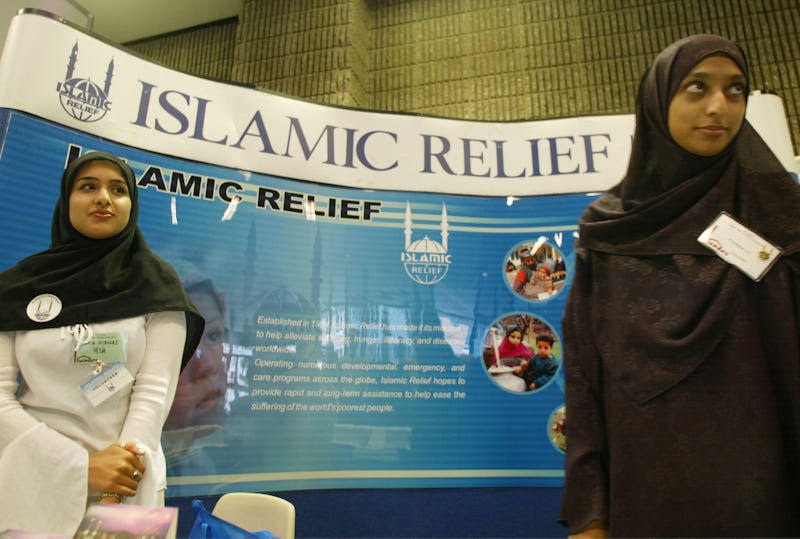 Mark Wilson/Getty Images News/Getty Images
Although the United States welcomed a record numbers of Muslim refugees in 2016, it is still important to recognize their unique hardships — especially as we honor World Refugee Day. While Muslims make up the plurality of refugees that came to America last year — 46 percent, according to the Pew Research Center — they arrive facing a wave of Islamophobia that is only increasing, according to the Southern Poverty Law Center.
While it is clear that anti-Muslim rhetoric and groups were on the rise before Donald Trump became president, his attempts to institute travel bans that targeted Muslim-majority countries raised concerns for some advocacy groups, like the American Civil Liberties Union, which decried it for unfairly targeting Muslims. When the 4th Circuit ruled against Trump's second attempt in May, the decision stated that the executive order "drips with religious intolerance, animus, and discrimination." Even with more of them entering the United States, the atmosphere for Muslim refugees is still tense.
"Refugees are facing a variety of challenges," Sharif Aly, an Advocacy Counselor at Islamic Relief USA, tells Bustle in an email. "The most prominent is an increase in xenophobia and negative anti-refugee rhetoric which is limiting the available resources for their resettlement and creating an unwelcome atmosphere for many."
Aly tells Bustle that anti-Muslim rhetoric only adds to the trauma refugees face while trying to escape war torn countries.
"Refugees are rushing to escape violence and terrorism," Aly says. "Unfortunately, some rhetoric exists that attempts to characterize refugees as people who are dangerous when in fact they've been trying their best to protect their families and find safety."
In response to the widespread needs, IRUSA has a Refugee Crisis program. The program features a few tiers of needs, supplying food, water, medicine and shelter to those facing emergency circumstances, both in the USA and abroad. Once families are settled, IRUSA offers more in-depth support such as job training.
Alongside their focus on providing families with initial food and shelter upon arrival in the U.S., IRUSA has recently shifted its focus towards the more permanent process of helping families resettle. Currently, IRUSA has seven regional offices in the U.S: in northern California, southern California, Illinois, Florida, New Jersey, Texas and Virginia, according to Aly.
While all of their offices serve as headquarters for local fundraising and advocacy, Aly tells Bustle that in the past year they opened their first offices specifically focused on refugee resettlement.
"Islamic Relief USA launched its first resettlement office in Raleigh, North Carolina last year where we provide case work for refugees and assist them in filling out important applications, providing shelter support, and assist them in orienting to their new surroundings," says Aly. "Islamic Relief USA provides resettlement support in Virginia, Maryland and North Carolina."
There are a variety of ways you can volunteer to help newly arrived refugees settle into the United States. Aly says that IRUSA is always looking for willing volunteers, particularly in the cities focused on permanent resettlement. "Supporters can volunteer on our website at IRUSA.org where they can be provided volunteer opportunities. We are especially active in Virginia, New Jersey/NY, California, Texas, Florida and Illinois," says Aly.
With the large amounts of women and children refugees, Aly shares that IRUSA has women's programs specifically developed to support women refugees as they traverse the intersection of global sexism and xenophobia. That can be a great group to specifically volunteer with, Aly says.
"In the United States, we have had advocacy for gender equality, livelihood support programs that assist women to build up their employment capacity and develop sustainability especially with homeownership programs," Aly explains. "In addition, we have educated Muslim religious leaders, Imams, on the dangers of domestic violence and how to counsel women who are victims of gender based violence."
If you want to find out more about opportunities to help and volunteer, you can check out Islamic Relief USA's website — and not just on World Refugee Day.