'Playboy' Founder Hugh Hefner Dies At 91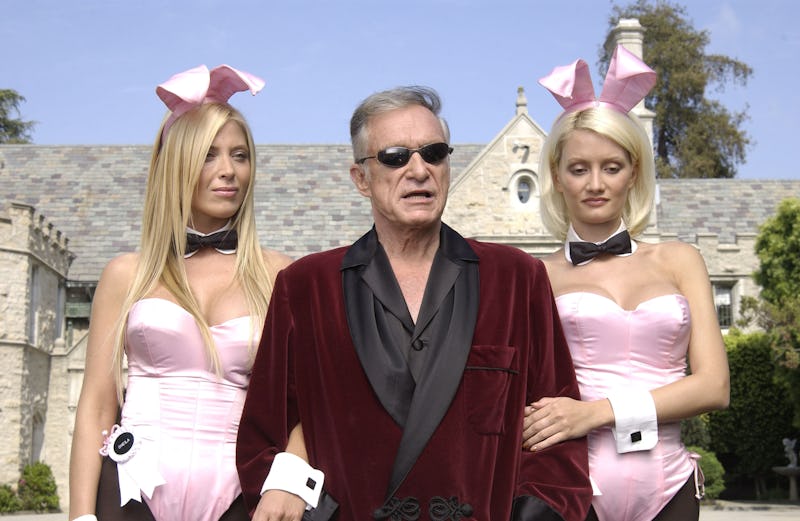 Robert Mora/Getty Images Entertainment/Getty Images
On Wednesday night, People magazine confirmed that Playboy magazine founder Hugh Hefner died at age 91. He had been involved in the enterprise since the magazine's first issue was published in December 1953. Over the next couple of decades during the "sexual revolution" the men's magazine filled with both detailed interviews and nude photos of women found immense success. During a September 2003 interview with CNN, he revealed that a $1,000 loan from his mother, along with a few other small loans, had made it possible for him to start his business back then.
Though Hefner is oftentimes described as an "icon" without explanation, his son elaborated on the label in a statement released after the businessman's death. Cooper Hefner, Hugh's son and Playboy Enterprise's chief creative officer, explained that his father's impact extends past the print media world and will continue to do so.
My father lived an exceptional and impactful life as a media and cultural pioneer and a leading voice behind some of the most significant social and cultural movements of our time in advocating free speech, civil rights and sexual freedom. He defined a lifestyle and ethos that lie at the heart of the Playboy brand, one of the most recognizable and enduring in history. He will be greatly missed by many, including his wife Crystal, my sister Christie and my brothers David and Marston, and all of us at Playboy Enterprises.
His representative also released a statement to People in remembrance of him, noting that he had died "peacefully" at the famous Playboy Mansion. He reportedly died of natural causes.
Hugh M. Hefner, the American icon who in 1953 introduced the world to Playboy magazine and built the company into one of the most recognizable American global brands in history, peacefully passed away today from natural causes at his home, The Playboy Mansion, surrounded by loved ones.
Though the Playboy founder has been idolized in American culture, he's also come under fire for portraying women as sex objects in the magazine. In response to the criticism, Hugh's daughter Christie Hefner, who gained control of the enterprise in the 1980s, told NPR during a 2003 interview, "If you want to reduce the magazine to its center three pages, then, in effect, you've objectified the magazine as much as anything else."
Hefner himself also chimed in, telling NPR, "I think you ought to talk to the women who've been in the magazine and see how they feel about that. I mean, what is more Puritan than somebody who has a strong opinion about somebody else's life and who disapproves of it because somehow or other it's not their particular way?"
Still, the Playboy mansion has seen its fair share of scandal. And furthermore, at least four playboy models' lives were cut short by either drug overdose or murder, putting into question whether Playboy constituted an empowering, healthy work environment for women or endangered them. However, at the same time, the magazine did support liberal issues such as abortion rights, birth control, and freedom of sexuality during a time when such ideas were heavily repressed in America. The point is, Playboy magazine's relationship with feminism will always be a fraught one — with or without Hefner.
In his last days though, the Playboy founder did encourage Americans to be charitable and support the One America Appeal, a fundraising effort spearheaded by five former American presidents to help aid Hurricane Harvey, Irma, and Maria victims.
Though he hadn't run Playboy magazine for a few decades, Hefner was active up until his death, making cameos and maintaining a social media presence, as evidenced above. He leaves behind his wife, Crystal, and four children.