The Humane Society Is Sticking By Its CEO Who Was Accused Of Sexual Harassment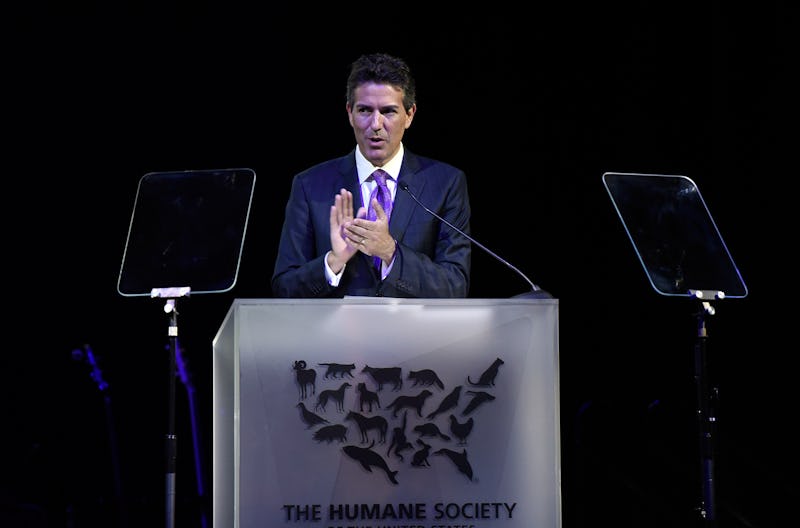 Angela Weiss/Getty Images Entertainment/Getty Images
Wayne Pacelle, the Humane Society CEO accused of sexual harassment, will keep his job — and seven of the organization's board members have since resigned in protest, the Washington Post reported Thursday. Bustle has reached out to the Humane Society of the United States for comment.
The news comes days after reports of that an internal investigation revealed several sexual harassment complaints against Pacelle, who's been the head of the nonprofit since 2004. Pacelle denies the accusations, insisting that they are instead a "coordinated attempt to attack me and the organization."
Over the course of a seven-hour meeting on Thursday, the Humane Society's board voted not to expel Pacelle from his position, the Post reported. Immediately after that decision, seven board members who opposed Pacelle's continued employment at the organization resigned in protest.
In December, the law firm Morgan Lewis conducted an internal investigation of the Humane Society of the United States, and identified several women who said that Pacelle had harassed them in his capacity as CEO. The Post also reported that the organization offered settlements to three other employees who, after registering complaints against Pacelle, were either dismissed or demoted. "I absolutely deny any suggestion that I did anything untoward," Pacelle told the Post.
Pacelle's accusers include a former intern who said that he kissed her against her will in 2005, and a former employee who said he asked to masturbate in front of her and offered to perform oral sex on her in 2006. Another former employee said that Pacelle stopped by her office one night in 2012, started salsa dancing by himself and asked her to join him. Regarding that last accusation, Pacelle told the Post that he "simply had a conversation with a person and it turned into that," and added that the accuser "never said a thing to me about any harassment."
Investigators also determined that Pacelle had a sexual relationship with a female employee, who told investigators that he became abusive and controlling after the relationship ended. Pacelle told the Post that this relationship never occurred.
Rachel Perman, the director of charitable giving at Tofurkey, told the Post that she emailed every Humane Society board member in November to warn them of alleged sexual misconduct in the organization. She said that only one board member responded to her, and did so with hostility.
"Are you out of your mind?" board member Erika Brunson allegedly wrote Perman. "Don't you have anything better to do in life than air your repressed sexual fantasies in public?" When asked for comment on that email, Brunson told Politico that "this country is crazy," and that women need to "get tougher [and] don't go around whining, saying you've been sexually harassed."
Pacelle isn't the only current or former high-ranking official at the Humane Society to be accused of sexual harassment. Politico reported on Tuesday that Paul Shapiro, until recently the director of the organization's Farm Animal Protection wing, was named in a sexual misconduct complaint that four female employees filed in 2016. He was accused of asking employees to have sex with donors, telling lewd jokes and propositioning employees himself. In a statement to Politico, Shapiro acknowledged that he had engaged in "inappropriate behavior years earlier in my career," and that he "was held accountable" for it. However, Shapiro also said that some of the accusations against him "frankly just never happened." He left the organization in early January.
The fallout from the board's decision to retain Pacelle was swift: Several prominent donors to the organization, including Perman and philanthropist Jim Greenbaum, told the Post that they would no longer give money to the organization as long as Pacelle is still in charge.