Hundreds Of Millennials Are Running As Democrats In The 2018 Midterms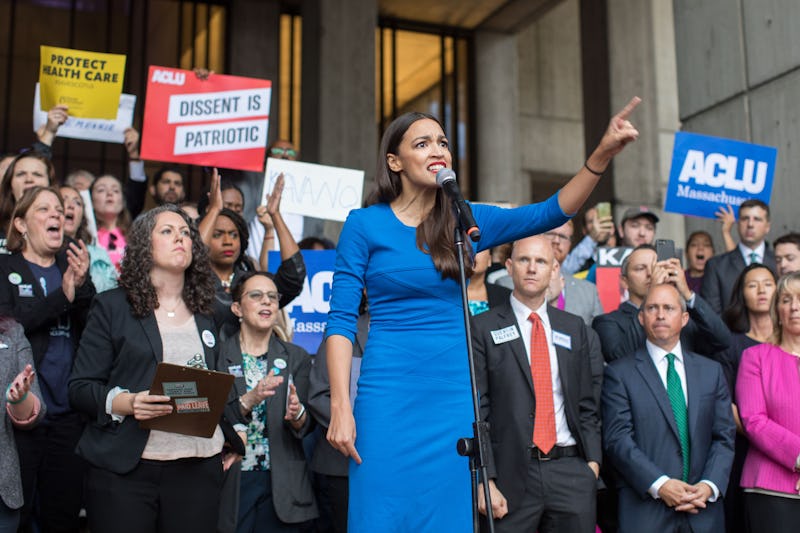 Scott Eisen/Getty Images News/Getty Images
The enthusiasm for the midterms seems to have bled into every age group — and millennials are no exception. But beyond volunteering and donating, a large number millennials are running for office at federal and state levels. Run For Something, a progressive group that recruits younger candidates for office, told Axios that there are 600-700 millennials running on Democratic tickets in nearly every state (46, to be exact).
By comparison, similar groups for Republican political candidates said they've recruited a "bunch of them," Republican State Leadership Committee's David James told Axios. The online news outlet cited Republican millennial candidate Bill Essayli of California, who is running for the 60th Assembly District, as an example.
Amanda Litman said Run For Something, like many new progressive groups, started after Donald Trump's victory in 2016. "I didn't have a good answer, and that felt like a problem that was a symptom of a whole bunch of problems in the Democratic Party," Litman told The San Francisco Chronicle.
When Run For Something began, they thought would be a project for a couple hundred people, instead it turned into 19,000 "would-be candidates" and over 400 endorsed candidates in next week's election, according to The San Francisco Chronicle.
The National Conference on State Legislatures tracks the ages of legislatures on both a state and federal level. Currently, millennials comprise 30 percent of the country's population, but only occupy 5 percent of legislative seats. In comparison, baby boomers make up 30 percent of the population, but are the overwhelming majority of legislatures: 55 percent.
Perhaps the most high profile of this new cohort of millennials running for office is Democratic congressional candidate Alexandria Ocasio-Cortez. When she won the Democratic primary for the New York 14th Congressional District, she unseated a 10-term congressman and was seen as Nancy Pelosi's heir.
Millennial Action Project founder Steven Olikara told Axios that millennials are more willing to engage in bipartisanship. Millennial candidates (and eventually lawmakers) have "new ideas, fresh perspectives," Olikara told Axios. "The senior members are rigid in their thinking and more tribal in their politics. That's part of a product of being in politics for such a long time."
Sam Parcher, a millennial and first-time political candidate, told KQED that she was motivated by her students and daughter. The English teacher is running for Cameron Park Community Services District Board of Directors in California. "Recently I have, with how divisive politics have become, really felt like I needed to be more involved. I can't say that things are bad without actually doing everything in my power to change them," Parcher said, according to KQED. "One voice, one person can have a big effect on society. That's what my entire senior English curriculum is about. I felt a little hypocritical saying that without really doing anything."
Parcher decided to focus on a local position for her campaign. "I wasn't confident enough in myself for like a state position so I decided to start with my community. You know, all politics start local," Parcher said, according to KQED.
Parcher and Ocasio-Cortez are running for incredibly different jobs, but they're a part of the new generation stepping up, trying to change their communities.