Experts Are Predicting That Hurricane Harvey Could Cause "Life-Threatening Flooding"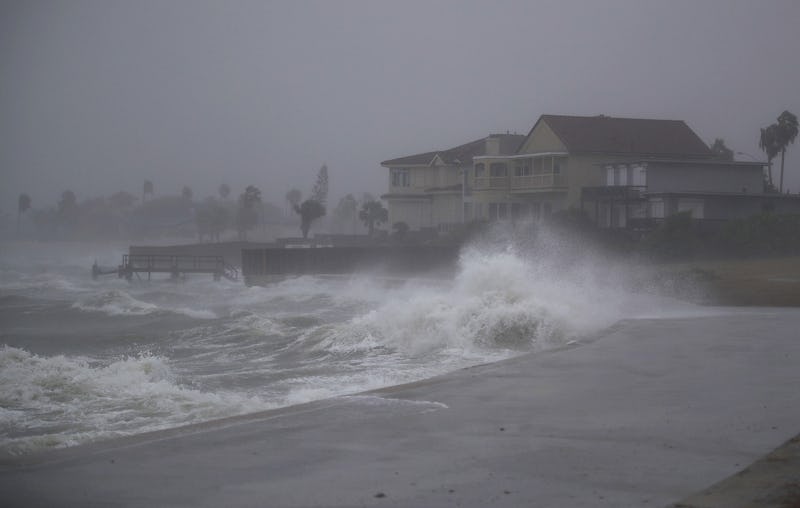 Joe Raedle/Getty Images News/Getty Images
At some point late on Friday or early on Saturday, Hurricane Harvey is going to make landfall along the southeastern coast of Texas. Having grown from a tropical depression in the Gulf of Mexico in the past few days, many experts and authorities' Hurricane Harvey predictions are suggesting it'll have a damaging, potentially life-threatening impact on the Texas residents directly caught in its path as well as people in surrounding affected areas.
Based on the most recent reports, Harvey is currently a Category 3 hurricane, and figures to be the most powerful storm to strike the U.S. mainland since Hurricane Wilma in 2005. Specifically, a Category 3 hurricane possesses wind speeds between 111 and 129 miles per hour, the sort of winds which can reportedly rip roofs off buildings and dislodge tree roots.
According to meteorologist Jon Erdman for Weather.com, the hurricane is expected to bring "catastrophic rainfall flooding, dangerous storm-surge flooding and destructive winds" over the course of the weekend and ensuing couple of days, potentially rendering swaths of the middle and upper Texas coast uninhabitable for the near future. It's projected to make landfall in the city of Corpus Christi in relatively short order, reportedly bringing with it rainfall levels of 15 to 25 inches, and the potential for rainfall of more than 30 inches in isolated areas.
The city of Houston, in particular, is expected to be hit by a forceful downpour. As detailed by The Times-Picayune, the National Hurricane Center has warned that the hurricane ― which has prompted both voluntary and mandatory evacuation orders in a slew of Texas counties ― will create life-threatening conditions:
Devastating and life-threatening flooding is expected across the middle and upper Texas coast from heavy rainfall of 15 to 25 inches, with isolated amounts as high as 35 inches, from Friday through next Wednesday.
The state of Louisiana is also expected to be hit with severe rainfall, although as of this writing, Harvey is not projected to veer directly toward the Bayou State. A state of emergency has been declared by Louisiana Governor John Bel Edwards, with some mandatory evacuation orders issued ― such as in Cameron and Vermilion parishes.
The National Weather Service has also issued a tornado warning from the southeast Texas coast to the southwest Louisiana coast Texas and Louisiana coast.
While the storm is being represented by severe weather authorities as life-threatening, the precise scale of the likely damage isn't yet clear. The deadliest hurricane in the modern era by far was Hurricane Katrina in 2005, which left more than 1,200 people dead. By comparison, Hurricane Wilma ― also in 2005, and the last time a Category 3 hurricane struck the United States ― only killed 62 people.
Hopefully, given the repeated warnings by public officials and calls for evacuation, any death toll relating to Hurricane Harvey will look more like what happened during Wilma than the incredibly deadly impact Katrina had on New Orleans. As it stands now, however, the only thing that's totally clear is the landfall is imminent, and all the relevant authorities are repeatedly stressing the need for extreme caution as it grows nearer.