I Dressed Like Vintage Barbie For A Week In The Name Of Body Positivity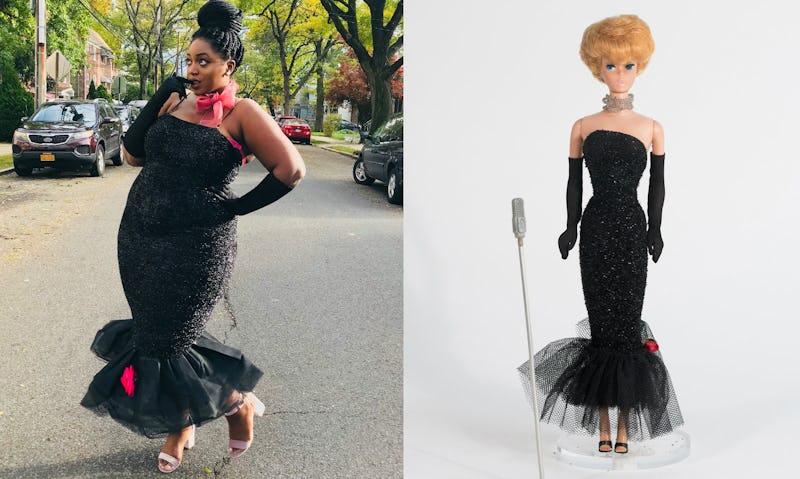 Ari Bines/ Unique Vintage
There's a lot of courage to be had when picking out a bold, I'd-usually-never-wear-this outfit from the back of your closet. But there's even more courage in making the wild decision to dress as one of fashion's biggest and baddest icons — Barbie. Especially for an entire week.
When the Unique Vintage x Barbie collection launched, it was a pretty big deal, especially for me. Unique Vintage is a brand that makes vintage fashion more inclusive. And while "inclusive" has become something of a buzzword that makes me cringe (followed by a hard eye roll) from time-to-time, there was no denying this Barbie collaboration (ranging from sizes XS-5X) was something to marvel at as a "big girl." So I, a plus size Black woman, decided to challenge myself to dress as Vintage Barbie for four days.
While I want to say I was dressing as Barbie for all of the young Black girls stamped with the "chubby" label in grade school, I also did it for the little Black girl still inside me. There were so many missed opportunities to rock Barbie-based fashion as a kid because I could never could wear the matching girl-sized outfits that sometimes came packaged with the doll's look.
There's no doubt plus size fashion is thriving, as the industry is worth billions, but even within that sphere of fashion exists popularity contests for which bodies, shapes, and back rolls deserve to be seen. Women of color have long been left out of body positivity or, at the bare minimum, are not seen enough.
Body positivity has always had a heavy presence (pun intended) within Black culture as our curves have always been celebrated as is. Not to mention, the superficiality over looks and size was kind of the least of our worries back in the days of the 50s and 60s.
Despite having worn some of Barbie's most iconic looks for a week, people around me probably couldn't pinpoint I was dressing as a Barbie doll straight out of the 1950s and 60s. Because, well, most vintage Barbies don't look like me, a coco-skinned, thick and curvy black woman with a wagon for a booty. Oh yeah, and a head of 4C kinks. In sum, I'm the very antithesis of what straight haired blonde vintage Barbie looked like in those days. Plain and simple, the 50s & 60s didn't rock with my type when it came to fashion.
So I made it my mission to rewrite history, rocking the Barbie x Unique Vintage collection for a few days to throw the world for a curveball. To spectators, I looked like any other fashionable, rich Park Avenue white woman — except Black and thick.
Becoming the life-size version of a doll I'd never been able to relate to was scary. Being an ambiguous size 18/20/22 (you know how it is) often amplifies the fear of "what if this makes me look stupid". But I found dressing as a vintage Barbie gave me a sense of confidence I didn't have wearing my everyday clothing. In the moments I felt judgmental stares on me, it forced me into becoming a more powerful version of myself.
The Red Flare Coat
Being that I live in New York City, making yourself stand out feels almost impossible — but this coat may be the solution. On my first day of being thick, Black Barbie, walking throughout the Occulus mall by the World Trade Center dressing to the nines from a past era made me that chick. Throughout the hours I wore the red coat, the more regal I felt.
On a regular day out, I'd be dressed in jeans and a nice top or a cuolette pant suit with one or two ketchup stains that never completely faded in the wash. But something changed in me the instant I wore this coat. I became way more self-aware of how I carried my walk and posture. And weirdly began to think more highly of myself moving in the fabric. It was more than the fake-it-til-you-make-it confidence people put on. This kind of confidence felt real. It was genuine self-love.
"Am I sitting up straight? Are my shoulders squared? Should I practice crossing my legs like Anne Hathaway in 'Princess Diaries'?"
These were the thoughts encompassing my mind while receiving stares from mall shoppers. I was a completely different (wealthier-looking, but still broke) me. There have been so many times I opted for my more casual androgynous style when I actually wanted to dress more femme but my size (and society) wouldn't allow for that.
Needless to say, I finally felt like a woah-man.
Fashion Luncheon
While I don't have a membership to the local country club for brunch with the ladies who lunch, I definitely could have fooled the average joe. I walked past the nearby park on my way to my go-to Jamaican Bakery and received compliments from the other early risers.
The moment I knew the look was a success was the moment two older plus size women stopped to ask me where I'd bought my look and how much it cost. It was a proud moment to share the deets as we proceeded to comment on the struggles of finding unique looks for plus size gals.
The Career Girl Set
In the rare event that I marry rich and my wealthy husband has a "mysterious accident", this would be the look to wear to his untimely funeral. And it's not even all black!
Out of all the looks, this was undoubtedly my favorite to wear to Church on a Sunday. Mind you, I don't even go to church like that, but I figured this was an outfit that the Lord called upon me of all people to wear and stunt in on Sunday morning to mid-afternoon.
As I stepped out and into the the aisle of pews, the older people in the room would take their glances and more compliments from older ladies started pouring in. Which I couldn't help but eat all the way up.
Because the silhouettes of all the looks, minus the coat, were all tightly fitted, I definitely felt like a mermaid the way my legs stuck together in the skirts of every outfit. Once it got hot down there, I opted for some biking shorts to chill out the chafing. Nonetheless, I'd wear this look everyday if I could.
Solo In The Spotlight
This black and sparkly gown was almost too much for me to handle. Almost. And while I couldn't exactly wear this look too far out of my house (the thirsty dudes were out and about), it was definitely the most iconic and memorable of the bunch.
I didn't have the courage to leave the Bronx in a full blown gown, but I did walk it around my local grocery store to receive some stares. Men, women, and even one little girl marveled at my sparkles and told me I looked like a Barbie. Finally!
My Final Thoughts
Throughout wearing all these outfits, I definitely learned that fashion is pain. I can't say I'd wear these to co-couch potato with my bae after having to suck in and pull zippers together to close clasps. But I'd pull this out for a more elaborate — standing — event. But for me, fashion is almost always worth the struggle. Getting dolled up (literally) is fun.
Yet, for the most part, I was super uncomfortable wearing these looks. Partly because I'd look too out of place and feel bad for showing everyone up in the room. But also because the dresses were made moreso for curves that were unlike mine.
My curves have peaks and troughs, and these looks seem made for tamer curves out there. Either way, I loved how mine looked all the same. For me, the dresses were tight in the hips and my inner thighs needed to breath, girl. But despite my discomfort, I would wear them and strut like Tyra Banks in "Life Size" even if it killed me. Also, it's a major task to put on a full face of makeup and find the right 2018 accessories to match your vintage looks, but that's neither here nor there.
While I won't opt in for dressing like an inanimate figure everyday, if I feel the need to do the most to show up my frenemies, I'll definitely dust one of these babies off and slay.
But even so, I don't look like Barbie, I'm not Barbie, and I ain't neva gon' be Barbie. And that's perfectly fine with me.