I Interviewed Anthony Scaramucci In That Viral Video. Here's What I Know About Him.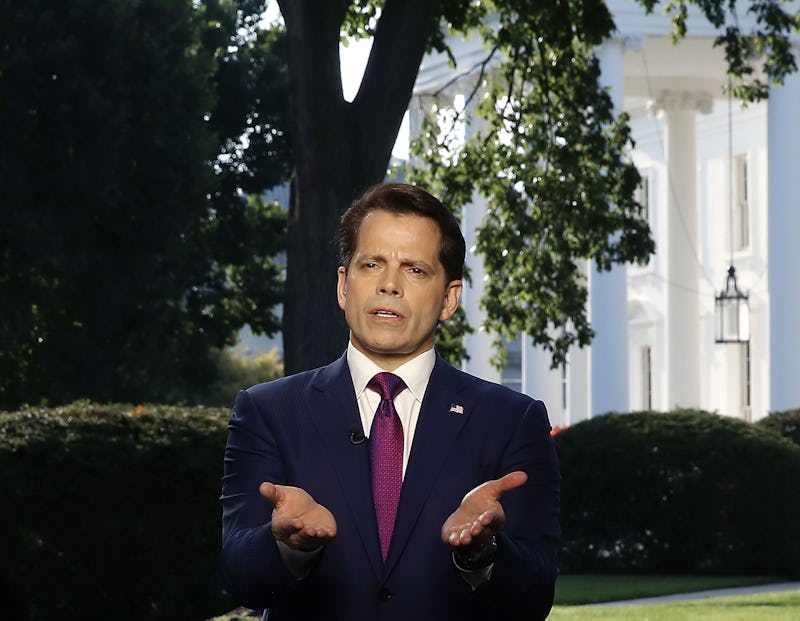 Mark Wilson/Getty Images News/Getty Images
The Twitterverse is exploding with schadenfreude at the rapid downfall of Anthony Scaramucci, President Trump's ill-fated communications director who got axed after just 10 days following a foul-mouthed tirade to The New Yorker. And while I disagree with his language in that interview (as my mom taught me: Loose lips sink ships), there's been too much mockery of Scaramucci for it to really be fair.
I first met Scaramucci through our mutual acquaintances in the Fox News orbit, and we discussed my television news startup Bold. I sought his advice because he successfully built his own show and sold it to Fox Business. I've hosted him on our Bold politics talk show, where he gave an eloquent defense of President Trump's economic policies, invoking intellectuals like Daniel Patrick Moynihan and Milton Friedman.
"I had been fired early in my professional life too, and it was a hellish ordeal, but one that ultimately made me stronger."
When I began hosting interviews for Salon.com, he had just launched his book Hopping over the Rabbit Hole: How Entrepreneurs Turn Failure into Success, which has useful advice for Millennials on how to build resilience. (His book has been endorsed by everyone from Tony Robbins to Arianna Huffington.) We then discussed how to be fired with dignity, which after today, is eerily prescient.
Scaramucci understands failure; after graduating from Harvard Law School, he failed the bar exam twice. After that, he got fired from Goldman Sachs after just 18 months on the job, on February 1, 1991, a date seared into his memory.
"I was crestfallen," Scaramucci told me. "I had just graduated from Harvard Law School, this was my first big job, I had school debt, and I was panicked, I was like 'What am I going to do now?'"
Thankfully, Goldman gave Scaramucci two months to find another gig, and rather than blowing up, he humbly parlayed the loss into another role at the same firm.
"You have to get fired with dignity," he said during our Salon Talk. "Thank god I handled the firing properly … I want young people that read this, sometimes I'm reading these magazines and it's this fully sanitized version of success. There's a 45 degree angle to their success, they had it all figured out at the age of 3, they were playing Mozart, all that other stuff. And it didn't happen like that for me. I was awkward, self-conscious. I had tremendous anxiety when I joined Goldman Sachs. Listen, I guess I'm comfortable talking about it today because I've done reasonably well, but I had these feelings of inadequacy."
"He doesn't see failure; he sees opportunity."
After our interview on firing, I felt empowered, as if he and I shared a common trajectory and that I would continue to find success. I had been fired early in my professional life too, and it was a hellish ordeal, but one that ultimately made me stronger. The firing put me on a different career path that today, oddly, makes me grateful for that early hiccup, and it was nice to be reminded of that by Scaramucci.
Now looking back on this video today, I'm hoping for the best for Scaramucci. Even if things may have been heated after his dismissal, I hope that he's able to cool off and handle today's firing in a similar fashion as his more youthful self.
Scaramucci is a master of reinvention. He doesn't see failure; he sees opportunity. I'm sure that after taking some time to decompress, he'll be hard at work planning his next reinvention. After all, "if you're going through hell, keep going."