'I Still See You' Star Bella Thorne Won't Be Bullied Off Of Social Media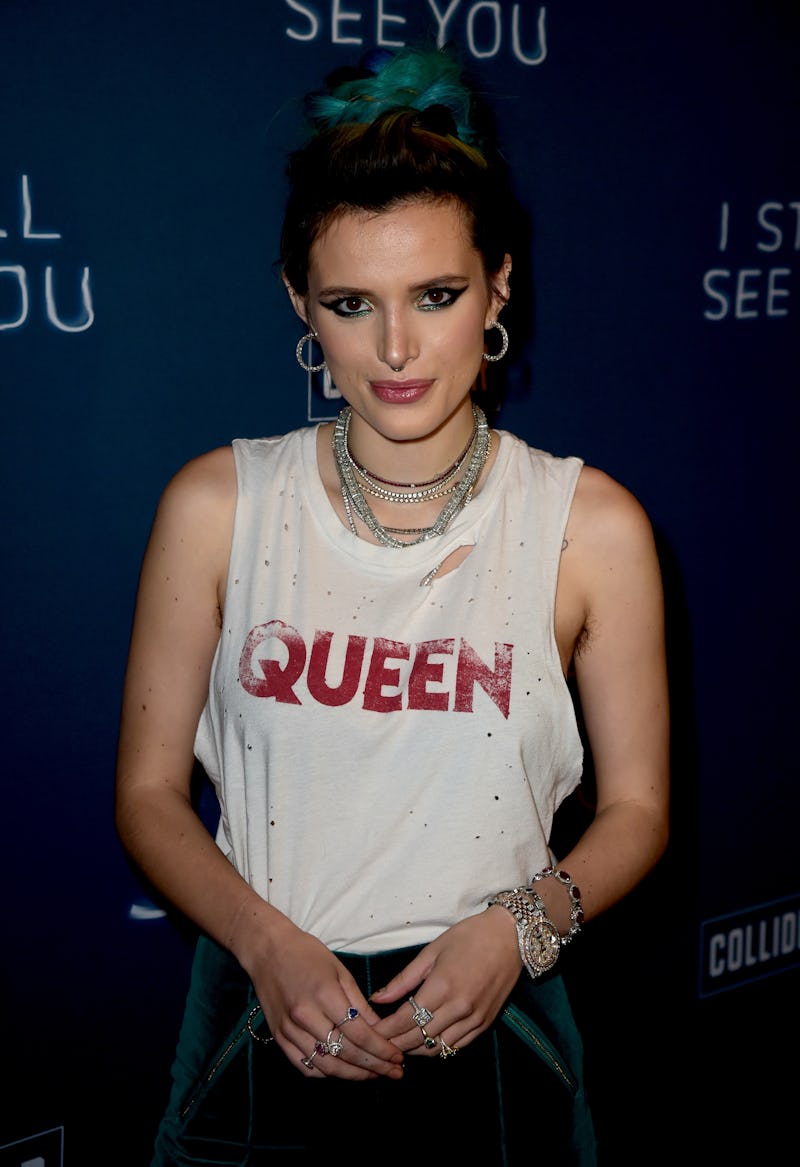 Kevin Winter/Getty Images Entertainment/Getty Images
Before I even ask them, I Still See You star Bella Thorne answers the first few questions I have about her new movie, opening in theaters on Oct. 12. She has the kind of confidence you'd expect from a former Disney Channel actor who has been in the public eye since her childhood and who has spoken out about sexual abuse, depression, and the #MeToo movement. With that same self-assuredness, though, Thorne still experiences bullying and harsh judgment.
Thorne puts a lot of effort and thought into being real on social media — acne scars and all — but it's not always met with praise. She has experienced bullying online and judgment from the press from just being herself. "I become a target of bullying because I go out without makeup and paparazzi catches my acne and [it's], 'Oh my God, Bella Thorne must have been partying the night before, because look at her skin, it looks drugged out,'" the 21-year-old actor and musician says, as she expertly balances our conversation with eating takeout pasta in a Los Angeles conference room.
But she wishes people would understand the real story behind those paparazzi photos. Thorne clarifies, "Well no, I was in the studio till 5 a.m. and I got up the next day at 8 to go to set so pretty exhausted and yes, my skin's breaking out. And that sucks, you make yourself a target for bullying just trying to relate to everyone around you, and that's such sh*t."
Thorne is known for her comprehensive resume of TV and movie roles — which include Disney Channel's Shake It Up, Midnight Sun, and Freeform's Famous in Love. She has a dedicated and loyal 18.2 million followers on Instagram and 6.7 million on Twitter. She interacts with her fans daily about fun topics like ordering Postmates, her upcoming projects, and her favorite music. She also speaks candidly about feeling alone and depression. Earlier this year, Thorne wrote a candid Instagram post about how she was sexually abused as a child up until the age of 14.
Speaking out and sharing un-touched-up images of her life are crucial to Thorne, so she doesn't contribute to the notion that a highly-curated social media presence equals the perfect life.
"I think that it's important to speak out about your life not always being so perfect," she says. "I want to show the acne and the scars and all of the things that make me a real person because everybody has those, it's just who chooses to show them. Not many people."
Thorne has brought some of that candid realness and vulnerability to her role as Roni in the thriller I Still See You. In the film, Roni is a teenager who lost her father as she knew him in a mysterious happening known as "The Event." His death haunts her every day, because in this world, those affected by The Event— including Roni's dad — return as ghostly "remnants" who appear and fade away. In this creepy exclusive clip, Roni deals with one such unwelcome visitor:
When she first read the script for I Still See You, Thorne connected with the character's loss of her father. Thorne's father died in a motorcycle accident when she was 8 years old. "As soon as I read the script, there was just so many of the small, like-minded coincidences that I was like wow, I already feel, obviously, very connected to this character," she says. "And then it's like I kind of almost never disconnected from her. I think Roni is the most saddening, depressed character that I've played yet. And I think that I brought her home with me. I just, I lived in there, I haven't let her go."
Thorne did find ways to draw the line between herself and Roni, though, through music (the song "What's Real" by Waters has brought her comfort) and feeling the wind outside of a driving car. "It's very interesting the way that music and air and wind and all the things that are natural to the body and to the earth, they can make you feel better without having to use anything not natural," she says.
And sharing her natural, vulnerable state with her fans remains crucial for Thorne — on and off-screen.