I Swapped Homes With A Stranger Like In 'The Holiday' & Here's What I Learned About Myself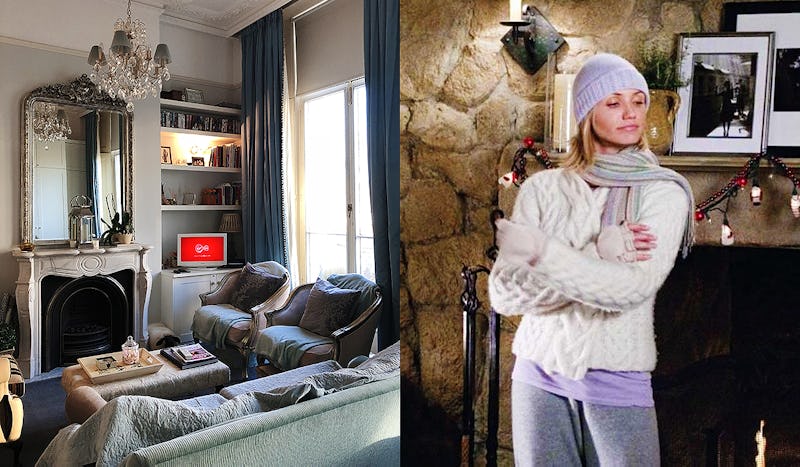 Tanya Ghahremani/Bustle; Columbia Pictures
If someone claims that they've never compared their life to someone else's, just a note: They're straight up lying. It's as common a human experience as death and taxes are, which is why the 2006 film The Holiday is still so damn resonating in modern pop culture, despite being nearly 13 years old. Starring Cameron Diaz and Kate Winslet, the film depicted two women — a stressed, high-powered Hollywood executive, and an unlucky in love wedding columnist from London, respectively — who swap homes after connecting on a home swap vacation website. By the end of the film, the women's lives are forever changed, both from living in someone else's world as well as from watching someone else appreciate their life in ways they never did. It's a goddamn classic that taps into the secret desire many of us have to escape from our own lives into someone else's shinier, more put-together one. Of course, The Holiday is a movie. Could that type of life therapy be possible by actually swapping homes with a stranger, IRL?
Of course, home swap companies really exist. Airbnb, for instance, could be considered one — however, unlike in The Holiday, there's no real feature to set up a home swap between two users. Home swap sites like the one in The Holiday are a thing, however — for instance, Love Home Swap. As creator Ben Wosskow told Bustle in 2018, he specifically based Love Home Swap on The Holiday. To sign up, users must commit to listing their own home on the site; once they're approved, they can then connect with other users to swap homes with each other. Travel dates between users don't have to match up exactly, either; if one user is looking for a home for one week, for instance, and another user has other travel plans that will leave their home empty for at least a week, they can make their home available for stays even though they won't be swapping with any other users. It's kind of like a more flexible version of The Holiday, adjusted for the modern day.
I only learned about Love Home Swap in 2018 from Wosskow himself during a brief meeting in NYC, but the idea of home swapping had been on my travel bucket list ever since I saw The Holiday in theaters. However, despite being an avid traveler, I'd never actually tried a home swap. It wasn't that I had a problem staying in someone else's home — instead, it was always the idea of someone else staying in my home that gave me pause. A person's home is ground zero for their deepest, darkest secrets, and home swapping requires two virtual strangers to let each other in on them with open arms. You have to be prepared to be emotionally vulnerable quite quickly, and leap before you look. It's terrifying.
But, after Love Home Swap heard of my own personal love of The Holiday, the company was kind enough to offer me the opportunity to experience the site — and home swapping — for myself. Despite my anxieties, seizing the day was at the forefront of my 2019 goals. I couldn't pass up the slight chance that this experience, though very much out of my comfort zone, could enhance my travels. Plus, I just really love The Holiday... and I would be lying if I didn't say that a tiny part of me was hoping to meet my version of Jude Law during this trip. After all, any vacation based off The Holiday was going to have a magical quality to it; anything could happen.
So, I did it. I leapt before looking, and honestly, I'm so glad I did. Thanks to Love Home Swap, I finally home swapped — and ended up loving it, too.