Elle Fanning Was Made Fun Of In High School For How She Dressed, But It Taught Her So Much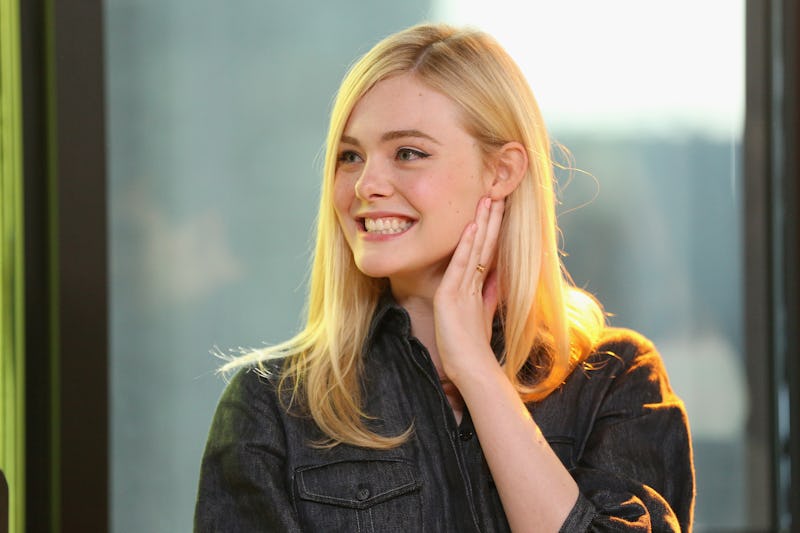 Rich Polk/Getty Images Entertainment/Getty Images
At just three years old, Elle Fanning started her acting career as the younger version of her sister Dakota's character in 2001's I Am Sam. Since then, moviegoers have gotten to track the now 20-year-old actor throughout her life, but that doesn't mean she hasn't experienced a lot of the normal growing pains that everyone faces to some degree. While chatting with Bustle in New York City this September, Fanning opens up about getting bullied at school and feeling like an outsider.
"I dressed differently than everybody else and I was really made fun of for that in junior high, and I remember feeling ugh," recalls Fanning, star of the new film I Think We're Alone Now. "You know, that's what [it's like with] high school cliques and girls, it's just... everyone's trying to fit into a mold but you're like, what mold is this that?"
That experience was unfortunate, but it did help inform Fanning for her role in her new indie apocalypse film. In I Think We're Alone Now, out now, Fanning plays Grace, who comes across Del (Peter Dinklage), a man who thinks he's the only person who survived the apocalypse. Grace quickly encroaches on Del's meticulous way of living in solitude, and the two of them try to figure out how to coexist and face a world in which perhaps only the two of them inhabit.
Even though cleaning up dead bodies and collecting batteries makes up Del and Grace's daily routine, Fanning claims that the movie isn't actually about the end of the world. "I don't think it's about the apocalypse," Fanning says. "That is the backdrop and you're always reminded about it but it's really about how these two people deal with the situation differently and that in the end human connection always wins. You don't want to be alone, no one wants to be alone. You want to have someone with you."
Del and Grace's situation may be unique, but the idea of loneliness is, of course, not — especially with social media being so pervasive these days. "I think Instagram can be a very lonely place... I do have it and I enjoy it and I keep it light, and it's nice to show what you're up to or whatever, but there is such a dark side of all of that as well," Fanning says. "People are alone, you're just scrolling through your phone."
In order to stay off social media and be present instead, Fanning simply puts her phone away while working. "I don't bring my phone to set, so set is like a nice place because you don't have to respond," she explains. "That is a rule that I have so I won't change that. You're focused on the work." And even when she does have her phone, Fanning only uses Instagram, and she wasn't allowed to have a public account until she turned 18.
Fanning may be open about her highly relatable struggles, but she says that she doesn't necessarily channel her real life when playing a character. "I try not to bring personal life [in] because that kind of ruins the fun of it," she explains. "It's like, ooh, I get to play someone else. I feel most comfortable when I'm in a costume and playing a different character because you get to set free and be so unlike yourself which I enjoy... That's why people like Halloween, you know what I mean?"
Speaking of Halloween, Fanning says that she thinks I Think We're Alone Now is scariest not because of its apocalypse setting, but because of its lack of action. "Everyone's so scared of silence," she explains. "It's just the theme of [the movie that] really scares people — not having the human connection." Fortunately for the actor, working with Dinklage and the film's director Reed Morano didn't resemble the movie's eerie tone in any way. Dinklage apparently cracked endless jokes while on set, and thanks to that, Fanning says she had a fun time filming a movie that answers the "now what?" following the end of the world.
And besides, the film isn't completely bleak. "[I Think We're Alone Now follows] the relationship between these two people and the hopefulness that it brings, and kind of the seriousness of these times, [but] also levity," Fanning says. It turns out that even for the loneliest people alive, there's still at least a bit of a bright side.