Elle Fanning Is So Tired Of Teen Girls Being Underestimated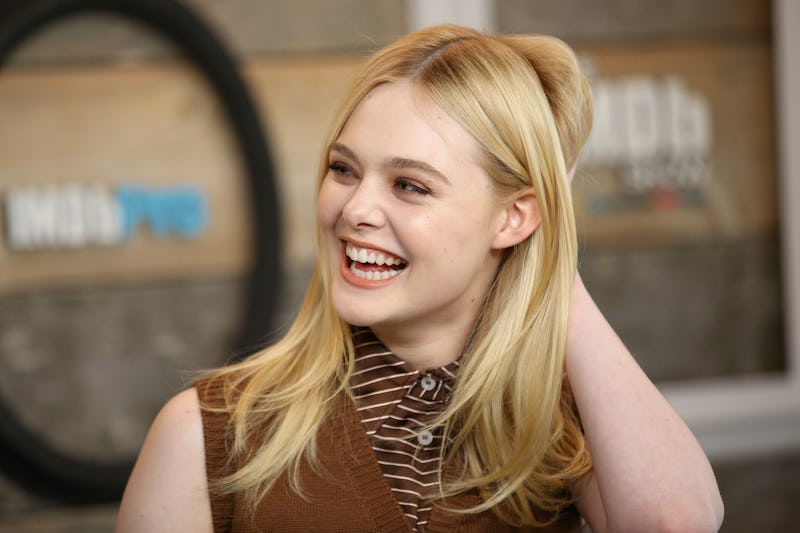 Rich Polk/Getty Images Entertainment/Getty Images
Don't underestimate Elle Fanning. After 17 years in the industry, the 20-year-old actor has grown up and come into her own, and she isn't putting up with anyone who doubts her for her age or her gender. In the years since her debut in I Am Sam at age three, Fanning, the star of the new film Mary Shelley, has more than earned respect in Hollywood. But the actor also knows that it's simply a fact that women, particularly young women, are often doubted and ignored, and that while every industry has sexism, Hollywood's focus on age can make it hard for actors of her generation to get their voices heard.
"When you're a teenager, sometimes your ideas can be flipped away and people say, 'Oh you're just young,'" Fanning says, speaking with Bustle over the phone in late April. And just like the Frankenstein author she plays in the new movie, out May 25, the actor won't stand for being underestimated as a young woman. "There's definitely a huge community of teenage voices that are so loud right now," she says, likely referencing many of today's youth-led social movements like gun control and sexist dress codes. "It's a new generation. We have new ideas, we're thinking in a different way, and also want to not just mold to the norm. Some things, they need to be looked at from a different perspective, which I think we're not afraid to do."
New perspectives were what Shelley and her unconventional life were all about. The film, directed by Haifaa al-Mansour, focuses on the young writer's late-teenage years during her radical courtship with poet Percy Bysshe Shelley (Douglas Booth), right before she penned Frankenstein or The Modern Prometheus and invented the genre of science-fiction as we know it. Though Fanning had read the gothic horror novel in high school, she had to give it a revisit for the role. "We all know the story," she explains, "but I was more interested in how [Shelley] came to write it. She was so young. I filmed this movie when I was 17, and she wrote the book when she was 17."
The parallels between the two women don't end there. As the daughter of Mary Wollstonecraft, one of history's first outspoken feminists, Shelley formed strong views on how women were expected to act in society, the purpose of marriage, and the fight for women's rights. Similarly, Fanning says that her opinions on topics related to gender have been greatly influenced by the women in her family.
"I'm someone who's been surrounded by tons of very passionate, very say-what-they-think kind of women in my life," the actor says. "Through my grandmother, my mom, my sister and my aunts and cousins — everyone. Growing up, my mother definitely instilled in me a sense of [how] your gender shouldn't mean anything. Be passionate and definitely assert your dominance. Don't let anyone try to bulldoze over you."
Throughout her career, Shelley had to fight for recognition; many publishers and literary honchos at the time suggested that her husband, Percy, was the true author of Frankenstein, a sexist accusation that persists to this day. People doubted that a woman could invent such a horrific tale, and while Fanning hasn't had to defend herself in her own industry like Shelley did in hers, she is all too familiar with the perils of being female in an industry dominated by men.
"Just finding great female stories, that's an everyday struggle for me," Fanning says. "I've found stories or books that I really love about a woman where she's the main character and you try to get the script made and you meet with studios and they don't seem interested. They don't want to do it and you wonder why. You think, 'Wow, could it possibly be because it's a woman's story? And centered around her?'"
Over the years, Fanning has worked with a number of female directors, including Sofia Coppola in 2010's Somewhere and 2017's The Beguiled. Somewhere, Fanning says, "Was one of the first major movie sets I was on and it was led by a woman. So seeing that at such a young age I was like, 'Oh wow!' I really am grateful that I had that first experience because [Coppola's] sets — it's so beautiful the way she runs them, and she's so respected and opinionated."
Due to her experience with filmmakers like Coppola and Mary Shelley's al-Mansour, Fanning has set her sights on directing one day in order to execute her own perspective. "One day, I can create something myself from a female's point of view of life, and tell our stories in a real way," she says. She doesn't yet know when she'll direct or what kind of film she'd want to make, but when Fanning does head for the director's chair, the strengths of powerful, determined women like Shelley will surely be in her arsenal.