I Tried Fake Freckles & I'm Not Entirely Convinced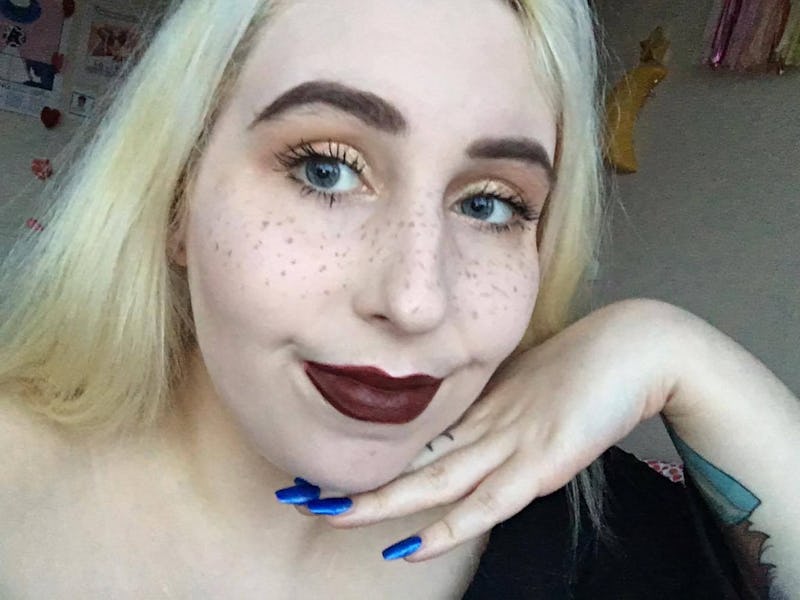 Gina Tonic
My skin has always been a wash of pure alabaster: It burns rather than tans, and I'm always returning from vacations almost exactly the same shade of translucent pale that I was when I left. With skin like this, you may anticipate freckles, but I have none. Finding out how to do fake freckles, however, never really appealed to me.
As the fake freckle look has grown in popularity among beauty communities on Instagram and YouTube, I've remained unconvinced that this trend could ever truly look as good in real life as it does in a carefully shot selfie. But of course, the only way to find out was to attempt fake freckles on myself.
While there are many tutorials and products out there for those looking to fake some freckles, the idea of temporary tattoos of fake freckles on my face made me reach for the moisturizer. Those truly dedicated to the trend have even started getting fake freckles tattooed on permanently, which, unfortunately, is a commitment I am far from even considering for an article.
But recreating a natural freckled look with makeup still seems to be just as much effort as having them inked on forever. Would this look ever actually be convincing without 15 Instagram filters over the top?
First of all, I'm including a fresh faced look simply to prove my total lack of freckles. As you can see, making myself freckled and fabulous would have to come entirely from my own judgement of where to place them. While I had solely imagination on my side for this experiment, makeup artist Alex Ogden recommended if you do have natural freckles, going over their placement for your fake freckles which will lead to a more realistic faux freckle look.
Next, I did a full face of makeup. I didn't powder my look, because I assumed this would be helpful on setting my future fake freckles. As everyone has their own routine and techniques for getting to this stage, I'm not going to bore you with mine — just go with the base look that feels best to you that day.
Detailing Brush, $12, Amazon
Stick with me here: I don't own the same products or tools as an internet makeup sensation may have. Because of this, I used a little ingenuity — the kind that would get me far if I was ever stranded on a desert island — and wiped the eyeliner off of a NYX liquid liner, and ended up with a perfect detailing brush. If you already own a detailing brush, you're already way ahead of the game.
For the brown tone of my freckles, I decided to use the wax from my Sleek eyebrow kit. I figured eye shadow may not be pigmented enough but if you, unlike me, own products specifically for the purpose of drawing on fake freckles, just use that. For the rest of us, this eyebrow wax worked surprisingly well with my makeshift detailing brush.
And finally, a product used for its intended purpose. I used this TonyMoly translucent powder over the top of my freckles (and the rest of my face) to set my makeup.
I'm going to be honest with you: You're going to get halfway through this technique and feel like you've made a deadly and horrible mistake. "I look like I've been splashed by a muddy puddle, solely across my nose and cheeks," was the main worry I had with this look at this point. Like an elementary school attempt at Pippi Longstocking fancy dress.
Once my face was fully covered, I could feel myself getting a little bit more into this look. While I liked it in pictures, as I looked in the mirror the obvious fakeness of these freckles made me feel like I could never wear them out of the house. To try and tone the suckers down a little bit, I smothered them with as many layers of translucent powder as possible.
My final finished look, accompanied with some rather stunning eye shadow (if I do say so myself) was pretty passable. While three people responded to my Instagram story saying it looked cute — an important piece of survey work, to gauge the public perception — I still didn't feel brave enough to rock faux freckles to my friend date that evening. I would, however, probably wear this makeup look to an event like a drag show or a club night.
So all in all? This definitely seems like an internet trend that will stay on the internet, for me at least: You definitely won't see me rocking them in the broad daylight. If you're looking for a fun way to mix up your Instagram selfies or club look though, attempting this in a fun color could be a total winner. If not, well, stick to the neutrals like I did — and maybe you'll even be brave enough to wear them outside the house.