I Tried Meghan Markle's Beauty Routine For A Week & Yes, It Included A Messy Bun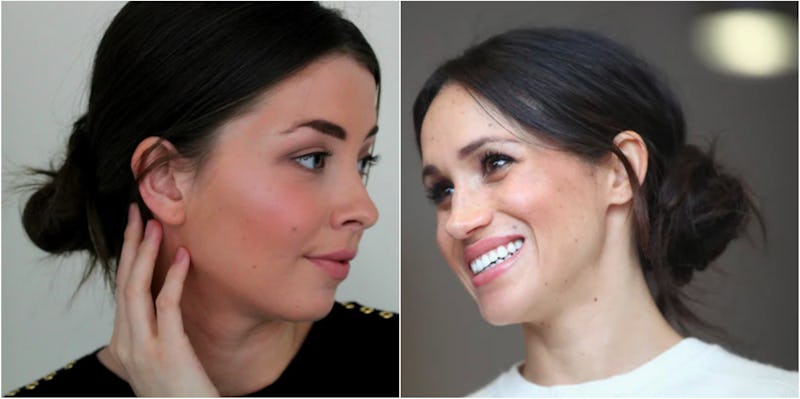 Courtesy Sarah Veldman; Chris Jackson/Getty Images Entertainment/Getty Images
She's set to marry into the world's most famous royal family, and her name is on the tip of everyone's tongue at the moment. From her messy bun to what shade of lipstick she wears, Meghan Markle (and her beauty habits) are followed closely by the media and royal fans alike. Not only is she marrying the world's most eligible bachelor, but she's already lived the life of a Hollywood actor. Basically, the whole thing reads as a movie script, or something you dreamt up on the playground as a kid.
Personally, my biggest envy when it comes to Markle isn't her engagement, though. It's her glowing complexion, and subtle, yet always on point makeup. Inspired by her understated, simple beauty looks, I tried Markle's beauty routine for a week to see if it's doable for those of us who aren't soon-to-be royals or Hollywood stars. Following tips and tricks she's given in interviews, I tried to closely emulate her everyday beauty do's and don'ts.
Luckily for me, many of the products the soon-to-be royal uses are budget friendly and easily accessible. Plus, I found that even the products that were too expensive for my budget have dupes that look just as divine. Not only that, but a few parts of her routine were totally and completely free. Needless to say, now I'm an even bigger fan.
Monday: Striving For That Engagement Glow
The day Meghan and Harry announced their engagement they were absolutely glowing, and neither seemed to be able to stop smiling.
As Markle said in an interview with Express about her go-to beauty habits, "everyone looks prettier with a smile." So for the first day of this experiment, I made sure to smile constantly, whether I was alone or walking by strangers. By the end of the day I felt ridiculously happy, the same as I did on the day of my own engagement.
To further replicate Markle's engagement look I initially assumed I would have to spend an hour doing my makeup, but in reality it was very quick and easy. Markle is known for her love of freckles, and hates when magazines try to Photoshop them out. In a 2017 interview with Allure Markle said, "To this day, my pet peeve is when my skin tone is changed and my freckles are airbrushed out of a photo shoot."
The future royal bride told Birchbox in another interview, "Only apply foundation to the spots you need it and spread it with a Beautyblender. I never want to cover my freckles, so we just do a 'wash' of foundation in certain sections instead of over the entire face." According to a Good Housekeeping UK article, Markle uses Armani Luminous Silk foundation, which will set you back a cool $64.
Before applying foundation, the Suits actor told Beauty Banter she starts with Laura Mercier Illuminating Primer, which is $38. As an alternative I used L'Oréal Lumi Magique Pure Light Primer (priced at $12.95). I applied the L'Oreal primer and then mixed my foundation with moisturizer to get a subtle glow. My usual makeup routine consists of a ton of foundation, powder, and bronzer, so I loved the light feeling this look gave me.
Tuesday: Mastering The "Yoga Glow"
Markle loves yoga, and was frequently seen in Toronto walking to classes, mat in hand when she was filming Suits there. Markle told beauty website Gritty Pretty, "I think that people look their prettiest when they have the yoga glow and no makeup on. Oh my gosh, it's my favorite when all you see is my freckles and my skin and the happiness that I have after my practice."
Today my goal was to achieve that natural yoga glow that Markle raves about, so I started my morning off with a yoga routine from Yoga With Adriene on YouTube. Afterward, I felt so energized and my face really did have a glow to it.
Wednesday: Focusing On Self-Care
One unfortunate sacrificial lamb of the Meghan and Harry engagement was the downfall of her lifestyle website, The Tig. However, there are still archived articles floating around the internet, including "Staycation 101." In this post, Markle gives her tips for having the ultimate luxury vacation, right at home.
I started my day off with pancakes in bed and reading while I listened to some French music. The whole time I felt so indulgent in the best way possible. Two hours into my day, and my phone was still on airplane mode (the true modern luxury).
In the evening I made strawberries dipped in chocolate, lit candles, poured myself a glass of wine, and slipped into a hot bubble bath. After my bath, I moisturized with Markle's favorite and surprisingly cheap Nivea Q10 Firming Body Lotion ($7.49) which she talked about in an interview with Beauty Banter.
I realized that slowing down, and taking some time for self-care is one of the least talked about, yet best tips for improving your beauty routine.
Thursday: Master Red Carpet Glam
Markle tends to wear a darker eye and bold lip when attending formal events, so I went for a glamorous makeup look today. While the actor uses budget friendly skin care products, Markle's favorite makeup items are a bit more expensive. For example, Markle uses Chanel Liquid Eyeliner ($28), Diorshow Iconic Mascara ($29.50), and NARS Blush in Orgasm ($30), all products she talked about in a 2014 interview with Allure.
Markle's red carpet makeup look, however, was easily done with my own makeup products. To get her smokey eye, I applied L'Oreal Infallible Super Slim Liquid Eyeliner ($8.94), as well as L'Oreal Double Extension Waterproof Mascara ($17)
I couldn't do a glamorous look without Markle's shiny, bouncy hair. For maintaining healthy-looking hair, Markle mentioned in Beauty Banter interview that she uses Kerastase Nutritive Oleo Anti-Frizz Masque, but I used the more budget friendly L'Oréal Paris Elvive Extraordinary Oil Hair Mask. My hair was soft and silky afterward.
In her Birchbox interview, Markle said, "When my hair is feeling a little weighted, Suanne, my hair artist on set, has me bend forward and she sprays a little Oribe Dry Texturising Spray ($46) or nothing at all, and then has me 'flip back hard' to give my hair a little extra bounce."
After applying such a glam makeup look I threw on a red dress, and went out with my man for date night.
Friday: Practicing Facial Exercises
To get into the wedding spirit I threw on my "Just Married" white silk robe from my wedding in August and proceeded to buff, shine, and mask every part of my body. A little at-home spa day is exactly what I needed to achieve the glow Markle is so well-known for.
My skin has never looked so healthy. Markle is also fond of facial exercises, which I have to admit I had never heard of before doing research on the actor's beauty habits. In her interview with Birchbox she said, "I do facial exercises from one of my favorite aestheticians, Nichola Joss, who basically has you sculpt your face from the inside out. I swear it works, as silly as you may feel. On the days I do it, my cheekbones and jawline are way more sculpted."
Joss has a chart that can be found on her Instagram that shows you how to do the various exercises. I applied L'Oréal Extraordinary Face Oil and massaged away all my facial stress. My face did seem to look a bit more sculpted after... or was it just the power of suggestion? Either way, doing something this unique really made me feel like a celebrity.
Saturday: Doing My Hair & Makeup For An Official Royal Appearance
Meghan and Harry have been on all kinds of official engagements in the run-up to their wedding day, and she has been killing it with her look.
Once a woman is accepted into the royal fold her look becomes much more classy, understated, and distinctly "princessy," and Markle is no exception. However, she differs from the Duchess of Cambridge in that she brings a more natural, laid-back vibe to her look.
To achieve this, I first made sure to style my hair in a way none of us had ever seen on an official royal engagement before Markle came along: the messy bun. I would like to bow down at her feet, and not because she'll be a royal. She managed to do the impossible; make messy buns classy.
Markle usually opts for a nude lip during appearances with Harry. Her rumored shade is Charlotte Tilbury Very Victoria ($32). As an alternative, I wore Rimmel London Lasting Finish By Kate in Nude 42, at a much more affordable-for-me price of $5.99. There is nothing like a good nude lipstick, to make you feel pretty, royal, and about a hundred other adjectives the Queen would probably approve of.
Sunday: Putting On A "Five-Minute Face" & A Casual Outfit
On Sundays I like to relax and let my face breathe after a full week of wearing makeup. For this day, I decided to wear what Markle calls her "five-minute face," something she mentioned in her 2015 interview with Allure. This includes using Yves Saint Laurent Touche Éclat concealer, which costs $38, but I used L'Oreal Magic Lumi Highlighting Concealer that costs just $12.95. Markle also mentioned that she curls her lashes, and uses mascara, Chapstick, and a dab of blush.
I followed these beauty steps and then threw on a very Sunday-esque outfit worn by Markle on her first appearance with Prince Harry: skinny jeans, a white button-down shirt, and black flats.
When I decided to spend a week doing Meghan Markle's beauty routine, I assumed it would require hours of applying makeup, trying to get just the right flick with eyeliner. However, her routine was extremely easy, accessible, and relaxed.
After a week of Markle-approved beauty products, I felt distinctly classier. There is something about Markle's beauty routine that makes it so accessible to everyday people, but it still has a royal feel to it. By the end of this experiment I was ready to walk outside, have my picture taken, and greet the people who waited hours in the cold just to shake my hand. Even if nothing about Markle's life is relatable, it's exciting to know that at least her beauty habits are.