I Used Vegan Hair Dye To Transform My Hair & It Rocked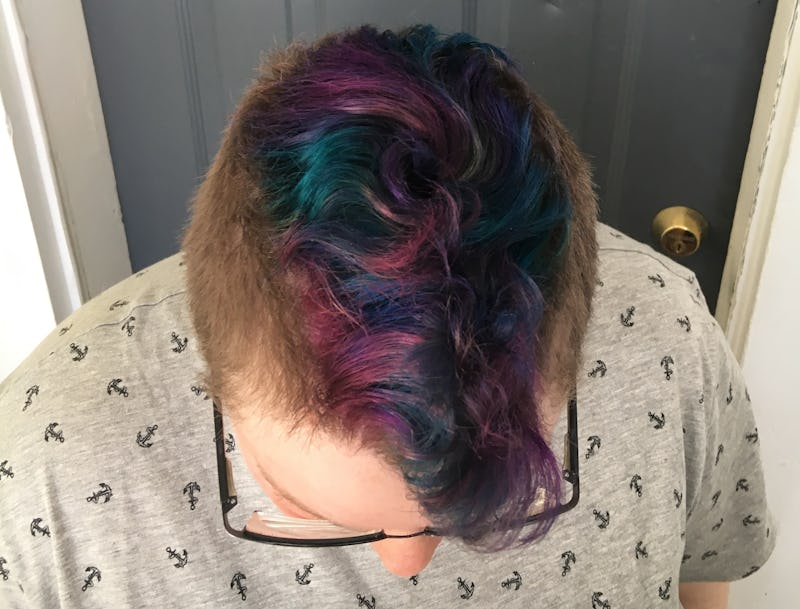 I've been experimenting with my hair color for half my lifetime. First with tame highlights and lowlights, then the occasional salon strawberry blond or box red, and now with a galaxy of pink, purple, and blue thanks to Arctic Fox, the vegan hair dye I used to transform my 'do.
Arctic Fox has been on my radar for a few months, ever since a friend of mine, bona fide DIY dye expert Tristina Wright, gave me the lowdown on the do's and don't's of working with brightly colored dyes. When the company offered to send me some products, I jumped at the chance to try them. I received a box stuffed full of goodies: a bottle of Aquamarine; one of Virgin Pink; one of Purple Rain; one of Arctic Mist Diluter (which I did not end up testing); and sets of Arctic Fox's rainbow dye cups and brushes.
Click Here To Shop Arctic Fox's Collection
I considered experimenting with one color at a time, but I was inspired by Wright's multicolored manes, and by the customers — aka "foxes" — the brand spotlights on its website and Twitter account. So, much to the chagrin of my mother, I used all three colors at once.
And, unlike an embarrassingly high number of my previous self-dyeing adventures, it turned out awesome.
Click Here To Shop Arctic Fox's Collection
For me, a big part of Arctic Fox's charm is the company's commitment to cruelty-free practices. There are plenty of vegan and cruelty-free brands out there, thankfully, but Arctic Fox takes it a step further by donating 15 percent of their profits to animal charities.
According to Arctic Fox founders Kristen Leanne and Ryan Morgan, the focus on animal protection was always integral to the company. "Arctic Fox's passion for animals definitely stemmed from my love for animals," Leanne tells Bustle. "I would have a zoo at our house if I could. [...] With our work and travel schedules, it's more realistic for us to work with amazing organizations like Farm Sanctuary and Animal Hope and Wellness, than adopt pigs and chickens, which I would very much like to do someday."
Another integral aspect was creating a line of semipermanent dyes that would be absent the downsides of other brands' dyes. "Both Ryan and I have experimented with color since high school, and we had a list of things we wished were better and or different," Leanne explains.
Morgan adds, "We manufacture Arctic Fox Hair Color right here in Los Angeles, and from the beginning we set out to make a better hair color that is 100% vegan. All the products in the Arctic Fox line will always be vegan. We spent two years working with our partners to formulate our hair dye to last longer, bleed less, and enrich your hair."
I have to admit, when Wright told me Arctic Fox's dye smells fruity and not at all like chemicals, the doubt monster rose within me. As someone who's extremely sensitive to smells, I find the harsh chemical scent of most dyes the toughest thing about DIYing, along with burning eyes and the uncomfortable, itching, bubbling feeling they give me while they develop.
I didn't have any of that with Arctic Fox. As soon as I cracked open a bottle, the sweet, fruity scent of it filled my bathroom. It never really goes away; I can still smell it every time I wash my hair, and every time I open the cabinet where I keep my dyes. No matter how long I left Arctic Fox in, it was comfortable. No burning or itching, and the colors never did anything wacky if I left it in longer than Arctic Fox's recommended half an hour.
I never had problems with dripping, either. Dyeing my hair with box dyes inevitably ends with me having lines of color down the back of my neck. But Arctic Fox doesn't run at all — a major plus for me, since I only dye my mohawk, leaving the sides and back of my 'do au naturel.
I knew I wanted to go with streaks of color blending through my hair, but I am notoriously bad at using foils, so I just...didn't. I set up three different cups and brushes, finger-separated some chunks, and let the colors mix and mingle in my hair as they pleased, and the results were even better than I anticipated.
Another bonus of this dye is that it's thick, and hardly any of it washes out of your hair, leaving you with super vibrant color. I did have some minor staining in my steel sink when I washed it out, but after a couple rounds of dishes, the spots — largely from Purple Rain — had disappeared.
I put my mane through a stress test, using Arctic Fox on it three times in a month, and noticed no difference in the health of my hair. The frizzy, fried feeling I got from one use of some other dyes was nowhere to be found, and my foil-less, willy-nilly layering of pink, purple, and blue on top of and around each other looked fantastic.
The one downside of Arctic Fox is that my hair doesn't hold it well. Virgin Pink and Purple Rain's deep vibrancy fades to a pastel-y shade after only a couple washes, and amazingly seems to wash out more quickly with color-safe shampoo as opposed to the regular stuff. Aquamarine, however, has more staying power, and has yet to lose its sheen. And I love so many aspects of this brand that I don't mind doing touchups or completely re-dyeing a couple times a month.
And the dyes do fade within the same color spectrum, something Leanne says is purposeful. "Every shade is made up of multiple dyes and colors, and our goal is to have all of our final shades fade out within the same color spectrum," she says. "No one wants to color their hair purple and have it fade to orange! I personally love the color as it fades out to lighter, more pastel shades."
Click Here To Shop Arctic Fox's Collection
If you're considering buying from their range of colors, you can rest assured that they're hard at work formulating new ones. Morgan says the brand takes color cues from its customers, and that, "They even came up with the name Cosmic Sunshine for one of our yellow colors!"
Leanne explains, "We have some fun new colors and hair care products in store for this year and we're already even planning 2018 product launches! Everything takes us twice as long as we think it should, but we are still a small company, and we never want to sacrifice quality for speed."
She adds, "I do have some VERY EXCITING upcoming projects in the makeup world, but I can't talk about them just yet, so you will just have to stay tuned."
If her makeup is even a fraction as lovely as her hair dyes, I'll be first in line to snag some.