Here's What It Looks Like Inside Riley Rose, Forever 21's First Beauty Store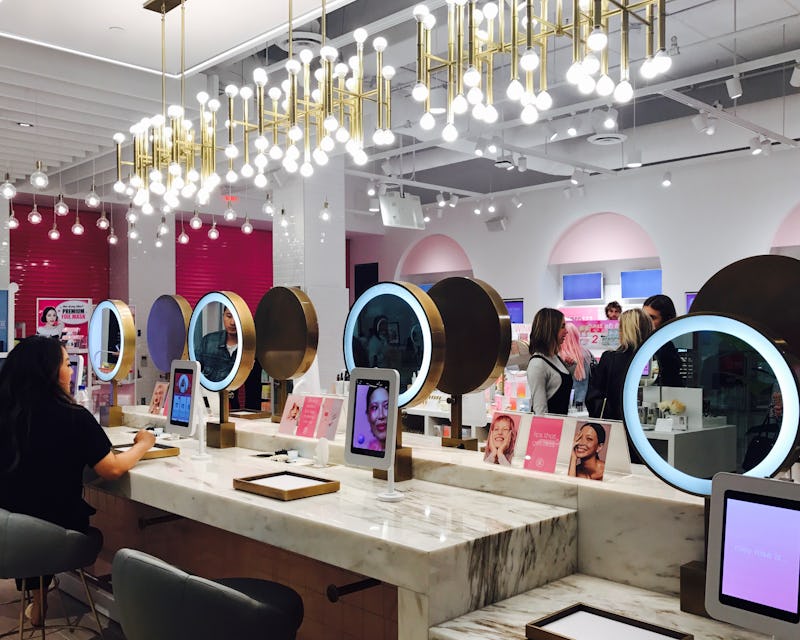 Sara Tan
When it comes to stocking up on the latest fashion trends, Forever 21 is without a doubt many a millennial woman's one-stop destination. Beauty on the other hand has never really been something they're known for... until now. Riley Rose, Forever 21's stand-alone beauty store, is officially making its way to a mall near you. If you thought your makeup needs were already taken care of by your favorite beauty retailers, you better think again.
Forever 21 shoppers likely know that the brand has been carrying makeup and skin care products at their stores for quite some time now, from foundation to sheet masks to beauty sponges. And while beauty sales continue to be strong at Forever 21, the success of the cosmetics category (as well as the home category) was what inspired Esther and Linda Chang — the daughters of the Forever 21 founders — to come up with the idea of Riley Rose. That's what Elissa Yang, Amanda Young, and Blair Garnaas tell me, the three women who make up the Riley Rose buying team. "Riley Rose was an opportunity to make beauty and home the focal point for the customer experience. [The customer is] trendy, social, and loves to discover," they share with Bustle.
After taking one step into the flagship location in Glendale Galleria on Thursday night, it was immediately apparent that the Chang sisters' vision was 100 percent achieved.
When you walk up to the Barbie-pink and white store front, you can't help but feel drawn in with a desire to touch and photograph everything. That's the whole point, it seems — to feel like you're in some candy-colored beauty dreamland.
There are gorgeous vanities with brightly lit circular mirrors and chic, minimalist stools that invite you to sit and try the products laid across the marble countertop. Beside it, tablets play tutorials and the latest photographs that were tagged #rileyrose.
Everywhere you turn, there's a corner or a wall that was made to be Instagrammed (quite literally). A neon sign reading, "Makeup fades, memories last." A pink-colored brick wall with single stems dangling across it. Two white vanity tables with giant Hollywood mirrors. And then, of course, there all of the colorful products filling the room.
Around the store are countless white shelves and tables, neatly organized by category and brand. By the entrance, you'll find all of the skin care products, from gadgets like the PMD microdermabrasion tool to treatments, like refrigerated Smoothie Beauty masks.
There are hair care products for all hair types, from brands like R+Co, Living Proof, and Sachajuan. In an area called the "zen den," bath salts, crystal-infused candles, and bath bombs are displayed by a Fiddle-leaf fig tree. If you're feeling hungry, they've got a section dedicated to sour candies and sweet treats from Dylan's Candy Bar.
Across the way, you'll find the "lifestyle" area, stacked with mugs, notebooks, cheeseboards (yes, cheeseboards), and throw pillows you could probably find on someone's Pinterest board.
And I haven't even gotten to the makeup.
Several people have already asked me about the quality of the brands being carried at Riley Rose. If you feel the same and are wary of the kind of products you'd find at a beauty store owned by a fast fashion empire, you will be pleasantly surprised (as I was). From low to high-end, they've got it, and it's all really, really good.
You'll find all of the internet's favorite beauty brands, like Lime Crime, RMS Beauty, Lemonhead, and Winky Lux.
And while the store's sole focus isn't Korean beauty, there are numerous popular Korean brands — many of which you wouldn't previously have been able to shop in person outside of Seoul — prominently featured across the store, like Clio, Peripera, Tony Moly, and Banila Co.
Rounding out the stock are other big names, including Stila, Surratt Beauty, and Sigma Beauty. It's impressive, to say the least, especially when one of the Riley Rose buyers shares she only had the last six months to convince brands to work with them as a retailer.
Hannah McGough, Riley Rose's Marketing Coordinator and Trend Forecaster, tells me that this flagship location will be on the smaller side compared to future Riley Rose stores across the country (and it isn't small, by any means). Some of the prospective store locations will have full-on lounges, she says, with charging stations, so that you can shop and then sit and hang with your friends for a while.
That's how Riley Rose plans to set themselves apart from the Sephoras and the Ultas. It's more than just beauty shop — they see themselves as a "lifestyle store."
"We wanted a place where you can shop your favorite cosmetics, and also find items to give your home (or desk — with our super-cute stationary) a makeover," the buying team shares with me. "It is all about finding that balance between forever favorites, and new discoveries.
The Chang sisters want their store to be a mecca for everything their ideal core consumer wants to buy, which hopefully is lipstick, some face wash, and a candle or two.
Riley Rose's flagship location in Glendale Galleria will open its doors on Saturday, Sept. 30, with more locations to come before the end of the year and many more in 2018. There is no official word on where or when exactly the other stores will open, but if their career page is any indication, Riley Rose could be setting up shop in Chicago, Il., Tallahassee, Fl., San Antonio, Texas, and Bridgewater, NJ., among other cities.
To find out if there's a Riley Rose coming to your mall, be sure to follow them on their Instagram account and website for the latest updates.