I Was Trying On Wedding Rings & Got Stuck In One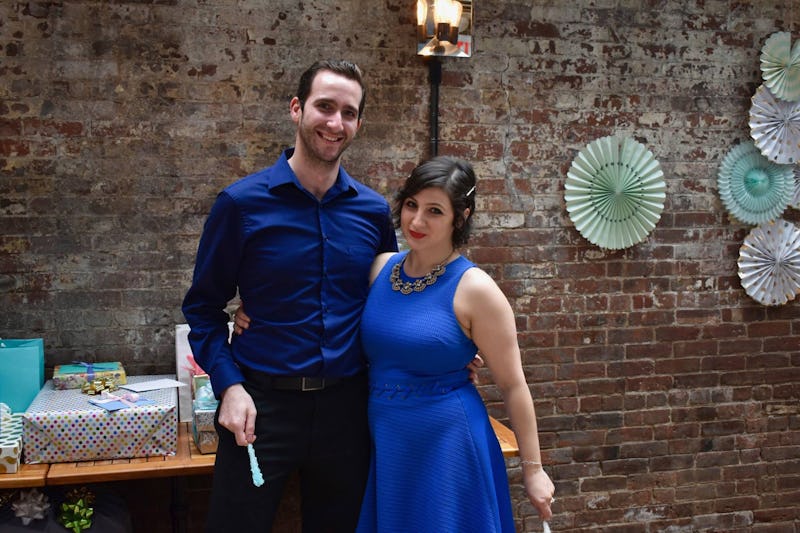 It was our first stop looking for a wedding band, and I knew it would be our only stop — because ever since I first laid eyes on their website, Google Ads had been brainwashing me with their name and a smattering of unique looking rings for an entire year.
We arrived at the design studio on a rainy night and were greeted with a broken intercom and a twenty minute wait. As eager as I was to get my hands on those gorgeous jewels, I knew I needed to act like a civilized human being capable of politely sitting on a plush couch and not next to the women who was very slowly finishing up her order at the counter. I practiced the Zen technique of 4-7-8 breathing throughout while trying not to huff.
The evening started off well enough, with my trying on nearly 12 beautiful rings to go with my engagement ring and the delicate diamond band I already had to make a happy stack of three. I had pretty much narrowed it down to two choices and couldn't resist taking them on and off, taking several photos of them stacked this way and that.
Now is probably a good time to say that I am far from a "bridezilla," and I think that is because I already have my marriage—we've been happily living together for three years and have a little fur baby rescue dog who we love like we made him. To me, a wedding is just a very expensive party with lots of details to stress over, a ton of high expectations that will try to reel you into their clutches, and, on the actual day, blissful and magical no matter what, ending just as quickly as it began.
I also have the perspective, and fear, of being healthy on my wedding day, as someone who has been living with chronic migraines for ten years and is still trying different treatments and medications in hope of relief.
There has also been some well-intentioned but hardcore incessant stressing from my mom about losing weight, and while I've resolved not to mutate my body for a dress, being harangued about my body for months can take a toll. Of course, there's the fact that my fiancé's family is not going to be in attendance because my mother isn't Jewish and my fiancé left the Modern Orthodox Religion himself.
Overall, the main emotion that has gone on for me throughout the process has been this: a feeling of guilt, that I don't deserve an expensive dress, that it's a waste, that my parents are middle income and somehow able to afford what will likely turn out to be my dream wedding in a little over a month.
This is all to say, while I was excited about the ring, it wasn't an emotional focus for me, and I wasn't planning for an absolutely perfect, incident-free wedding.
In fact, all of our wedding planning stories have been a little goofy, with something going a little awry. I had to coach him through the proposal since he just opened the ring box and everyone in the restaurant, including me, was waiting for him to drop a knee and make a speech rather than rely on the question written in chocolate on the giant plate dropped in front of me. I had a mild panic attack comparing my maid of honor's iPhone shots of the wedding dress we put a deposit on to what I saw in the mirror, which had distracted me all through a very sad brunch with her and my mom down the block. I accidentally flashed a photo of my fiancé's butt to our wedding point person at the venue when I meant to show her a photo of the flowers.
And now, there is what you're about to read.
After I decided on the wedding band that would be "the one," I just had to try it on one more time as my fiancé was getting his finger sized and looking at a few bands for himself. I wanted one last, "Yes I'm sure." I did this even though I noticed my finger was starting to get a bit red; probably from pulling the rings on and off so many times, in addition to wearing two others.
But it wouldn't come off; a tiny red grape tomato had grown where the space before my knuckle should have been.
"You can just sit on the couch and let it calm down," said the girl. "It happens sometimes."
It did not calm down. My finger was puffed the fuck up.
"Maybe you could try running cold water over it?" she suggested.
Bathroom and back: nothing. I sat on the couch staring at it, adding lotion from my purse, and nothing still.
"I'm trapped at the wedding ring place because it won't come off because my finger is so swollen," I texted a friend.
"Have you tried butter? Is it that time of the month? Is this going to be a great story for some publication? I hope yes x3" he wrote back (apparently I'm getting predictable).
"It won't go down and lotion and cold water won't work," I wrote back.
"Maybe hold it up really high for a while so it loses blood?"
As I held my hand up in the air, I looked down and saw a photo from his seat at Sunset Boulevard on Broadway, where the holy oracle that was Hillary Clinton was seated in the Orchestra. His last piece of advice, "Maybe you just won't have that finger, and you can get a discount on gloves" made me realize that in all likelihood, it was either the finger or the ring.
We tried a few other things first: she found some olive oil in the back that I proceeded to rub on it, just making it's shiny appearance more lustrous, like Rudolph's nose.
I held a glass of ice at her suggestion so that perhaps wrapping my hand around it would cause it to go down. I sprayed my hand with Windex. I rubbed it with lotion.
My fiancé tried to twist it off and I gritted my teeth through the pain as much as I could until I had to tell him it was only making it worse, for the third time. It was not coming off.
Finally, the designer himself came out from the back room, and Lee asked, "Has this never happened before?"
"Not this severe, no," they said. "Usually people will just run their hand under cold water."
Before they had to mandate it, and an hour past their closing time, I told my fiancé and the designer at the same time, "I think we're going to just have to buy it."
And that, ladies, is how you walk out with the most expensive iteration of the ring they have, the floor model.
Just kidding. What actually happened was that we did walk out with it, it was very expensive, about 25% more than the white gold version that matched my others. But I laughed on the subway ride home as Lee lamented the inevitable temporary dip in his otherwise lovely credit score.
A few hours later, the swelling went down, and with enough Softsoap, I managed to slip it off.
As it turned out, that floor model of the ring was a size 4 3/4. That's like having the only try-on-able model of a shoe at Prada be a children's size.
He returned it the next day and ordered the ring half a size up.
Today, he's heading back to another shop that he ultimately ordered his ring from for the third time, since they sized him incorrectly the first two. And guys, if you can't laugh about these things while they're happening, and you can't laugh about them a few days later, you're doing life wrong. A funny story is almost always better than a boring experience, especially in hindsight.
Which is why, three days later, when I woke up with a pulled muscle that ran from my neck to my waist, something that hasn't happened in years, I started chuckling to myself like a madwoman as I started typing out the email to reschedule my first wedding dress fitting.
Now if you'll excuse me, I have to get back to our three-hour search through our nearly immaculate kitchen for the other wedding band, the thinner one, which has mysteriously, of course, vanished.
(Spoiler alert: we never found it).