I Was Trying To Have A "Good" Reading Year — Until I Realized That The Problem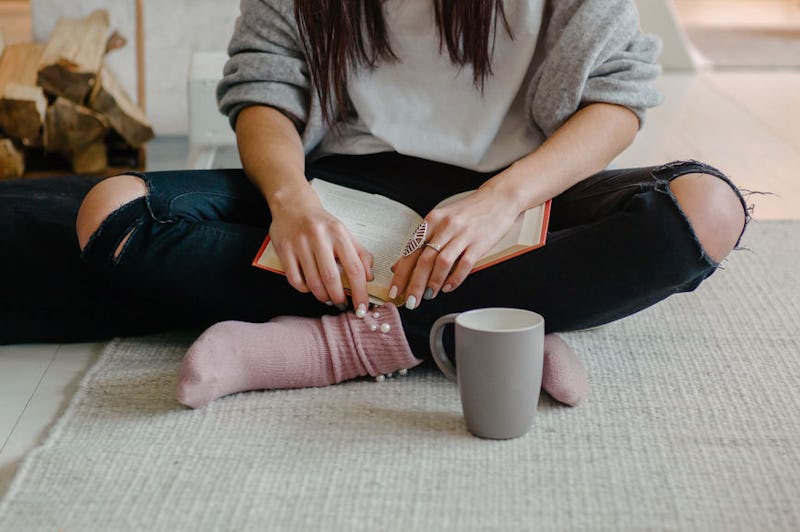 Duet Postscriptum/Stocksy
Do you ever think about whether or not you've had a "good" reading year? I do... pretty much from Jan. 1 onward. In other words, I constantly scroll through a variety of questions in my head: Have I read enough books to meet my 2018 goal? Am I reading the books that might be nominated for awards? Have I read enough new books this year? I don't know if it's a consequence of just thinking about books all the time as a result of my job or if it's just my perfectionist-leaning, data-collecting, Capricorn tendencies, but I analyze everything about my reading. I've written before about my quest to take part in more mindful reading, how I've changed my reading goals, and I've even made a list of every single book I've read this year — all in the name of making sure I'm making the most of my reading life.
It's only now with four months left in 2018, that I'm realizing that trying to have a "good reading year" has actually caused more harm than happiness, and it's all thanks to my own false notion of what it means to be fulfilled by my reading. I don't know about you, but when I think about what it means to have an awesome reading year, I see nothing but four-star and five-star books, among an endless stream of novels and nonfiction titles that had me so engrossed I couldn't help but finish them in just a couple of sittings.
So this year, when my reading fell way short of that ideal goal, it affected my entire reading life. I've simply been reading less than I have in previous years, but beyond that I've also felt less inspired by new releases and more weighed down by my own To Be Read pile. And it took me a long time (eight months to be exact) to come to terms with the fact that it wasn't lack of time for reading or lack of interest in new books that was keeping me from enjoying my reading: It was the pressure of my own ridiculously high expectations.
There's a subconscious part of me that constantly thinks about all the ways my year has failed to live up my ideal. And that part of me keeps me from fully enjoying my reading for what it is and not what I think it should be. Now, I'm trying to rethink my reading life altogether — in ways that I hope will be way more fulfilling.
So, what makes a "good" reading year? I'm going to give myself the space to figure out what sort of books I enjoy right now (through reading both books I love and ones I don't so much). I'm going to luxuriate in the time I'm able to set aside to read. And I'm going to stop making unattainable reading goals that just distract me from my love of books by turning it into a constant competition with myself. Who knows, this last simple mindset shift might just turn 2018 into one of the most memorable and fun reading years I've ever had. After all, anything can happen when books are involved, right?