I Went To 'Bach' Star Danielle L.'s Nail Salon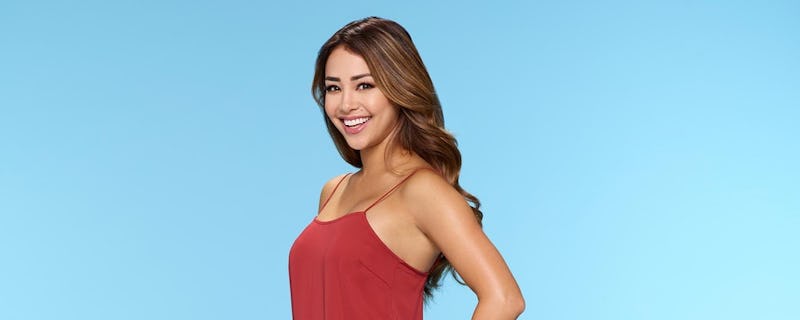 Mitch Haaseth/ABC
On this season of The Bachelor, Nick Viall is whittling down a house full of brilliant and beautiful women all vying for his heart, and among them, there are two Danielles: Danielle M., a neonatal nurse from Nashville, and Danielle L., The Bachelor's small business owner from Los Angeles. In her Bachelor bio, the latter — who is also thought to be one of Nick's frontrunners — says her greatest accomplishment was opening her own business at just 23 years old. Sleuth a little further on her LinkedIn and you'll find out that Danielle L. has actually is in charge of three businesses: A nail salon in Long Beach, California, an ice cream parlor in Danville, California, and most recently, Danielle opened Champagne Nail Lounge in Los Angeles in January 2016. The latter of which I recently checked out for myself — and for all my fellow Bachelor fans.
Champagne Nail Lounge just happens to be in a complex right below where my good friend lives on Hollywood Boulevard, and my sister and I happened to be staying with my friend the week following The Bachelor season premiere. The three of us were also on the market for relaxing mani-pedis. I mean, could the stars have been more aligned for us to get a firsthand look at The Bachelor contestant's biz?
The complex is home to Barry's Boot Camp and SoulCycle — workout studios beloved by celebs like Kim Kardashian and Demi Lovato — so Danielle clearly knows how to pick the right commercial real estate to attract starry clientele.
Granted, my friend, my sister, and I weren't exactly getting our nails done for the Golden Globes, but you don't have to be famous to afford the really pretty standard prices at Danielle L.'s business. (The website says the salon charges $18 for a classic manicure, $27 for a classic pedicure, and you get a $3 discount when you get both aka the "Classic Combo.")
The interior of the salon itself is decorated in a modern princess aesthetic, with lavender pedi chairs, silver accents, and a massive selection of polishes in every hue from various brands (Essie, OPI, even Deborah Lippmann). Anyone looking for a full-scale pamper sesh would find themselves in exactly the right place upon entering CNL.
In fact, within moments of being ushered in, my friend, sister, and I were offered champagne to sip during our services. Uh, yes, please! (I suppose this is where the "Champagne" part of the salon title comes in.)
As my sister and I settled in at the lavender pedi stations with our flutes of bubbly, and my friend sat down at the long white bar that's used for manicures, I couldn't help but snoop around and see if I could catch a glimpse of Danielle herself. Maybe since wrapping The Bachelor she was back here, at her stomping grounds, working on the books or 'gramming a customer's gel manicure? But nope, no sign of the reality show contestant herself. I guessed she must be keeping a low profile, so as to not have to deal with curious Bachelor Nation fangirls looking to pepper her with a bazillion questions about Nick Viall.
I had picked out a bright, cheery, California-perfect pink Deborah Lippmann polish called "Daytripper" for my toes and was on the fence about whether or not I had time to also get my hands done in the same hue. My sister, friend, and I all intended to sip our champagne and fully enjoy the experience but also wanted to get in and out to dinner. So, having both a pedicure and a manicure seemed out of the question. That is, until the CNL techs said they could do both services simultaneously. Bliss!
As she started soaking my fingers the nail tech tackling my mani asked how I heard about the salon. "Oh, well, I watch The Bachelor," I admitted. "And I know Danielle owns the salon, right?" The nail tech nodded in response but seemed to want to downplay that aspect, so I didn't say anything else about Nick's potential fiancée. The tech went on to say she feels like the salon's rather "hidden" (it is set back, off of the street and Hollywood Walk of Fame). I made a remark about how it may not be for long once Bachelor Nation catches wind of it.
That's when we changed the subject to what I wanted on my nails, something I'm typically ridiculously indecisive about. I didn't have to mull over it for very long, because the tech helped me settle on a creamy taupe called "She Wolf" from Deborah Lippmann with sassy gold and lavender gradient glitter, which she did a gorgeous, skillful job applying. (For the record, this look is considered nail art, which costs you $2 extra per nail at CNL. Oof, but so pretty!)
The pedicure was also perhaps the most meticulous I've ever had and a reminder that you can't go wrong with a super-bright, summery pedi to raise your spirits in the middle of winter. (I'd show you a photo of it, but I know you don't actually want to stare at my feet.)
My sister and friend loved the final results of their services, as well. Here's my friend's mani with OPI's "I'm in the Moon for Love," which we couldn't stop staring at.
To be honest, we all felt like Champagne Nail Lounge is particularly attentive to the details that make a salon experience one you'd want to repeat. The champagne and the simultaneous mani-pedi were awesome, and, because I wandered in wearing riding boots, I was sent away in a pair of gratis flip flops. All of the employees were friendly, so accommodating, and left us "ooh"-ing and "ahh"-ing at our nails.
For better or worse, a Bachelor contestant's ability to make an impression on the leading man really has little to do with her professional accomplishments. But, at least judging from my experience at her salon, Danielle L. has the formula for success in life — even if she doesn't end up with the final rose.