"I Won't Back Down" Is The Tom Petty Song We Should Remember Right Now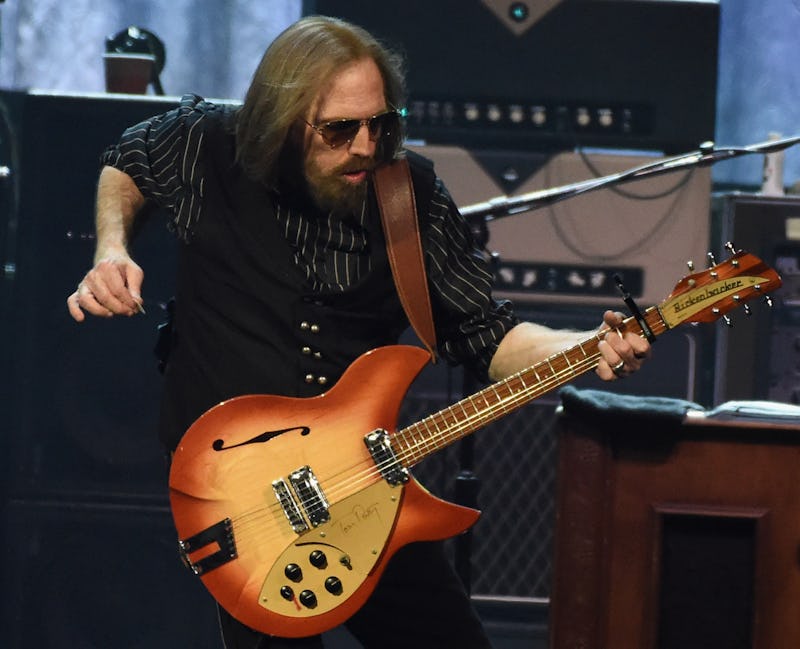 Rick Diamond/Getty Images Entertainment/Getty Images
Ten days ago, I was lucky enough to see Tom Petty at the Hollywood Bowl in what has proved to be one of his last live shows. As confirmed by his manager, Petty has died at age 66, but his music is as relevant as ever. And, while all of his music is great, the Tom Petty song "I Won't Back Down" is the one we should remember right now. During the time that Tom Petty & The Heartbreakers had just wrapped their 40th anniversary tour, the singer dedicated "I Won't Back Down" to "Everybody who is struggling to get it together around the world and across the country: Houston, down in Florida (where Petty is from), and we must not forget Mexico." If he were playing this same show today, I have no doubt that he would add Las Vegas and Puerto Rico to that list.
Petty wrote the epic anthem "I Won't Back Down" in the late '80s after suffering a string of tragedies that included a legal battle over one of his songs being used without his permission in a commercial and his house burning down the day after a judge sided with Petty, who had sued the company for $1 million. The fire was determined to be arson, and no one was ever arrested for the crime.
"I Won't Back Down" is about persevering through hardships and maintaining your integrity when it feels like everything is stacked against you. Petty talks about the song in detail in the documentary Runnin' Down A Dream, which is required viewing for any fan. "That song frightened me when I wrote it," Petty said, according to Rolling Stone. "There's not a hint of metaphor in this thing. It's just blatantly straightforward." You can watch his dedication for "I Won't Back Down" from the Sept. 22, 2017 show at the Hollywood Bowl in Los Angeles below.
In addition to the fire and the lawsuit, Petty's band The Heartbreakers was wading through its own problems. "Drummer Stan Lynch was already planning his exit by the time Full Moon Fever rolled around," Roger Shuler reported for Daily Kos. '"I Won't Back Down" became Tom Petty's musical motto, a song that summed up everything he stood for in less than three minutes."
Later, "I Won't Back Down" became an anthem for the U.S. after September 11. Petty performed the song at a benefit concert called America: A Tribute to Heroes, which raised over $150 million and was viewed by almost 60 million people around the world. While other iconic musicians performed songs at the benefit concert, "I Won't Back Down" became somewhat of a mantra for the country during its grieving process. It's appropriate, then, that Petty would later dedicate the song to "everybody that's struggling to get it together around the world" as he did at the Hollywood bowl. Considering all of the horrifying tragedies occurring around the U.S. right now, his lyrics, "I'll keep this world from draggin' me down. Gonna stand my ground" are again important words to remember.
Going to see Petty two weeks ago was a game-time decision. My roommate and I were both feeling overwhelmed by life, and we decided to buy resale ticket in the bleachers at the last minute, and take the subway to the show. Being able to experience singing "I Won't Back Down" with a crowd of more than 20,000 people united around a single mission is an experience I will never forget. Thanks for being the soundtrack to my entire life, Tom. I promise I won't back down.
Additional reporting by Angelica Florio