I Wore Crocs For A Week & Shut Up, It Was Really Cute — PHOTOS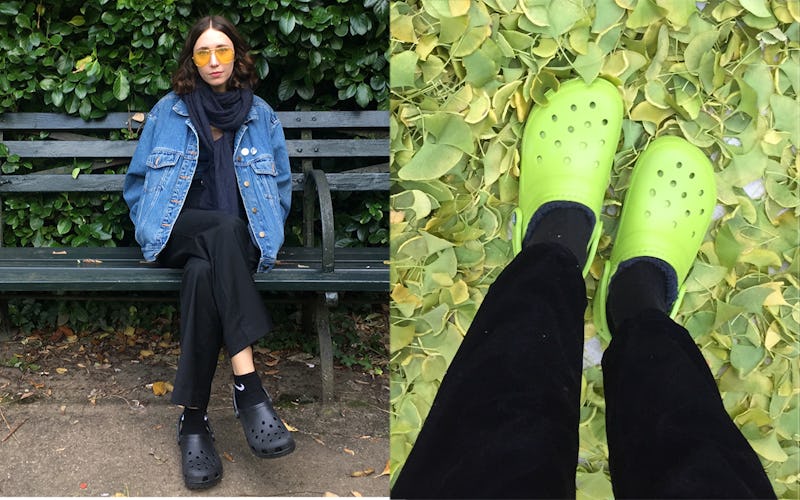 Rachel Ellison
Of all the unconventional shoes that have gained traction in the fashion scene as of late — from Danskos to the chunky sneakers a la Yeezy and Balenciaga — Crocs are arguably the least expected. Somehow, though, and against my better judgement, the porous rubber clogs have slowly worked their way into my closet.
This isn't my first encounter with "ugly" shoes though. When I was nine years old, I had a pair of black and white platform Sketchers that made my feet look too big for my scrawny legs. They were trendy, but maybe too trendy, in fact, for my friend's mother to realize how cool I looked. She compared them to clown shoes and I was left shaking my head, wishing that more people understood Fashun with a capital F.
My relationship with "ugly" shoes was perhaps born there, though it sat dormant for years, tempered by adolescent insecurity and a burning desire to fit in. It reared its head again as an adult, when I ordered some chunky, styrofoam sandals from eBay. Responses to the shoes were usually extreme, either admiration or laughter. I loved the polarization.
To this day I gravitate toward shoes with velcro, thick soles, tabis, and anything that could be mistaken for nursing shoes. But for whatever reason I just couldn't get on board with Crocs. Maybe it was their association with "bros" from my high school, when football players paired them with tube socks, attempting to reinforce their masculinity by shunning anything fashion related.
My resolve to hate them began to waiver, however, when Christopher Kane introduced the Croc to the runway. He's since had numerous iterations, including a marbled finish version, fur-lined, and his latest tiger-striped, bedazzled collection (added to my shopping cart). And while I don't particularly love Balenciaga's rendition, as it quite literally rejects the classic Croc's grounded quality, it has surely cemented the shoe's status as a fashion player.
Classic Clog, $37, Crocs
And so in 2017, I caved. I tepidly waded in with a classic black pair, but didn't stop there. Naturally I needed a bright green, faux-fur lined version for the colder months. I had anticipated wearing them to the occasional casual lunch, or errand-running, but I was curious to see how they might function elsewhere.
Could I incorporate them into my standard rotation? I decided to challenge myself to wear them for one week straight.