ICE Arrested A Man When He Was Delivering Pizza To An Army Base & He Might Get Deported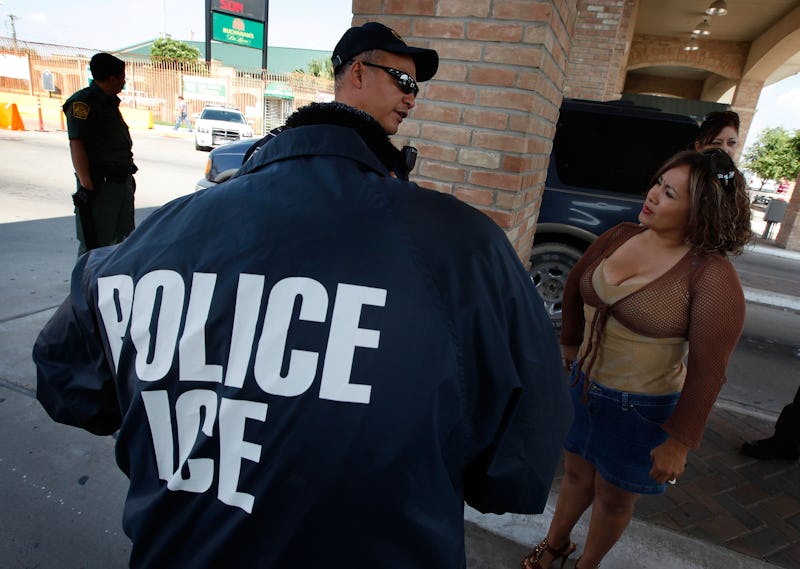 Scott Olson/Getty Images News/Getty Images
This week, a startling report out of New York is inflaming criticism of Immigration and Customs Enforcement (ICE), and leading state authorities to fight to prevent an Ecuadorian-born man from being deported. Specifically, as NPR detailed on Wednesday, an immigrant named Pablo Villavicencio was arrested by ICE while delivering pizza to a military base, being taken into ICE custody following a background check.
Villavicencio was delivering a pizza to the U.S. Army Garrison Fort Hamilton in Brooklyn, and the Fort Hamilton Public Affairs Office claims that officers at the base discovered an ICE warrant when running a background check on him. Authorities were subsequently called, and Villvicencio left the base under arrest, and facing deportation.
"I was delivering food to the military base and they detained me, I have been there before and always go in and never have had any problems, they actually know me and the sergeant knows me for some time doing delivery," Villavicencio told The New York Post while in detention on Wednesday, speaking to the paper over the phone.
"Last Friday there was a different security guard and he told me I needed to go get another pass to enter. And I proceeded to do that. A tall man with dark skin started to ask me many questions, he asked me about why I didn't have any social security card," Villvicencio continued. "He called the NYPD and the NYPD told him I didn't have any record that I was clean. But the man said 'I don't care,' he said I need to keep waiting and he called ICE."
Villvicencio's wife, Sandra Chica, is a U.S. citizen. According to Chica, who spoke at a press conference alongside Brooklyn borough officials on Wednesday, he applied for a green card in February, and his application is still pending. Chica also said that her husband presented a New York City identification card to security at the base.
According to The New York Times, the cards are distributed through a program called IDNYC, and are a way for undocumented immigrants to get identification they can use in encounters with the police and the education system.
New York City is one of those so-called "sanctuary cities" that have drawn President Donald Trump's ire, in which city employees are legally barred from spending on-duty time assisting with the enforcement of federal immigration law. Many metropolitan police departments support these policies, as they encourage undocumented immigrants to report crimes in their communities; undocumented immigrants would be reluctant to engage with police if they feared they'd be reported to ICE as a result.
Villvicencio's case has become the latest flash-point in scrutiny and condemnation of ICE by America's progressive movement. Since the start of the Trump era, left-wing activists and even some political candidates have called for ICE to either be defunded or outright abolished, at the same time as its raids and detentions have ramped-up in aggressiveness. Throughout the first year of Trump's presidency, immigration arrests by ICE soared, rising 30 percent as compared to 2016.
Trump has been extremely effusive in his praise for ICE, which was formed in 2003 in the aftermath of the 9/11 terrorist attacks. It's fair to say, with the Trump administration imposing draconian anti-immigration policies ― like the practice of separating undocumented children from their families when caught crossing the border ― that ICE currently stands as perhaps the most controversial federal agency in America.
Villvicencio's case resulted in a huge outpouring of support in his Brooklyn community, with marchers taking to the streets calling for his release. It remains to be seen what his fate will be; an agency spokesperson claims that he was ordered to leave the U.S. in 2010, and since he didn't, he's now considered a fugitive. There's currently a GoFundMe page raising money for his family; in addition to his wife, Villvicencio has two young daughters.