This Mom Tried To Help Her Child By Reporting Sexual Abuse — Then Wound Up In ICE Custody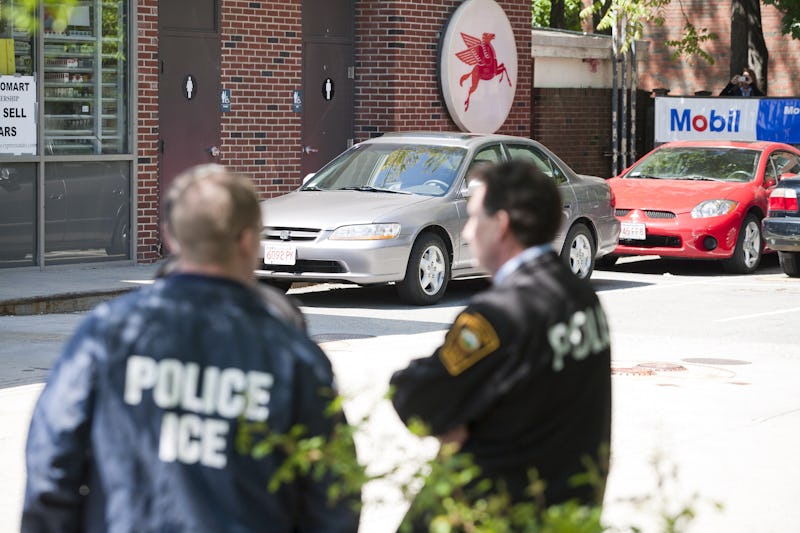 Dominick Reuter / EPA/Shutterstock
Like thousands of migrant parents who were separated from their children this year after illegally crossing the U.S. border, one mother who'd been living in the U.S. for 36 years tried to help her children — only to end up in detention without them. Ivonne Burciaga Prieto was arrested by Immigration and Customs Enforcement (ICE) earlier this year after reporting a relative who sexually abused her 6-year-old, The Texas Tribune reports.
Burciaga Prieto's mother told her she was born outside of Houston, leading her to believe she's a U.S. citizen, according to the report. Customs and Border Protection arrested her back in 2014, but she was released after a federal prosecutor dismissed the case. After the Trump administration took a "zero tolerance" approach to illegal immigration four years later, she wound up in government custody once again.
"If something was done nefariously, it's not Ivonne's fault," Burciaga Prieto's attorney, Stephen Spurgin, wrote in a letter to the Department of Homeland Security, as quoted by The Tribune. "Infants don't take those kinds of actions. Parents took them thinking it was in the best interest of their children."
Burciaga Prieto and Spurgin believe a family member tipped off immigration officials back in 2014 as a way to exact revenge on her for testifying that a relative sexually abused her child, according to the Tribune. It's unclear why she was suddenly arrested by ICE for a second time in February, however; her kids are currently in Mexico with their grandparents, according to the report.
While the details of Burciaga Prieto's case are uniquely devastating, she isn't the only immigrant to recently fear deportation after going to the police for help. The same month Burciaga Prieto was arrested, Wilson Rodriguez Macarreno was taken into ICE custody after calling 911 about a possible intruder at his home in Washington state.
According to ICE data, arrests of immigrants without criminal records shot up 171 percent during Trump's first year in office, despite Trump's campaign pledge to keep out "bad hombres." Parents who've lived in the U.S. for decades have been deported to Central America, including a Michigan father of two who was brought to the U.S. from Mexico as a child.
The number of noncriminal arrests rose even higher in 2018 as the administration executed its "zero tolerance" immigration policy. Roughly 34 percent of the more than 79,000 immigrants arrested in the first half of fiscal year 2018 didn't have a criminal record, according to data released by ICE. By comparison, 30 percent of immigrants arrested in 2017 had a clean record.
The fact that Burciaga Prieto believes she's a U.S. citizen adds another layer of complexity to her case. She told The Tribune that her parents obtained a Mexican birth certificate for her along with her American birth certificate so that she could maintain ties to family on the other side of the border. But the birthday on her Mexican birth certificate was a month off from the one listed on her American birth certificate, the Tribune reported. Her attorney has argued that whatever Burciaga Prieto's parents did with regard to their daughter's citizenship isn't her fault.
"I'm a single mother. I'm a mother and father, and my children need me," Burciaga Prieto told the publication last week from a West Texas detention center. "And I am here and I see that everyone is getting out — that mothers arrive with their kids and they get out, and I am traumatized. I haven't killed anyone, I am not a drug dealer, I don't have criminal charges."