Ice-T Really, Really Wants To See Mariska Hargitay Win At The PCAs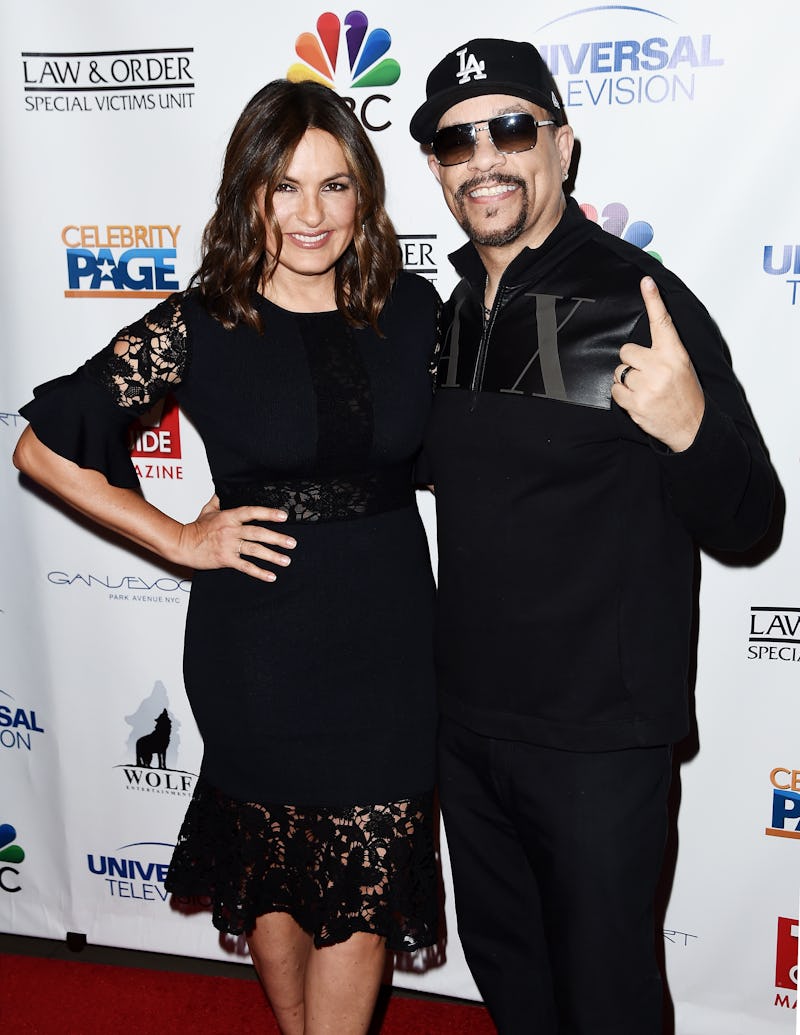 Nicholas Hunt/Getty Images Entertainment/Getty Images
Sergeant Tutuola wants to make sure justice is served. Ice-T really hopes Mariska Hargitay wins that People's Choice Award. So much so, he may take drastic measures. Hargitay is nominated for Drama TV Star of 2018, and her Law & Order: Special Victims Unit co-star is determined to see her take home the honor. As he recently deadpanned to E! News, "''m gonna hack the site."
Ice-T continued,
"I saw the button and I tried to push it and it wouldn't push on my phone. I showed her and she said, 'This is broke! Get this fixed!' You know, so I'm going to do what I can."
Olivia Benson and Fin Tutuola have been buddies on and off-screen for a long time, so duh, of course he wants to see her win at the PCAs. Just how long have they been buddies, you ask? Well, on Sept. 27, the 20th season of Law & Order: SVU will premiere. Yes, 20th. As in, the procedural drama has literally been on since 1999. Hargitay is the only member of the first season's main cast who is still around; Ice-T has been on the show since Season 2.
So to answer your question, Hargitay and Ice-T have been pals for, like, forever.
Some co-stars get sick of each other after a few seasons. Some co-stars can't stand each other from the jump. Hargitay and Ice-T, however, have worked together for around two decades and are as chummy as can be. As Ice-T told E! News,
"The beauty of Mariska is that not only is she a great actress, she's a really nice lady. She's a wonderful person. So anything that happens for her, she deserves. And me and her have become incredible friends. I always tell Mariska, 'There's two women in my life, now three. You have Chanel, you have Coco, my wife, and you, Mariska. But I've made more money with you, Mariska. So you're up there, baby.' She's just a good person. She should be the People's Choice."
The Hargitay and Ice-T bond sure seems to be an untouchable one. As Hargitay tweeted back in 2016,
"There are few people I trust more than @FINALLEVEL. There are few people Olivia Benson trusts more than Fin. #TrustFin #RealLifeCrossover"
Oh, these two. Here is one of the many terrific selfies they've taken together:
And here's a Finlivia selfie that went up just this weekend. Please enjoy the magnificent caption.
The PCAs will air on Nov. 11, and you can vote over at E!'s site. Hargitay is up against Andrew Lincoln (The Walking Dead), Ellen Pompeo (Grey's Anatomy), Jason Bateman (Ozark), Kerry Washington (Scandal), Justin Hartley (This Is Us), Freddie Highmore (The Good Doctor), Chrissy Metz (This Is Us), KJ Apa (Riverdale), Elisabeth Moss (The Handmaid's Tale), Darren Criss (The Assassination of Gianni Versace: American Crime Story), and Katherine Langford (13 Reasons Why).
Whew, that's quite a category. But as stacked as it is, Ice-T didn't have to think twice about who he's voting for. Finlivia forever.