Idris Elba & Prince Harry's Cute AF Friendship Goes Back WAY Further Than You Think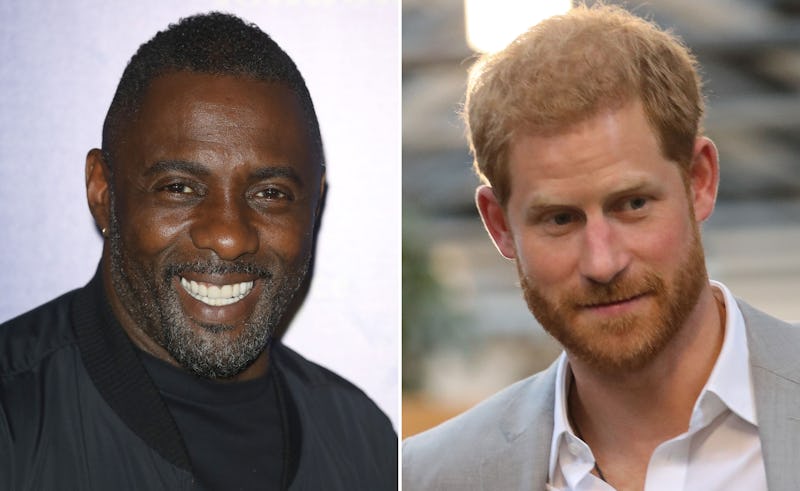 Tim P. Whitby/Getty Images Entertainment/Getty Images/Pool/Getty Images Entertainment/Getty Images
While the internet has been up in arms over whether Idris Elba will actually be playing James Bond, it turns out that the actor has been getting chummy with another British icon: Prince Harry. The Luther star, who attended the royal nuptials earlier this year, opened up about how his pal's grandiose wedding was "one of the highlights of [his] life" and how the royal is just another "neighbourhood lad." (I'm 150 percent here for Idris Elba and Prince Harry's friendship.)
In an interview with The Guardian, Elba revealed that he believed his friend's wedding to Meghan Markle "really opened up the spirit of the country." He attended the event with his fiancée, Sabrina Dhowre, and DJ'd at the reception afterwards, though he didn't just jump up and stick in an aux cable to connect an iPhone — he's actually a professional DJ and he's been lighting up the festival circuit this summer.
Out of respect for his friend, he said, "I try not to talk too much about [the wedding], because it was a private day."
"It remains one of the highlights of my life, for sure," he continued. He also added that it was "a beautiful experience, like all weddings are" — and TBH, it sounds like that's all we're going to get out of him, as Elba is clearly very loyal to Harry and wants to respect his privacy, which is something I totally respect.
As for how things played out once the reception got started? Elba hasn't revealed if any famous faces requested any songs while he manned the booth, though the idea of the Queen potentially requesting Dancing Queen tickles me to no end. Held in Frogmore House, some 200 guests were said to be in attendance at the reception, reports The Sun, including Markle's close friend Jessica Mulroney as well as other A-listers like Serena Williams.
The newlyweds apparently went a pretty alternative route, as Prince Harry requested a Tiki-bar, a nod to his favourite London bar, Mahiki, according to the Daily Star. The Express also reported that the pair even catered to those late-night cravings with food trucks rocking up to the reception, something he apparently convinced his brother, Prince William, to organise for his 2011 wedding, according to the Telegraph.
Elba revealed that the invitation to the wedding came from Prince Harry, who he called "a friend of mine." When pressed on how the two knew each other, he said vaguely to the Guardian: "Just from round the way. He's a neighbourhood lad."
The actor and the prince have an unexpected connection that goes beyond a surface level friendship, as Harry's father had a profound influence on him as a teenager. Prince Charles founded a charity called the Prince's Trust that tackles and works to prevent unemployment amongst young people; Elba happened to be one of those whose life was forever changed by it.
Elba, who now serves as an ambassador for the organisation, revealed to the Mirror: "I left school at 16 with dreams of attending the National Youth Music Theatre, but was disheartened when I realised how much it would cost. It was The Prince's Trust who made it possible. They gave me a £1,500 grant and set me on the path that would eventually change my life."
As for whether or not Prince Harry and Markle will be invited to his future wedding with Sabrina Dhowre? Elba hasn't shed much light on who will be making the guest list. He told the Guardian: "I get misquoted all the time, so I had better keep quiet."
Fingers crossed we see the royal pair rock up to the actor's wedding - maybe Prince Harry will return the favour and have a go at manning the DJ booth. Now, that is something I would love to see.