If 1992 Was The Year Of The Woman, 2018 Is The Year Of Black & Brown Women
by Angela Glover Blackwell & María Teresa Kumar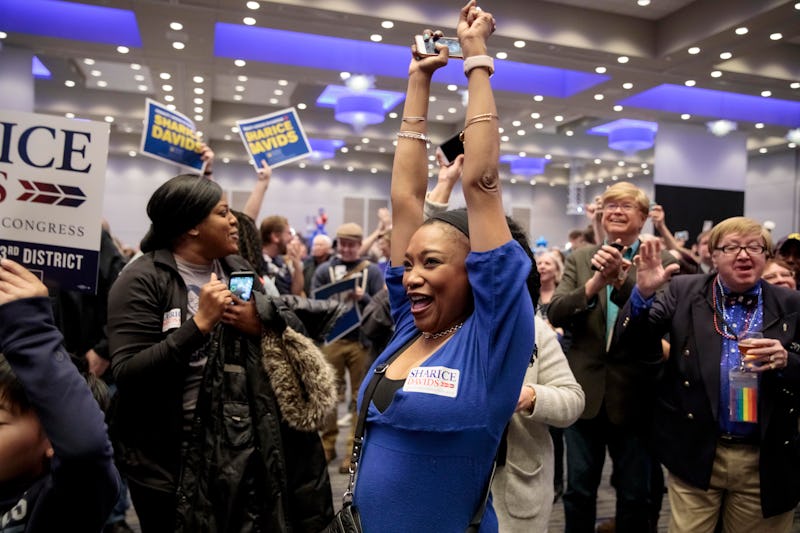 Whitney Curtis/Getty Images News/Getty Images
In this op-ed, PolicyLink's Angela Glover Blackwell and Voto Latino's María Teresa Kumar highlight what made 2018 the year of the Black and brown women.
Think back to some of the most salient political acts of the past year. Whether it was an organizer like Ana Maria Archila forcing Sen. Jeff Flake to confront a sexual assault survivor before voting to confirm Brett Kavanaugh or the 98 percent of Black Alabama women who refused to allow a far-right misogynist and accused pedophile to become their senator, you'll notice a trend.
If 1992 was the Year of the Woman, 2018 will go down in history as the Year of Black and Brown Women.
From moments of individual strength and courage to collective expressions of solidarity and engagement, women of color are shaking Americans out of their complacency and resignation by organizing, energizing, and leading the "resistance" — which is better referred to as the awakening of a vigorous civil society in this increasingly diverse nation.
We're also the force that propelled many progressive candidates into victory this past Tuesday. In the months leading up to November, our fellow Black and brown women pounded the pavement, knocking on doors, making phone calls, sending text messages, and convincing historic numbers of their friends, family, and neighbors to vote.
Their hard work paid off in places like Michigan, where they helped elect Gretchen Whitmer governor on an all-female ticket, and in Texas, which for the first time will have not one but two Latina representatives. Alexandria Ocasio Cortez showed young women everywhere that they too can disrupt the status quo and build a campaign from scratch, run for office, and win.
Without the unprecedented mobilization of thousands of Latinas and Black women who advocated, organized, and showed up to cast their vote, even the Democrats' defeats from the midterm elections wouldn't have been nearly as close, like it was for Texas rising star Beto O'Rourke.
This year women of color mobilized to reclaim our power.
Starting next year, our sisters of color will officially be the face of the new Democratic Party. Everyone knows that a historic number of women ran for office this year. But behind those headlines, there's a brown and black wave of female candidates and their supporters.
Women of color candidates increased nearly 75 percent since 2012, compared to an also remarkable, but comparatively smaller 36 percent increase among white women, according to a report from the Reflective Democracy Campaign. Over 400 black women ran in the midterm elections. On Tuesday, many of those candidates made history: Muslim American candidate Rashida Tlaib will now become Michigan Rep. Rashida Tlaib. Native American candidate Sharice Davids will now become Kansas Rep. Sharice Davids. And Latina candidate Michelle Lujan Grisham will now become New Mexico Gov. Lujan Grisham.
Black and brown women are also shaping the progressive agenda. No matter our differences, all Americans want the same things — good jobs, equal pay, safe and healthy communities, and a chance at a better future for our kids without fear of separation. But in order to win our votes, we demanded that candidates be willing to confront our nation's tortured relationship with race, gender, and ethnicity in a way that moves us forward as a nation.
Black and brown women did our best to fend off the sponsors of hate, sexism and corporate greed who are fighting to hold us back from exercising our fundamental rights and from realizing the future we know is possible. In some races like Georgia's gubernatorial election, the rigged system blunted our impact through policies deliberately designed to stifle our participation.
But where we decisively won, we made our priorities known by electing men and women who embraced policies that promote economic inclusion, healthy communities, and respect for the rights and dignity of all. As a result, our ability to provide for our families, protect our children, and control our own bodies will be much stronger than it was yesterday. We expect our new elected officials to fight for affordable health care, equal pay, and a $15 an hour minimum wage — or face the consequences. And we'll be watching.
Women of color have been investing in our communities for a long time. From Dolores Huerta to Coretta Scott King, we come from a long history of audacious leaders who continue to guide us. But the new political climate creates a greater need and urgency to activate our communities.
This year women of color mobilized to reclaim our power. Next year, the candidates we elected will be charged with helping us reshape our destiny. And we're just gearing up for the election that happens after that.