This Is What Could Happen To The Mueller Investigation If Rosenstein Is Fired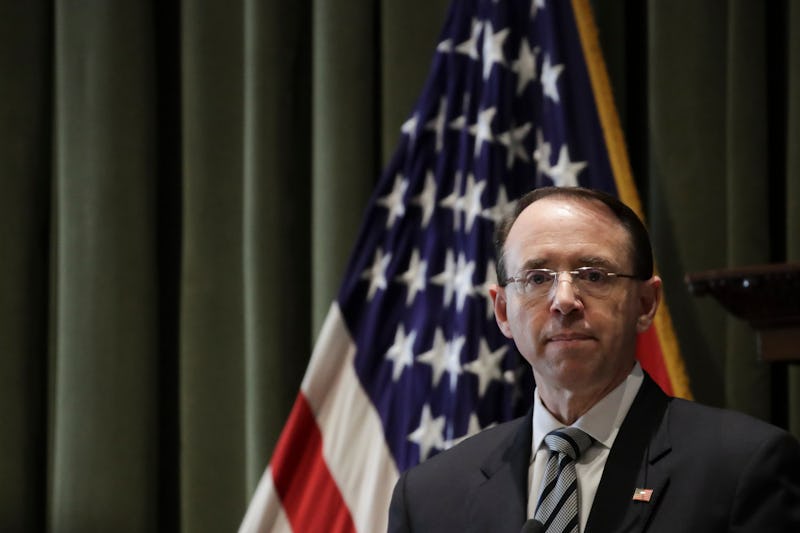 Drew Angerer/Getty Images News/Getty Images
When Deputy Attorney General Rod Rosenstein and President Donald Trump meet face-to-face on Thursday, more than Rosenstein's fate at the Department of Justice (DOJ) will be at stake. Rosenstein's firing or resignation would send shockwaves through Special Counsel Robert Mueller's investigation. If Rosenstein is fired, the Mueller investigation could be impacted in a variety of ways.
"It makes a huge difference," says Patrick Cotter, a former federal prosecutor who's now an attorney with Greensfelder. "If Rosenstein is there, Mueller will be able to complete his investigation in the way he thinks he should and probably have the result he thinks is appropriate. If Rosenstein isn't there, I am very doubtful that that will happen."
Rosenstein is the top Justice Department official overseeing the investigation into Russian influence in the 2016 election, which has made him a routine target of Trump's. Rosenstein took on the role of overseeing Mueller's investigation when Attorney General Jeff Sessions recused himself from the probe and has acted as something of a firewall between Mueller and Trump over the past year and a half, according Cotter.
"All appearances are that he has deferred to Bob Mueller's judgment fairly consistently," Cotter says. "The implication is that he's been given a very free hand."
If Rosenstein is ousted, either by his own accord or at Trump's will, it's unlikely the country will see any immediate effect on the special counsel probe. That's because of a federal guideline that stipulates that the special counsel isn't subjected to the "day-to-day supervision of any official of the department." But while Mueller will retain the authority to run daily operations no matter who takes over, Rosenstein's replacement will have control over the overall direction the probe takes in the long-term.
"Rosenstein is in effect Mueller's boss, and in that role in the DOJ, it would be Rosenstein's responsibility to approve significant strategic and tactical steps that Mueller takes in the investigation," Cotter says, noting the indictments, plea agreements, search warrants, and immunity deals that have been requested and approved over the duration of the probe. "All the big, major, strategic and tactical decisions would normally have to be approved by Rosenstein."
That said, the deputy attorney general has the ability to nix anything she or he deems "inappropriate or unwarranted" under the code of federal regulations. Rosenstein's replacement could effectively halt the investigation in its tracks. "A new boss could trim, and even if they wanted to, eviscerate Mueller's ability to do his job," Cotter says. "He could just not approve things Mueller wants to do."
That's something Rosenstein has been seemingly careful not to do during his tenure overseeing the probe. Despite repeated calls from the president to end the investigation into Russian election interference, which Trump calls a "witch hunt" and a "hoax," Rosenstein — the only person who actually can fire Mueller directly — has allowed the special counsel to operate undisturbed. He's held the line despite criticism from Trump's allies in Congress, who erupted in anger after Rosenstein refused to provide them with documents related to the Russia investigation last summer and went so far as to introduce articles of impeachment against Rosenstein in July. Now, the concern among Trump's critics is that whoever replaces Rosenstein (should he leave) won't show the same deference to the special counsel and could interfere — or even shut down — the investigation.
Beyond allowing investigators to operate undisturbed, Rosenstein — or the person in his shoes — will be pivotal in deciding how Mueller's findings are shared. The likeliest outcome is that Mueller will hand a confidential report to the Justice Department official overseeing the probe, and that person will decide whether to make it public and or pass it along to Congress. If wrongdoing is found, Congress would have the option of impeaching the president.
"It's not all that uncommon for a DOJ investigation, at the end of it, to be found insufficient to bring any charges, and that's done by the [DOJ] superior," Cotter says. "They could, if they wanted to, very severely limit anything that comes out of the investigation including up to sealing it and never letting it see the light of day."
Why It Matters If Rosenstein Is Either Fired Or Resigns
Rumors of Rosenstein's ousting have been swirling since the New York Times published a report Friday claiming that Rosenstein suggested invoking the 25th Amendment, which would allow for Trump's removal from office for being unfit. In addition, the report claims that Rosenstein suggested secretly taping conversations with Trump to prove that point. Rosenstein disputed that account, calling it "inaccurate." President Trump, who is distrustful of his own intelligence departments and fixated on loyalty from his aides, promptly vowed to eliminate the "lingering stench" at the Justice Department during a campaign rally hours after the Times report surfaced.
But whether Trump chooses to fire Rosenstein or accept his resignation is key to how the Mueller investigation can proceed.
According to a draft statement prepared by the Department of Justice Monday after Rosenstein reportedly offered to resign, Attorney General Sessions' chief of staff Matt Whitaker would ascend to the role of Deputy Attorney General, while Solicitor General Noel Francisco would become the Acting Attorney General overseeing the Mueller investigation, according to The Washington Post. That move is not without controversy: Francisco's former law firm, Jones Day, represented the Trump campaign, which presents a possible conflict of interest.
According to the Federal Vacancies Reform Act of 1998, the president can temporarily appoint anyone who's been previously confirmed by the Senate to fill a vacant post in a federal agency as long as the current office-holder "dies, resigns, or is otherwise unable to perform the functions and duties of the office." (Francisco was confirmed 50-47 for the solicitor general post in September 2017.)
If Rosenstein is fired, legal experts say this approach won't hold water. Moreover, if Trump chooses to fire Rosenstein, many of his critics could assail the decision as a move to interfere with the investigation and point toward evidence of obstruction. (And it's likely that Trump's supporters would point to Rosenstein's alleged behavior as detailed in the New York Times report as a fireable offense.)
In the event that Rosenstein's successor does make a move to fire Mueller, there are few options of how the work might continue. For one thing, Mueller could be replaced. For another, Mueller's team has already begun referring its work to other entities: The Southern District of New York is now handling a case involving former Trump lawyer Michael Cohen as well as well as a string of cases concerning a possible failure by lobbyists to register their work as foreign agents. And lastly, some members of Congress are still calling for legislation to protect the special counsel from being fired.
Already, members of Trump's inner circle are calling for Muller's team to take a time out if Rosenstein steps aside. Rudy Giuliani, Trump's attorney, said Monday that "they should put a brief hold on the investigation and review it from beginning to end" if Rosenstein is replaced. Trump's personal attorney, Jay Sekulow, said Monday that in the event of Rosenstein's departure, it "clearly becomes necessary and appropriate" that "there be a step back taken here" and a "time out on this inquiry" according to the New York Times. But with the midterm elections fewer than 50 days away, it's likely that the White House will be eager to avoid any shake-up that could serve to motivate Democratic voters to get to the polls.