'The White Princess' Season 2 Could Adapt More History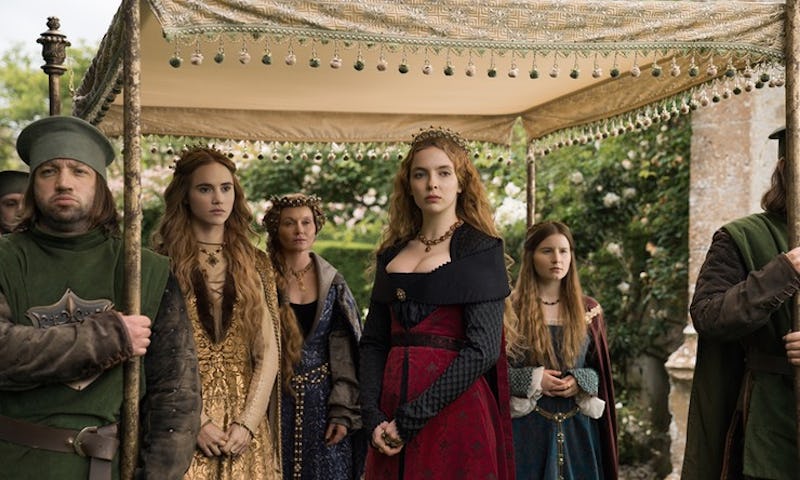 Starz
Political statements may be delivered via social media now, but they're far from a modern invention. As Starz miniseries The White Princess shows, even in 1400s England, there were political machinations behind every leadership change, every assassination, and even every marriage between two aristocrats. Will The White Princess return for Season 2? Starz hasn't announced a decision about the future of the series, but it's slightly complicated because The White Princess is a followup to the 2013 miniseries The White Queen. Followup The White Princess is credited as a limited series as well, so a new season would be the third installment in the series, which is loosely adapting Philippa Gregory's long-running series of novels about English royal turmoil.
However, that doesn't mean the show is definitely over. First of all, between The White Queen and The White Princess, the show moved from an international co-production to solely being produced by Starz. The series has a new cast and takes place in a new era, so if The White Princess does return, it's possible that Starz will want another clean break and a several-year hiatus between seasons. However, it could be possible that Starz would instead want to stick with its existing title and existing cast, and make a more conventional followup. With no news from the cable network yet, it's still unclear.
But even though The White Princess' source material is coming to an end, that doesn't mean there isn't more to adapt. The series is already exploring the period after the War of the Roses, when the Tudor family took the English throne from the Yorks. But it should be no problem to find more material for future seasons, because Gregory continued writing novelizations which recap hundreds of years of English history. Chronologically, the next book that Gregory wrote is The Constant Princess, about the life of Henry VIII's first wife, Catherine of Aragon. But that's just the first of many more stories she's retold (including The Other Boleyn Girl, which was adapted into a film in 2008).
Showrunner Emma Frost tells GoldDerby that The White Princess was unplanned. Practically speaking, "When we then did decide to do The White Princess, there were only two or three characters that had survived and [...] we would then have to age them a further 14 years [...] so it made sense all around if we recast it from the beginning," Frost explains. That likely wouldn't need to be done if The White Princess picks up with the continuation of the young Tudor legacy, but it's also possible that the series could jump another several decades into the future. Regardless of where The White Princess goes by the end of its first season, this series has plenty more history it could use for more intrigue.