If You Propose At A Panera This Valentine's Day, They Might Cater Your Entire Wedding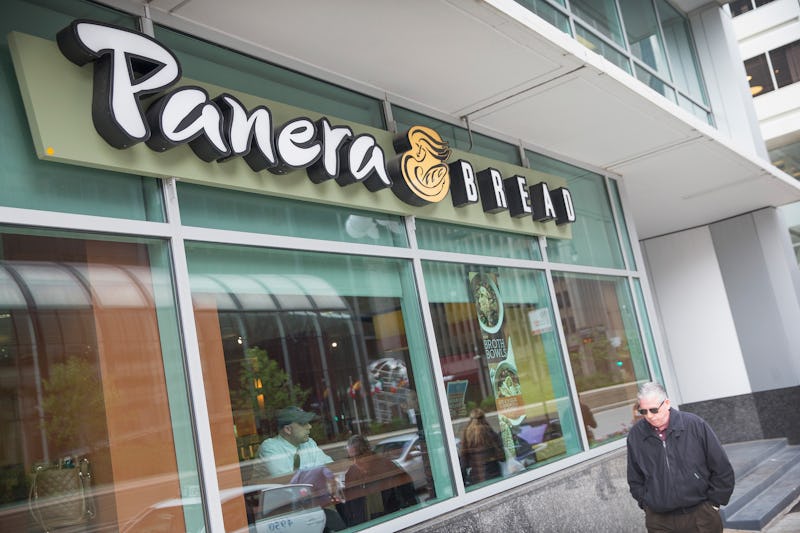 Scott Olson/Getty Images News/Getty Images
Move aside chocolate and champagne, there's a new aphrodisiac in town: BREAD. That of the Panera variety, specifically. The popular bakery-cafe chain has announced the #PaneraProposalSweeps, a contest will reward five lucky couples a grand prize of free Panera Bread catering for their weddings — but only if they propose at a Panera location on Valentine's Day and document it on social media.
Interested in taking your shot at a carbo-loaded wedding ceremony? According to the official contest rules posted by Panera, the steps are simple. For one day only (February 14, 2018 — Valentine's Day, naturally) if you get engaged between the hours of 9 a.m. and 11:59 p.m. inside or in front of a Panera Bread restaurant, then post proof to either Facebook, Twitter, or Instagram with the promotion's namesake hashtag. If the odds are in your favor, you may be one of the five couples chosen to eat free bread bowls with their betrothed.
The only parameters are that entrants must be at least eighteen years old, the wedding must take place before the end of 2019, and it must take place at a location within 30 miles of a Panera Bread location (makes sense, come to think of it). Honestly, who in their right mind would get married that far away from a Panera regardless?
The five winners selected randomly from all entries will be gifted a fully catered wedding reception valued around $2,000 each. But if heaven forbid your betrothed catches cold feet, it's unlikely you will be able to use the Panera feast to soothe your sorrows. The rules state: "If [a] winner cancels the wedding for any reason, the prize may be forfeited and no alternate winner will be selected." So make sure the two of you are both in this for the long haul, because carbs as precious as these should not go to waste.
This is not the first time couples have competed for a fast food-themed special day. Last June, Dan and Bianca Rykert made headlines after winning Taco Bell's Love & Tacos contest. After beating out ten other couples (including YouTube and Vine personalities Christine Sydelko and Elijah Daniel), Dan, a video game journalist and social media personality, and his fiancée Bianca, were the first couple to ever get married at Taco Bell's flagship cantina in Las Vegas. The custom taco-themed details including champagne flutes of Mountain Dew Baja Blast and a bridal bouquet made of sauce packets made for a surprisingly inventive and stylish occasion.
Domino's Pizza has also gotten in on the fast food wedding trend with the creation of their wedding registry. Though a wedding gift registry devoted to pizza may seem a little off-color, the logic behind its creation is actually quite sound. In a statement to USA Today, Domino's spokeswoman Jenny Fouracre said, "We hear often from customers that Domino's was a part of their big day, from proposals to after-hours meals at their wedding. We wanted to make it easier for people to ask for and receive something that they'll really use." Well, that's certainly one delicious way to do it.
Last year, Louisville, Kentucky radio station WQMF partnered with a local franchise of burger chain White Castle to create a similar contest; it seems if you want to celebrate an engagement with fast food, you're never lacking in options.
According to data collected from 13,000 weddings in 2016 by website The Knot, the average wedding in the United States costs over $35,000, with total ceremony costs in big cities like Manhattan clocking in at over $78,000. If using the money you could spend on a car for a one day party doesn't sound like a decision you want to make, eschewing the gourmet catering is an easy way to lower the price tag while sill ensuring every guest leaves with a full stomach — maybe it's time more of us get on board with this trend, then.
If you're interested in entering the #PaneraProposalSweeps, full contest rules can be found here.