7 Things To Know Before Adopting A Dog Who Has Experienced Trauma, According To Experts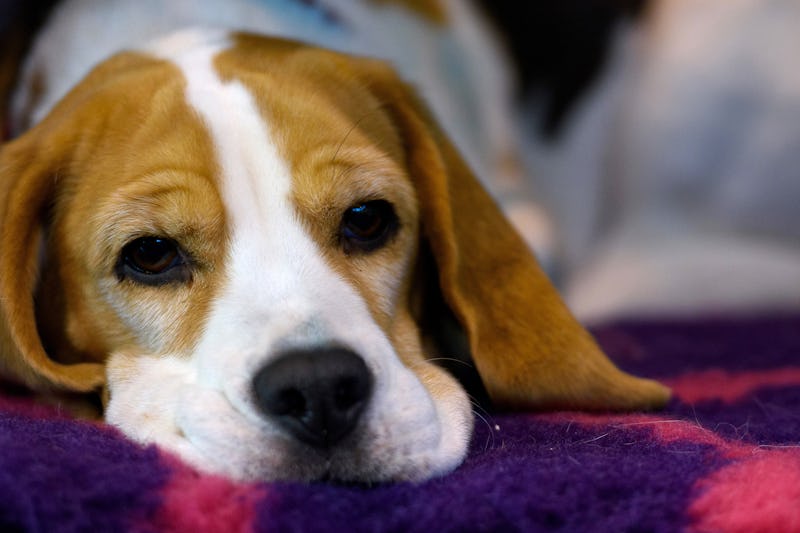 Ben Pruchnie/Getty Images News/Getty Images
Preparing to welcome a pup into your life can be an exciting time. But adopting a dog who's experienced trauma can make the transition from shelter to home a little trickier than it would be for a dog who didn't have this history of neglect or abuse. According to experts, dogs who have gone through these kinds of traumatic experiences need extra patience, love, and care so that they can begin to heal and feel safe again.
Since each pup has had a different life before they joined your family, your dog might express their traumatic past in a different way than another dog would. "Trauma is individually related in that all beings express trauma differently," Russell Hartstein, CDBC, CPDT-KA, a certified professional dog trainer and founder of Fun Paw Care, tells Bustle. If you adopt a shelter pup, you might not know the extent of their history of trauma, but some common signs to watch out for are being shut-down emotionally, timid, shy, or fearful. "Of course, a dog may exhibit these qualities without having experienced trauma," he says. "However, fear and aggression are usually signs that some sort of neglect and/or abuse has occurred."
Here's how to help your dog heal from trauma, according to experts.