The 5 Zodiac Signs Most Likely To Want An Adventurous Partner, According To Experts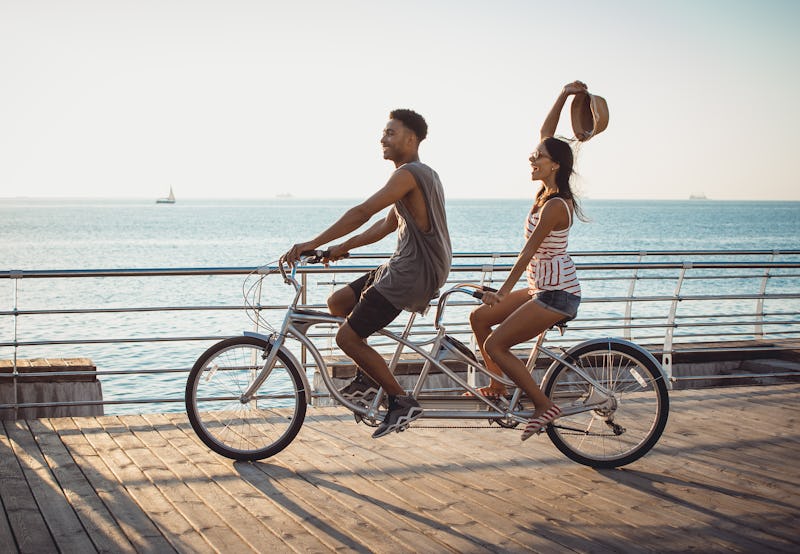 Shutterstock
If your ideal date night consists of takeout and going to bed early, you probably want a partner who likes those things too. But if you're more excited about leaving the house than staying in, it's likely that you need an adventurous partner. According to astrology experts, some zodiac signs are more likely to need an exploration buddy than others.
"Fire signs and air signs can be prone to boredom and crave novelty," archetypal astrologer Rebecca M. Farrar, MA, tells Bustle. "However, the 7th house or descendant in someone's chart may indicate what they crave the most in a partnership to be happy," she says. "Taking into account someone's sun sign and the descendant sign can help steer someone into the best adventure partner."
Not everyone craves a partner who wants to get out and explore together. "Earth signs, in particular — Taurus or Capricorn — crave stability and may have less tendency to crave excitement, though it depends on the rest of their chart including the descendant," Farrar says. "The day-to-day life and simple pleasures of being with someone give Taurus or a Capricorn a sense of security in their relationship." For these folks, constantly leaving their comfort zone is much less enticing than the stability of a routine.
If you're one of these zodiac signs, you probably want an adventurous partner, according to astrology experts.