IHOP Is Changing Its Name Back From IHOb & It's Celebrating With A Sweet Deal On Pancakes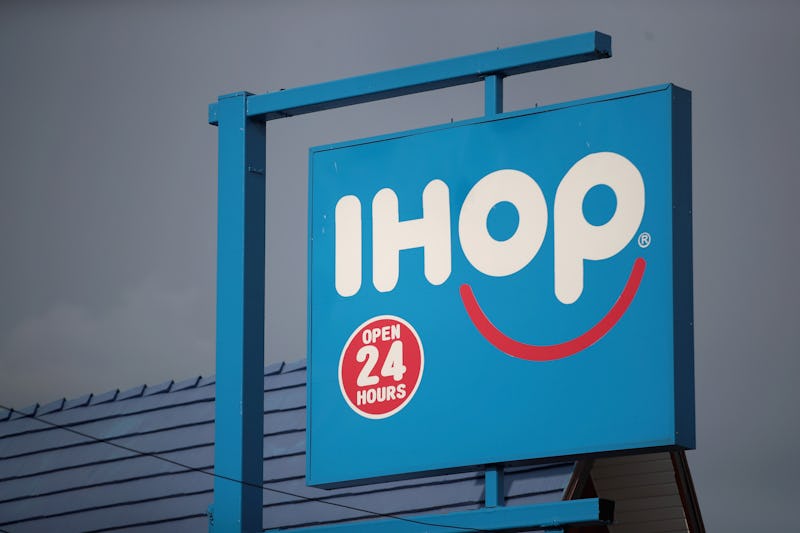 Scott Olson/Getty Images News/Getty Images
Well, well, well. It looks like for IHOP, the jig is up: on July 9, the company officially announced that they've ditched the IHOb (International House of Burgers) name for good. Amid the viral controversy that sparked in June when IHOP announced that it was replacing the famous "P" with a "b" and shifting their focus to burgers, IHOP was cleverly using the publicity to promote their new line of burgers all along. But now, IHOP is changing its name back from IHOb because that's just how it was meant to be.
Even though the name change itself might've been a temporary switch, the idea behind it still represents big changes for IHOP's future. In an attempt to become known for more than just their (delicious and iconic) breakfasts and become as competitive a national chain as possible, the restaurant has launched it's Ultimate Steakburgers line. Debuting seven new burgers in total, customers will see options like the Mega Monster burger, Cowboy BBQ burger, Jalapeño Kick burger, and Big Brunch burger on menus next time they visit the restaurant. They even made sure to throw in a limited time discount on the new items: an Ultimate Steakburger with a drink and unlimited fries for $6.99.
"Everyone knows that IHOP makes world-famous pancakes so we felt like the best way to convince them that we are as serious about our new line of Ultimate Steakburgers as we are about our pancakes, was to change our name to IHOb," said Brad Haley, IHOP's Chief Marketing Director, in defense of the short-lived switch, Business Insider reported. I mean, fair enough. After all, IHOP is known for its pancakes. It's not exactly the first choice that pops into your head when you're craving a good burger, so it makes sense that the company would go to fairly drastic measures to prove their burger-worthiness.
Die-hard pancake lovers (who are admittedly feeling a little relieved that IHOP is here to stay), I have good news: in celebration of the chain's 60th birthday, IHOP is selling short stacks of their famous pancakes for $0.60 on Tuesday, July 17. They even shamelessly called themselves out about the whole IHOb debacle when announcing the discount on Twitter.
IHOP president Darren Rebelez told Business Insider that the chain had been focusing on burgers for almost a year prior to the temporary name change. "We had to make a bold move to get people to be willing to talk about us for something other than breakfast food," he explained last month. It turns out that he was right — it was filling up our timelines for days (although many of those posts were outrage-inspired) and YouGov data confirms that IHOP has received its highest word-of-mouth score since 2012. Rebelez still made sure to insist that "the pancakes haven't gone anywhere." Whew.
You have to give it to IHOP because they really went all out for this stunt: keeping fans guessing for awhile in the beginning about what the mysterious "b" could stand for, completely transforming to IHOb on Twitter, and even hosting an IHOb launch party at their flagship location in Hollywood, California.
It's good to know that IHOP hasn't left its signature dish behind — in fact, the chain has added a few new, limited time additions to its pancake menu. Their International Pancake line features "flavors from around the world," including Mexican Tres Leches Pancakes, Belgian Dark Chocolate Mousse Pancakes, and Madagascar-inspired Vanilla Spice Pancakes. Seriously, they look delicious.
No matter what you make of IHOb-gate, you have to give it up for the company's Blair Waldorf level scheming and strategizing — and of course, celebrate the end of the viral drama with their less-than-a-dollar pancake stacks next week. Will your professor touch on this rebranding stunt in Marketing 101 next semester? Only time will tell. Well played, IHOP. Well played.