This IHOP With A Full-Service Bar Just Took Breakfast For Dinner To New Heights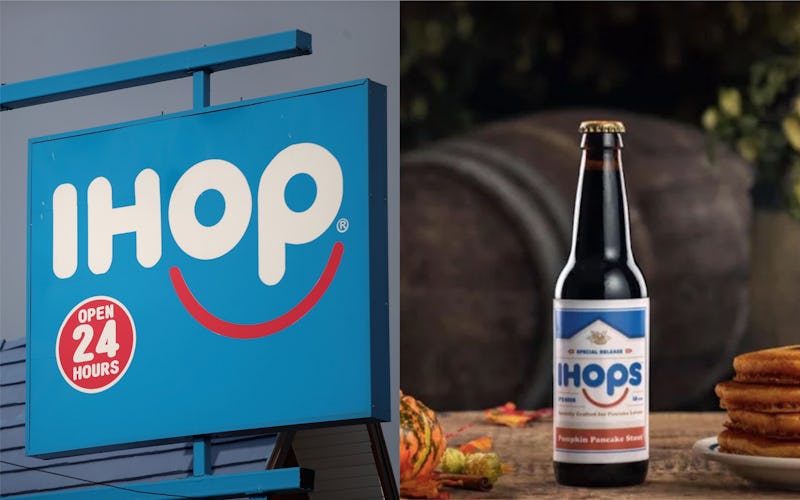 Scott Olson/Getty Images News/Getty Images; IHOP
While many have tried to reach its level, there is only one casual fining chain that can satisfy all you breakfast needs. Since its opening in the 1950s, IHOP has evolved into the rare restaurant that attracts toddlers, college kids, and retirees alike (you only need to be 55 to quality for the senior discount). Now, IHOP's newest move may very well result in entirely new crowds becoming regular patrons. If you're lucky enough to live in this state, you could be the first to visit the shop bar and restaurant — aka, the first IHOP to ever have a full-service bar.
According to ABC 15 Arizona, a recently-opened IHOP location that opened recently in Phoenix, Arizona doesn't just have four kind os syrup per table, but features a real full-service bar. Apparently, before becoming an IHOP, the building housed a Lone Star Steakhouse, according to Extra Crispy. Since it was already ready and able to sell alcohol, the Romulus Restaurant Group, the Arizona franchise's owner, asked the IHOP corporate office if they could switching things up a bit and keep it. The executives not only agreed, they even collaborated on the drinks menu.
Open every day from 6 a.m. to 10 p.m local time, the "Rise and Shine" menu offers craft beer and wine. Extra Crispy reports customers can also try one of the location's exclusive signature cocktails. The "Mulemosa" is a mix of a Moscow Mule and a Mimosa that features ginger beer, sparkling wine, and orange juice mixed together. The Blue Roof Blood Mary, another specialty cocktail, is IHOP's take on the brunch classic, and comes with Tajin rim, celery, olives, and hickory-smoked bacon. The dinner crowd can sip on a Frozen Rooty Rita, a blended margarita with strawberry puree.
Romulus President and Chief Operating Officer Chris Sumners said he might consider going back and adding a bar at all of his franchises if people seem to enjoy this one: "We think it's time to test how a bar goes along with our brunch, lunch and dinner items," Sumners said to the Phoenix Business Journal.
The breakfast chain has had a pretty wild and busy year thus far, but the opening of a bar in one of its restaurants is actually not the most unexpected move. The pancake restaurant chain recently threw its hat in the beer brewing ring, with the release of a stout beer line inspired by its best seasonal dish: pumpkin pancakes. Food & Wine reports IHOPS Pumpkin Pancake Stout leaves little to be desired when it comes to breakfast flavors. Brewed by New York-based Keegan Ales, the beer "pairs the flavor of pumpkin and seasonal spices with IHOP's World Famous Buttermilk pancakes into a rich, smooth stout," the chain told the magazine.
Tommy Keegan, Founder of Keegan Ales, added, "We're excited to partner with IHOP on this first-of-its kind brew and bring fans a unique craft beer that blends the deep, roasted flavors of our stout with hints of pumpkin, vanilla and IHOP's iconic pancake batter." Step aside, coffee — there's a new drink in town to complement your breakfast, and there's no better place to get it at IHOP's new bar and restaurant.