This Is The Message Ilhan Omar Thinks Her Election Sends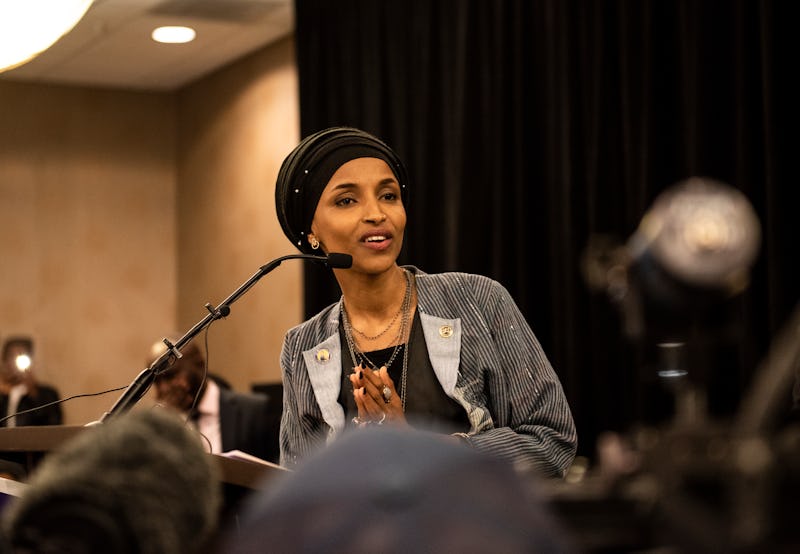 Stephen Maturen/Getty Images News/Getty Images
In an interview with Roll Call on Tuesday, one of the first Muslim women elected to Congress, Ilhan Omar, shared her thoughts on the significance of her election, policymaking, and the diverse faces in the 116th Congress. Omar also gave a shout-out to the other Muslim woman elected to Congress this year: Rashida Tlaib of Michigan, who will also be the first Palestinian American member of Congress come January.
"In a time where there is a lot of religious bigotry," the Minnesota Democrat said, "it's almost perfect to have this counterbalance. My sister Rashida and I are from the heartland of America. To be elected to Congress is a real rejection of that message."
In the midterm elections on Nov. 6, a record number of women and LGBTQ people were elected to Congress — and they were largely from the Democratic Party. Praising the importance of diversity in politics, Omar said the different backgrounds that incoming Democratic lawmakers represented would eventually translate into better policymaking on Capitol Hill.
"The fact that we have diverse backgrounds; some of us are mothers, some of us are queer. Whatever the case might be, those things are a bonus that helps have a unique lens into creating policy that is more impactful," Omar explained. On Twitter, just a day before her Roll Call interview, the Democrat called on others to fight against sexism, racism, and other forms of bigotry.
One of the steps that Omar and her Democratic colleagues have taken to accommodate diverse backgrounds is by working on changing a Congress rule related to headwear.
For the past 181 years, lawmakers were not allowed to wear any kind of headgear while in the House. But Omar, House Democratic Leader Nancy Pelosi, and Massachusetts Rep. Jim McGovern are seeking to clarify that rule for politicians like Omar who want to wear headgear based on religious grounds. They noted in their proposal that it would be to "ensure religious expression." (White House adviser and daughter to Donald Trump, Ivanka Trump, also tweeted support for the potential rule clarification.)
It is not clear, though, just when such a change would take place — and if other representatives would ever take advantage of it. What is clear is that the Minnesota Democrat is unapologetic about her headscarf. "No one puts a scarf on my head but me," Omar tweeted on Nov. 17. "It's my choice — one protected by the First Amendment. And this is not the last ban I'm going to work to lift."
It's been a long journey for Omar, who told Roll Call about her younger days as a community organizer. "I think about the days where I would go with my grandfather and community members, translating for them to participate [in politics], and making that process accessible," Omar said.
And a lot has changed since then, she said. "I know none of them could have ever imagined having the young kids they brought with them being on the ballot one day," Omar told Roll Call, "and getting the opportunity to root for them."