This Book About The Golden State Killer Is SO Chilling Now That He's Reportedly Been Caught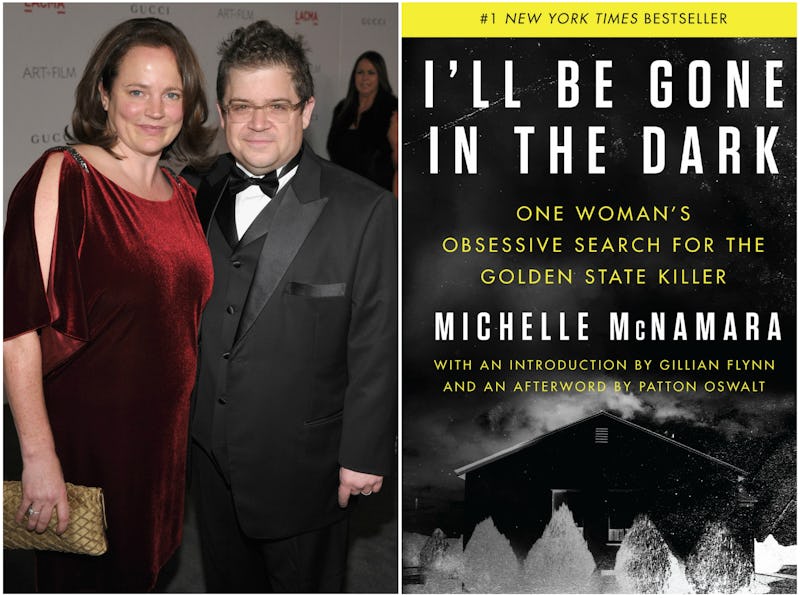 John Shearer/Getty Images Entertainment/Getty Images
In her #1 New York Times bestselling book I'll Be Gone In the Dark, the late crime writer Michelle McNamara included a letter to the subject of her obsession, the Golden State Killer. In it, she predicted that "One day soon, you'll hear a car pull up to your curb, and engine cut out. You'll hear footsteps coming up your front walk. Like they did for Edward Wayne Edwards, twenty-nine years after he killed Timothy Hack and Kelly Drew, in Sullivan, Wisconsin. Like they did for Kenneth Lee Hicks, thirty years after he killed Lori Billingsley, in Aloha, Oregon." Although she did not live to see her premonition come true, the serial killer could have just lived through her very prediction, because the Golden State Killer has reportedly been caught.
Overnight, police in California reportedly arrested a man they believe could be the Golden State Killer, a previously unknown serial rapist and murderer who was made famous by McNamara's book, I'll Be Gone in the Dark. Nothing has been confirmed by authorities, but police will hold a press conference in Sacramento at noon on Wednesday to announce the new breakthrough in the case.
From 1976 to 1986, the serial rapist and murderer known first as the East Area Rapist (later dubbed the Golden State Killer by McNamara) terrorized the residents of California, committing at least 12 homicides, 45 rapes, and 120 home burglaries over the course of a decade. For decades, authorities including the local police and FBI hit one dead end after another in their pursuit to unmask the culprit. That didn't stop true crime journalist and TrueCrimeDiary.com creator Michelle McNamara from thinking she could solve the case, though.
Thirty years after the last attack, McNamara became obsessed with learning everything she could about the man she called the Golden State Killer: she examined and re-examined old police reports, tracked down victims and convinced detectives to talk to her, toured crime scenes and the killer's old hunting grounds, and waded into the deepest waters of the online crime solving community. Though she died while writing the book about her hunt, I'll Be Gone in the Dark is a stunning work of investigative journalism and true crime writing. In fact, it just might have helped authorities find the man behind the ski mask, something McNamara had always hoped for, and even wrote about in her book.
I'll Be Gone in the Dark: One Woman's Obsessive Search for the Golden State Killer by Michelle McNamara, $18, Amazon
In the epilogue of I'll Be Gone in the Dark, McNamara addresses a letter to the shadowy figure she spent years chasing: the Golden State Killer. In it, she writes about his inevitable capture in chilling detail:
"I've seen photos of the waffle-stomper boot impressions you left in the dirt beneath a teen-age girl's bedroom on July 17, 1976, in Carmichael, a crude relic from a time when voyeurs had no choice but to physically plant themselves in front of windows. You excelled at the stealth sidle. But your heyday prowess has no value anymore. Your skill set has been phased out. The tables have been turned. Virtual windows are opening all around you. You, the master watcher, are an aging, lumbering target in their crosshairs.
"A ski mask won't help you now."
You can read the entire letter in an excerpt on The New Yorker, but be warned, it will give you the chills.
Earlier in April, HBO acquired the rights to I'll Be Gone in the Dark, which they are reportedly planning to turn into a docuseries. Will the adaptation get the satisfying ending of seeing the real Golden State Killer behind bars after all these years? Only time, and DNA evidence, will tell, but one thing is for sure: we all hope, like McNamara, to see the notorious criminal "walk into the light."