This 'Work-From-Home Fashions' Cartoon Is TOO Relatable If Your Office Is Your Couch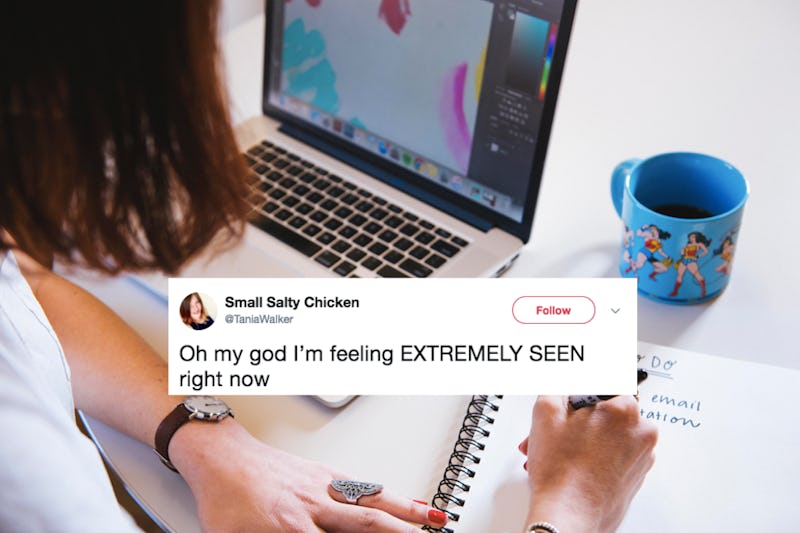 BDG Media, Inc.
So, I have a confession to make. I work from home and it's been about a month since I've done any laundry that's included pants with zippers. It's a relief to know I'm not the only one. Illustrator Tyler Feder gets it, and she created these work-from-home looks that are way too relatable. Especially the part about not wearing pants. While you might envision working from home as a dream life devoid of annoying coworkers, actor and author Lauren Graham described it on the podcast The Gasp as getting lost in a vortex of solitude while wearing glasses, pajamas, and fashioning your hair into a messy bun. This is me all day.
When I first started working from home six years ago I showered, got dressed in regular clothes, and wore makeup every day. However, it wasn't long before my work-from-home style devolved into yoga pants or leggings, tank tops sans bra, and a permanent ponytail. Feder, who is a 29-year old woman who works from home in Chicago, created a series of work-from-home illustrations, including one she referred to as the "Skype-conference look." This high-fashion look includes nice hair and makeup, visible earrings, and button-down shirt with a bra. You then pair this totally acceptable work outfit with sweatpants because the other people on the call only see you from the waist up.
OK, one time during an early-morning Skye call I had the waist-up look down pat, but instead of pants I was just wearing my underwear. When my dog started barking, I totally forgot that I wasn't wearing any pants and got up, in full view of everyone on the call, to silence her. Oops. If you can relate, these work-from-home looks are super extra, and will make you feel like you've finally found your people.